Our theme for the year is Deeper Learning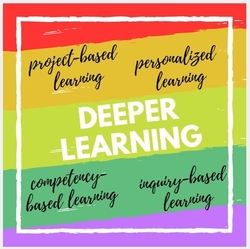 There will be something for everyone at this exciting learning event with 6 strands to choose from based on your personalized learning goals: 

Behind the Scenes
Managerial and organizational efficiency that supports powerful connections, technology for productivity and streamlined workflows, setting the stage for deeper learning.

Foundational Practices
Explore mindsets, tools, and strategies that prepare us for deeper learning design.

Inquiry
Explore how technology can be leveraged to promote questioning, building connections to prior learning and experiences, and design for independent learners who make their thinking visible. 

Collaboration
Learn how to use technology to design for meaningful student interactions and participation in collaborative structures. Shift your role to facilitator to promote collectivist or communal approach.

Assessment for Learning
Discover strategies and tools that allow individual learners to set goals, assess learning, track progress and present their growth. Empower students as co-designers of their assessment, owning and sharing their learning.

Equitable Access and Demand/Agency
Explore how technology supports our district's mission to design for "each and every" student, supporting independence, not dependence. Explore strategies and tools that promote student agency and ownership of learning

This event will launch opportunities for continuous learning, resource sharing, and support around learning design with technology, deeper learning, and more!