Hoover Family-Distance Learning Guide
Hello students and families,
We hope this finds you and yours as healthy and safe as possible during these challenging times.  Teachers, staff and myself miss you terribly! Being at distance is really hard, and while we can't be physically together, we are working hard to be sure we can make your online distance learning experience a positive one so that you are still connecting with teachers and peers, and of course, still learning!  We want you as ready as possible for the new school year. We thank you in advance for your patience and understanding.
Hoover's first day of school is Monday August 17,  2020. There are two schedules: one is for the first two weeks of school and one begins on August 31. 
School begins at 9:00 AM everyday; students with a Period 10 PE class start at 8:30 on Tuesday and Thursday. School ends at 2:35 Monday, Tuesday, Thursday and Friday, and on Wednesday it ends at 12:45. Beacon will continue to host the After School Program. Sign up for ASP

here. 

Students will have live and non-live instruction every day for four hours. Teachers will provide instruction to you in a 75 minute class time session.  

Student participation is critical. Participation means:

Attending a Zoom class, with or without camera on.

Joining a Google hangout, with or without speaking.

Submitting class work or assignments in StudentVUE or Google Classroom.

Participating in a group chat.

Direct email, call, or text with teacher.

Must be completed by the end of the day or the student will be marked absent.

If a student must be absent from a class, they should email their teacher(s) on the same day to inform them and turn in assigned work for that day.

Teachers will continue to offer office hours for additional support. See the schedule below. 

Students have a

40 minute lunch break

each day.

Transitions and break (

give yourself no screen time!

) are also scheduled and encouraged for students throughout the day.
See the bell schedule on the next page → 
Student Bell Schedule for August 17-28, 2020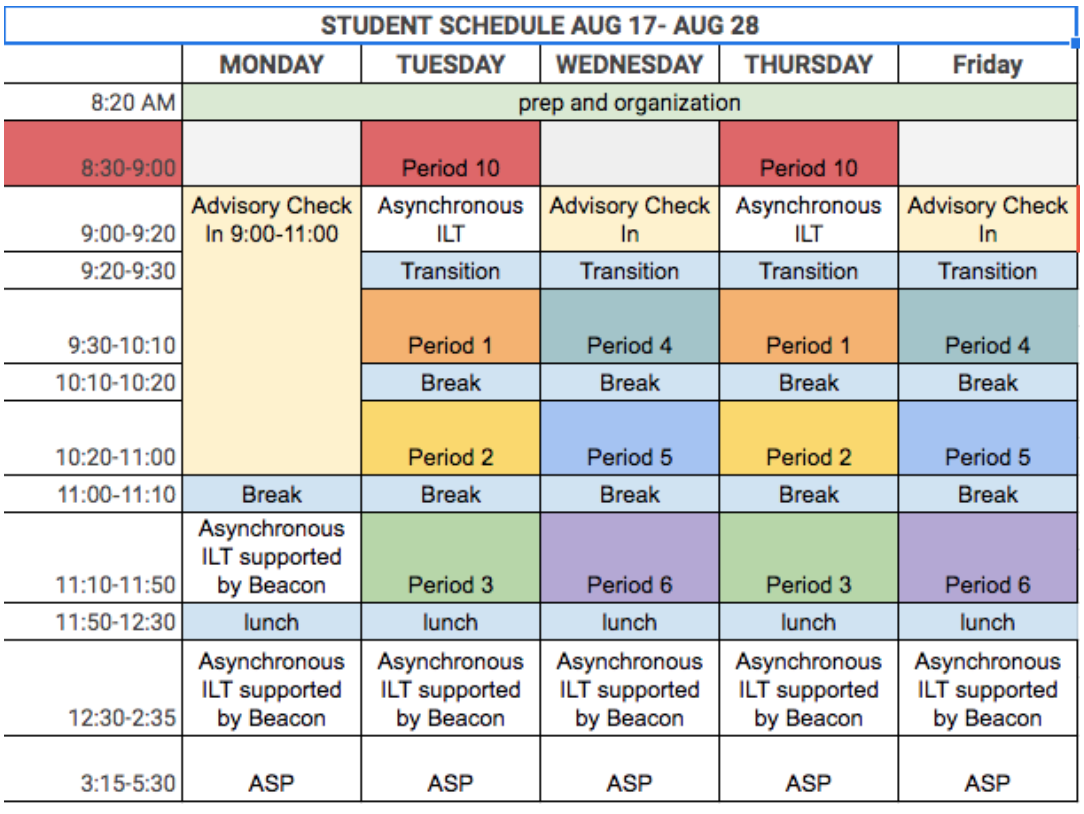 Student Bell Schedule beginning August 31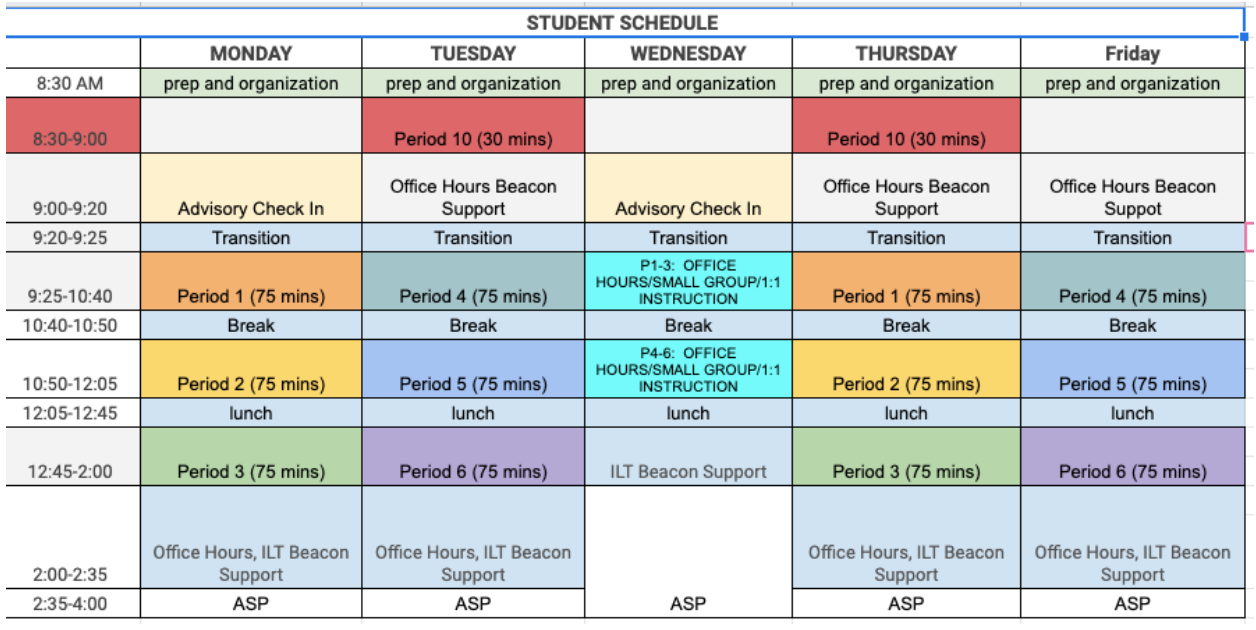 Student Expectations
Students are expected to participate in Class Time and Office Hours for each class.  

Students should have access to communicate and receive support from teachers during this time.

If a student must be absent from a class, they should email their teacher(s) on the same day to inform them and turn in assigned work for that day.

During Independent Learning Time (ILT), students will work on assignments and can contact teachers via email, Google Classroom, etc. for support.

Students are expected to complete all work as assigned by the teacher.

Students with IEPs are expected to participate in Speech, Therapy, Counseling, and other services as listed in their IEP.
Digital Citizenship & Online Meeting Norms and Expectations
Students should follow virtual norms set by their teachers when participating in online learning. Students and families should also refer to SFUSD Provided Norms for Teachers and Students and our Hoover Virtual Expectations for Students.
What can families expect from Distance Learning?
What should distance learning look like?
Middle Schools continue to prioritize the Graduate Profile: Sense of Purpose & Sense of Self as we move to distance learning. Student agency, collaboration and reflection on areas of strengths and growths continue to be driving design principles for teacher and student engagement. Students in 6th-8th grades will primarily participate in distance learning digitally to ensure access and developmental appropriateness. Where teachers know that students do not have access to technology, a print based option will be available. 
Plan for students engaging in 4 hours of daily learning.

Special Note:

The amount of time to engage with distant learning is different from a normal 7 hour school day. Students are expected to have 4 hours of school for distance learning.

For the first two weeks of school, classes are 40 minutes. Beginning August 31, classes are 75 minutes and students will attend three classes/day plus 20-minutes advisory twice a week. 
Parent/Guardian/Family Participation
 If you have a question about assignments, content, or other information concerning your student and/or the class, please contact the teacher via email.
Parents may be added into Google Classroom to receive notification of student assignments and due dates.
Parent/Guardian may request that the teacher add them for notifications 

If a parent/guardian needs to contact a teacher, they may do so via email.

Email your question or concern

Request an appointment
Students with Individualized Education Plans (IEPs)
Special Education teachers will continue to  collaborate with general education teachers to develop modifications and accommodations for students with IEPs in the general education classrooms. Students are placed in Advisory with their case managers (except speech) for ease of contact, relationship building, and consistency.  
Case managers are completing plans for providing students with disabilities with equal access to educational opportunities and  the provision of a free appropriate public education considering the "shelter-in-place" orders. They will be reaching out to families regarding individualized Emergency Learning Plans which is grounded in each student's Individualized Education Program (IEP) and amended for remote learning. IEP meetings will still occur and regular programmatic supports for students with IEPs will continue to the extent possible. 
Student Support
Students have the opportunity to continue to receive support from their counselors and Social Worker.  Families may also reach out for support and to assist with answering questions.  
The Learning Commons continues to be available for students. Please check out the Hoover LC Remote Resources.  Students are also able to receive technical support and guidance.  
All students should join their Grade Level Google Classroom if they have not already for specific information and assemblies.
Renee' Ashbaugh- 6th Grade Counselor ashbaughr@sfusd.edu 
Katie O'Connor- 7th Grade Counselor oconnork@sfusd.edu 
Angela Wong- 8th Grade Counselor wonga18@sfusd.edu 
Thary Duong- Social Worker duongt@sfusd.edu 
Jackeline Zepada Callejas- Community Health Outreach Worker zepeacallejasj@sfusd.edu 
Karen Green- Dean greenk@sfusd.edu 
Alicia Blacknell- Assistant Principal, Student Services blacknella@sfusd.edu
Hoover Family-Distance Learning Guide
Hola estudiantes y familias,
Esperamos que esto los encuentre a usted y a los suyos lo más saludables y seguros posible durante estos tiempos difíciles. ¡Los maestros, el personal y yo los extrañamos muchísimo! Estar a distancia es realmente difícil, y aunque no podemos estar físicamente juntos, estamos trabajando duro para asegurarnos de que podamos hacer que su experiencia de aprendizaje a distancia en línea sea positiva para que aún se conecte con maestros y compañeros y, por supuesto, ¡aún aprendiendo! Queremos que esté lo más preparado posible para el nuevo año escolar. Le agradecemos de antemano su paciencia y comprensión.
El primer día de clases de Hoover es el Lunes 17 de Agosto de 2020. Hay dos horarios: uno es para las dos primeras semanas de clases y el otro comienza el 31 de Agosto.
La escuela comienza a las 9:00 AM todos los días; los estudiantes con una clase de educación física del período 10 comienzan a las 8:30 los martes y jueves. La escuela termina a las 2:35 los lunes, martes, jueves y viernes, y el miércoles termina a las 12:45. Beacon continuará albergando el programa extracurricular. Regístrese en ASP

aquí.

Los estudiantes recibirán instrucción en vivo y no en vivo todos los días durante cuatro horas. Los maestros le brindarán instrucción en una sesión de

75 minutos en clase.

La participación de los estudiantes es fundamental. Participación significa:

Asistir a una clase de Zoom, con o sin cámara encendida.

Unirse a un Hangout de Google, con o sin hablar.

Enviar trabajos de clase o asignaciones en StudentVUE o Google Classroom.

Participar en un chat grupal.

Correo electrónico directo, llamada o mensaje de texto con el maestro.

Debe completarse al final del día o el estudiante se marcará ausente.
Los maestros continuarán ofreciendo horas de oficina para apoyo adicional. Consulte el programa a continuación.

Los estudiantes tienen una pausa para el

almuerzo de 40 minutos

cada día.

Las transiciones y los descansos

(¡no te permitas pasar tiempo frente a la pantalla!)

También se programan y animan a los estudiantes durante el día.
Vea el horario de la campana en la página siguiente →
Horario de Timbre para Estudiantes del 17 al 28 de Agosto de 2020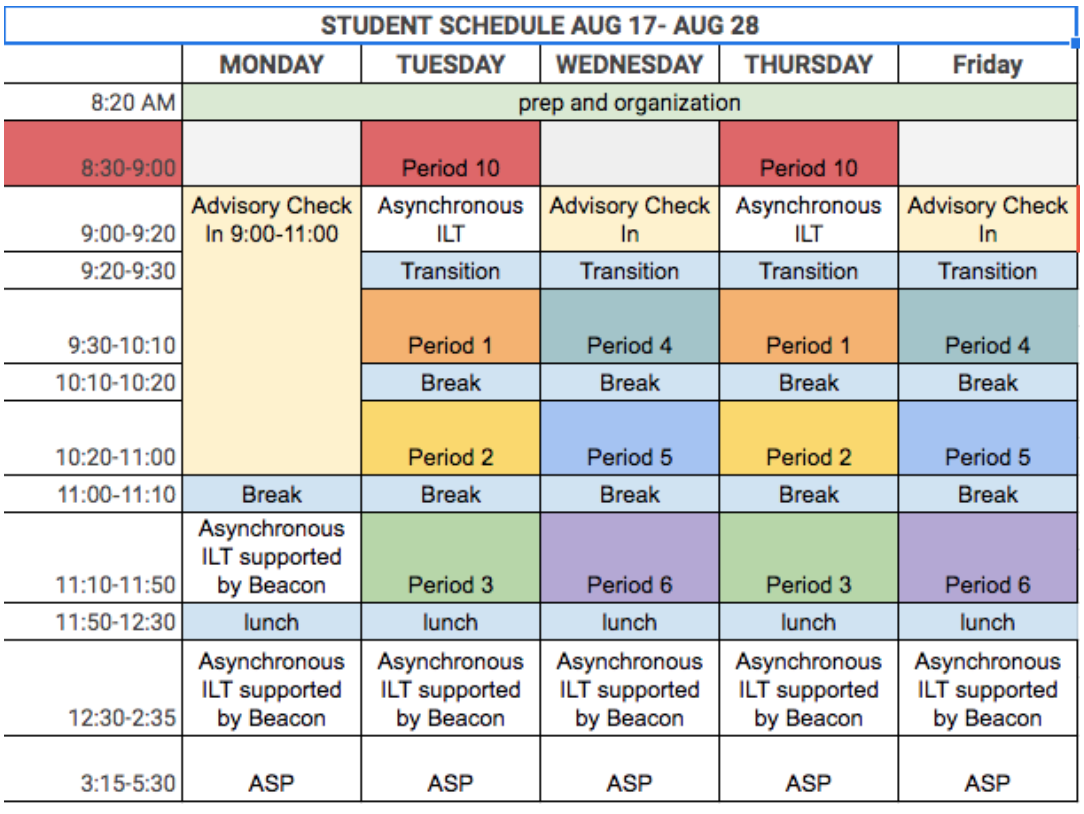 Horario de Timbre para Estudiantes a partir del 31 de Agosto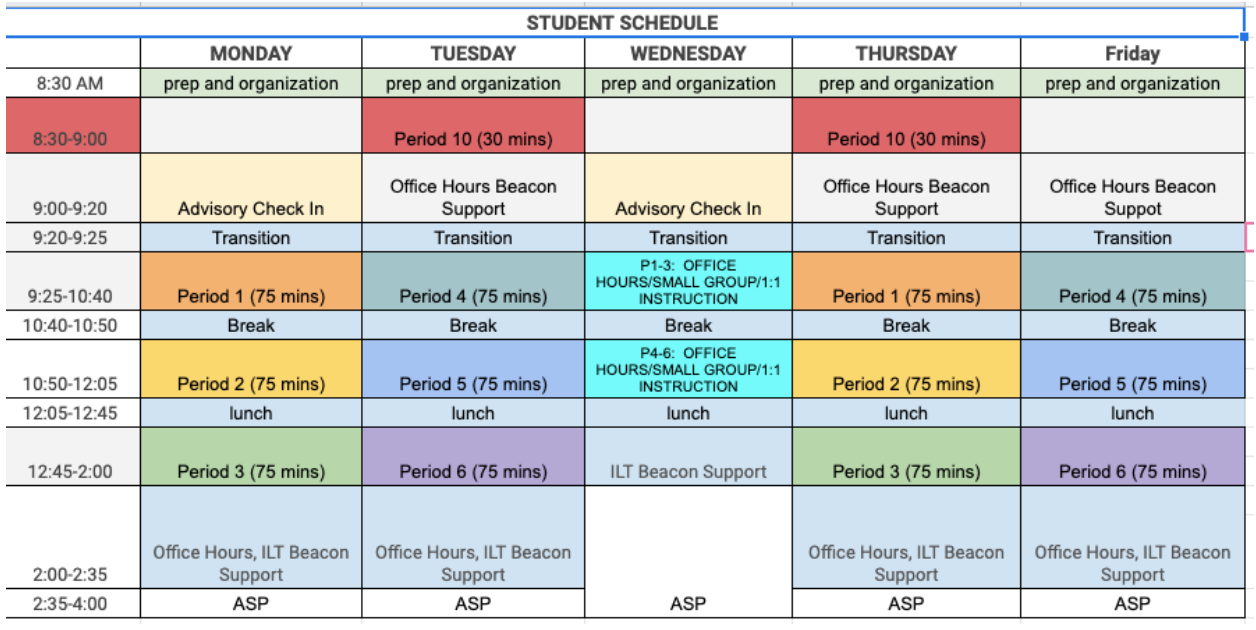 Expectativas de los estudiantes
Se espera que los estudiantes participen en el tiempo de Clase y en el Horario de Oficina de cada clase.

Los estudiantes deben tener acceso para comunicarse y recibir apoyo de los maestros durante este tiempo.

Durante el tiempo de Aprendizaje Independiente (ILT), los estudiantes trabajarán en las asignaciones y pueden comunicarse con los maestros por correo electrónico, Google Classroom, etc. para obtener apoyo.

Se espera que los estudiantes completen todo el trabajo asignado por el maestro.

Se espera que los estudiantes con IEP participen en los Servicios del Habla, Terapia, Consejería y otros servicios que se enumeran en su IEP.
Ciudadanía Digital y Normas y Expectativas de la Reunión en Línea
Los estudiantes deben seguir las normas virtuales establecidas por sus profesores al participar en el aprendizaje en línea. Los estudiantes y las familias también deben consultar las Normas Proporcionadas por el SFUSD para Maestros y Estudiantes y nuestras Expectativas Virtuales de Hoover para Estudiantes.
 ¿Qué pueden esperar las familias del Aprendizaje a Distancia?
¿Cómo debería ser el aprendizaje a distancia?
Las Escuelas Intermedias continúan priorizando el Perfil de los Graduados: Sentido del Propósito y Sentido del Yo,  a medida que avanzamos hacia el aprendizaje a distancia. La agencia de los estudiantes, la colaboración y la reflexión sobre áreas de fortalezas y crecimientos continúan impulsando los principios de diseño para la participación de maestros y estudiantes. Los estudiantes de 6 a 8 grado participarán principalmente en el aprendizaje a distancia de forma digital para garantizar el acceso y la idoneidad del desarrollo. Cuando los maestros sepan que los estudiantes no tienen acceso a la tecnología, habrá disponible una opción impresa.
Planifique que los estudiantes participen en 4 horas de aprendizaje diario.

Nota especial:

La cantidad de tiempo para participar en el aprendizaje a distancia es diferente de una jornada escolar normal de 7 horas. Se espera que los estudiantes tengan 4 horas de clases para Aprendizaje a Distancia.

Durante las dos primeras semanas de clases, las clases duran 40 minutos. A partir del 31 de agosto, las clases durarán 75 minutos y los estudiantes asistirán a tres clases por día más 20 minutos de asesoría dos veces por semana.

Durante las dos primeras semanas de clases, las clases son de 40 minutos. A partir del 31 de Agosto, las clases durarán 75 minutos y los estudiantes asistirán a tres clases por día más 20 minutos de asesoramiento dos veces por semana.
Envíe un Correo Electrónico a la lista de Contactos de los Maestros AQUÍ.
Participación del Padre / Tutor / Familia
Si tiene alguna pregunta sobre las asignaciones, el contenido u otra información relacionada con su estudiante y / o la clase, comuníquese con el maestro por correo electrónico.
Los padres pueden ser agregados a Google Classroom para recibir notificaciones de las asignaciones de los estudiantes y las fechas de entrega.
El padre / tutor puede solicitar que el maestro los agregue para recibir notificaciones.

Si un padre / tutor necesita comunicarse con un maestro, puede hacerlo por correo electrónico.

Envíe su pregunta o inquietud por correo electrónico

Solicitar una cita
Estudiantes con Planes de Educación Individualizados (IEP) 
Los maestros de RSP continuarán colaborando con los maestros de educación general para desarrollar modificaciones y adaptaciones para los estudiantes con IEP en las aulas de educación general.
Los administradores de casos están completando planes para brindarles a los estudiantes con discapacidades acceso equitativo a las oportunidades educativas y la provisión de una educación pública apropiada y gratuita considerando las órdenes de "refugio en el lugar". 
Se comunicarán con las familias con respecto a los Planes de Aprendizaje de Emergencia Individualizados que se basan en el Programa de Educación Individualizado (IEP) de cada estudiante y se modifican para el aprendizaje remoto. Las reuniones del IEP seguirán ocurriendo y los apoyos programáticos regulares para los estudiantes con IEP continuarán en la medida de lo posible.
Apoyo al Estudiante
Los estudiantes tienen la oportunidad de seguir recibiendo apoyo de sus consejeros y trabajadores sociales. Las familias también pueden buscar apoyo y ayuda para responder preguntas.
Learning Commons sigue estando disponible para los estudiantes. Consulte los Recursos Remotos de Hoover LC. Los estudiantes también pueden recibir asistencia técnica y orientación.
Todos los estudiantes deben unirse al aula de Google de su Nivel de Grado si aún no lo han hecho para obtener información y reuniones específicas.
Renee 'Ashbaugh- Consejera de 6º               ashbaughr@sfusd.edu 
Katie O'Connor- Consejera de 7º oconnork@sfusd.edu 
Angela Wong- Consejera de 8º wonga18@sfusd.edu 
Thary Duong- Trabajadora social duongt@sfusd.edu 
Jackeline Zepada Callejas- Trabajadora de extensión de salud comunitaria zepeacallejasj@sfusd.edu 
Karen Green- Dean greenk@sfusd.edu 
Alicia Blacknell- Subdirectora, Servicios Estudiantiles blacknella@sfusd.edu 
胡佛初中遠程學習指南,適用於學生和家庭
眾胡佛學生和家庭大家好,
我們希望您和您的家庭在這具挑戰性的時期依然是健康和安全的。老師、員工和我自己都非常想念你們!對於我們而言,不能見面和保持距離遠不是我們平常的相處狀態,所以遠程學習是一種全新的體驗。儘管我們無法和平時一樣上課,但我們正在努力確保學生們的在線遠程學習可以成為另一種積極的體驗,以便您仍然能與老師和其他同學保持聯繫,最重要的是,依然能繼續學習!我們更加希望你們能在下一個學年升上一個年級前做好準備。預先感謝您的耐心配合和諒解。
胡佛遠程學習的春季計劃於2020年8月17日星期一開始。上課時間表有兩個:一個是開學前兩週,另一個是由8月31日開始。
課程統一每天上午9:00開始; 但有第十節體育課的學生週二和週四則會在8:30開始。課程在週一,週二,週四和週五的2:35結束,週三則在12:45結束。Beacon將繼續提供課後班計劃。在

此處

註冊ASP

學生每天將接受四個小時的在線和非在線教學。老師會上35分鐘的課程並指導學生

學生的參與尤其重要。參與是指:

出席在線Zoom課程,打開或關閉鏡頭

加入Google Hangout,打開或禁止麥克風

在StudentVUE或Google Classroom提交課堂任務或者家庭作業

參與到小組討論中

直接電郵、致電或短信老師

如果學生有事不能出席課堂,他們應該要當日電郵通知老師,以及提交當日所佈置的課堂任務

老師們會繼續提供答疑輔導時間或額外的幫助。請查閱以下時間表獲取詳情

學生們每天有

40分鐘的午餐時間

每日的時間表都包括了下課時間和課間休息(鼓勵並給

學生遠離屏幕的時間

)
學生2020年8月17日至28日的上課時間表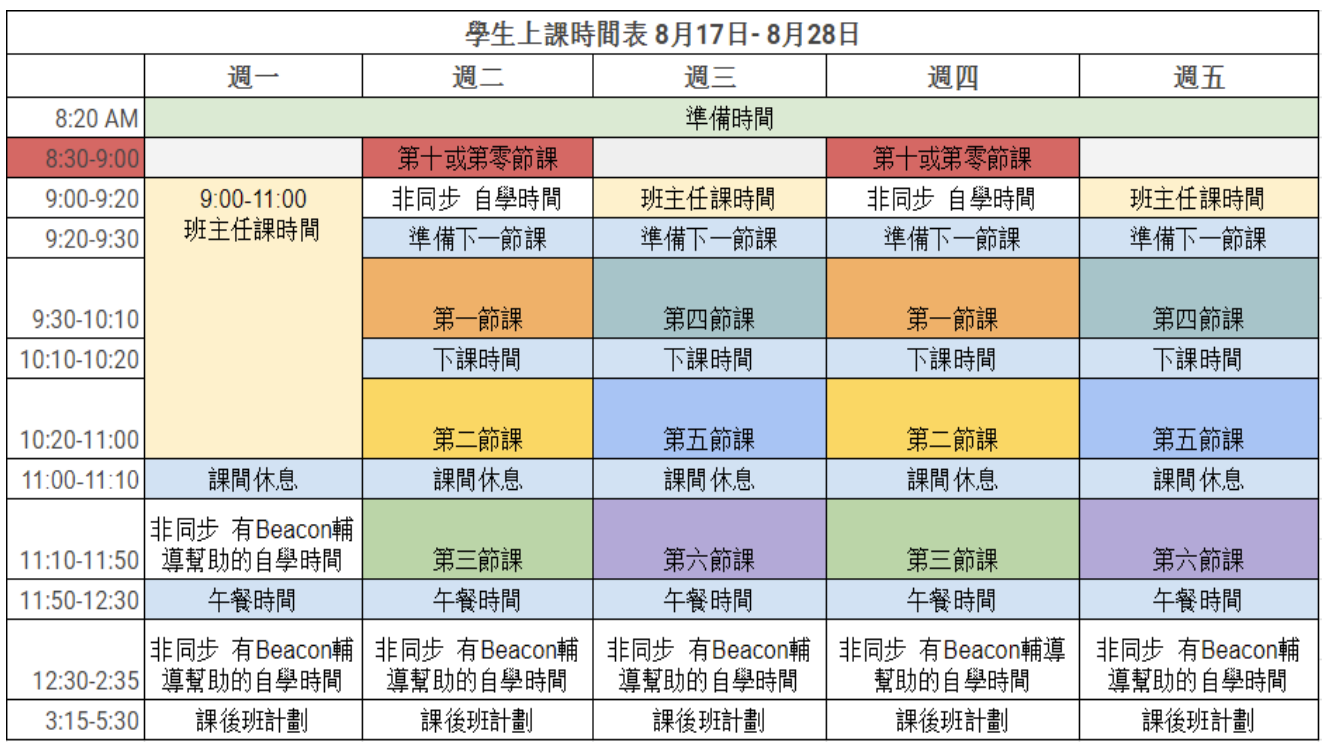 學生由8月31日開始使用的上課時間表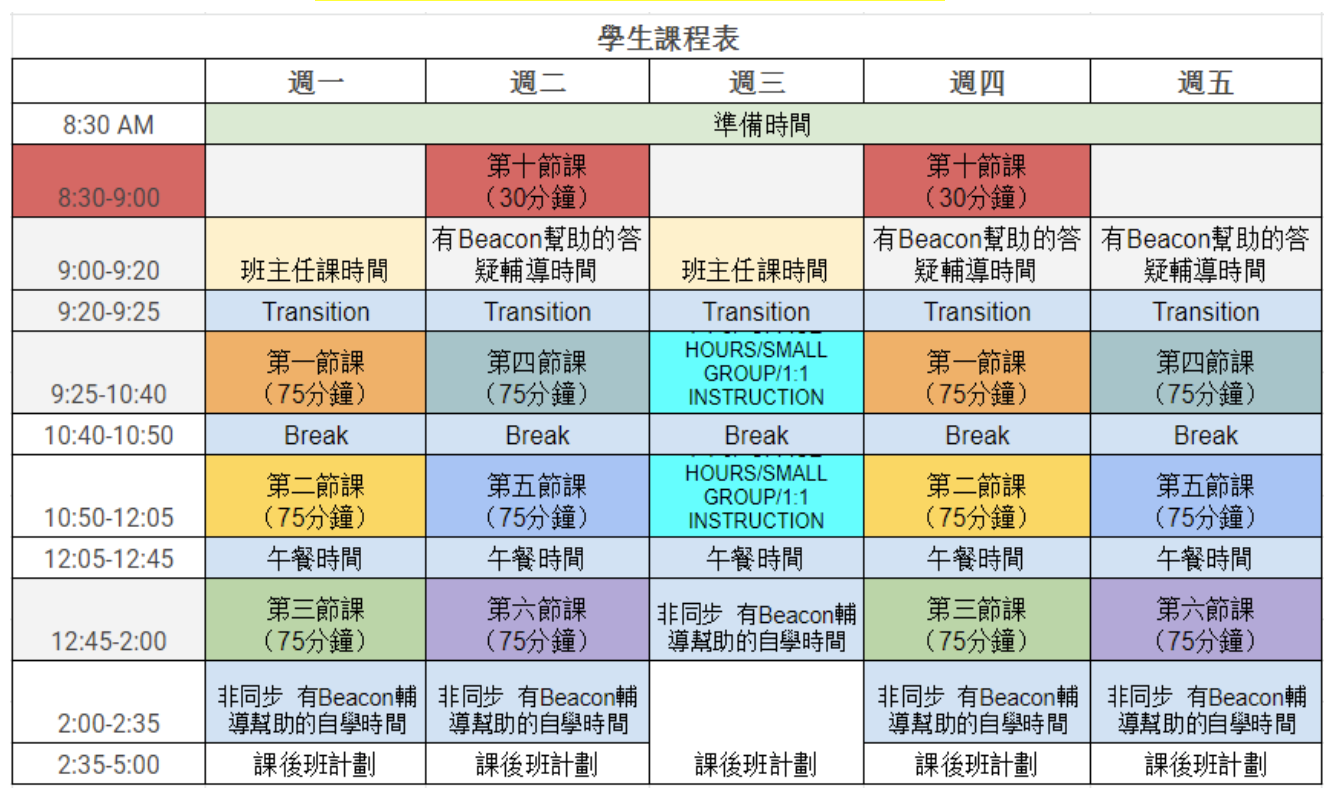 對學生的期望
要求學生參加每節課的上課時間和根據該課程提供的答疑/輔導時間。 

在此期間,學生應該要和老師交流並獲得所需的幫助。

如果學生有事不能出席課堂,他們應該要當日電郵通知老師,以及提交當日所佈置的課堂任務

學生可以利用自學時間(ILT)做作業,並能通過電子郵件,Google Classroom等途徑聯繫老師以尋求幫助。

學生應該要完成所有老師佈置的作業和任務

IEP學生仍然要參與到演講、治療、咨詢和其他列在IEP學生事項上的服務
數字公民 & 在線會議規範和期望
學生上網絡課程時應要准守老師所立的在線會議規範。學生和家庭都也應該參閱 SFUSD提供給老師和學生的守則以及適用於學生的胡佛在線會面守則
家庭應該如何理解遠程學習?
遠程學習應是怎樣操作的?
在我們轉向遠程學習時,學校會繼續優先考慮每個學生在畢業後應所發展的思想教育:目標感和自我意識感。針對學生的援助、合作以及對他們的優勢和成長的各個方面進行的考量,將會繼續推動著教師和學生整個互動的安排。 6-8年級的學生將主要以網絡形式參與遠程學習,以確保並獲得相對的思想教育和知識。如果老師知道學生無法使用任何電子設備,則將提供紙質和打印的選擇。 
為參加每天4小時學習的學生製定的計劃

注意

:進行遠程學習的時間與正常學校每天7小時的上課時間不同。預計學生上課時間不得超過4個小時。

在開學前兩週的每節課時間為40分鐘。從8月31日起,每節課為75分鐘,學生每日將會上三節課,另加每週兩次的20分鐘班主任課時間
點擊這裡獲取老師們的電郵列表
家長/監護人/家庭參與
如果您對作業、內容和其他關於學生或者其課堂信息有疑問,請通過電郵聯繫老師。
家長們可以加入Google Classroom,以獲取其學生的作業和提交日期通知。
家長或監護人可以要求老師收到添加他們以獲得消息提醒

如果家長或監護人需要聯絡老師,他們能通過Email取得聯繫
個別化教育計劃的學生(IEPs)
RSP教師將繼續與通識教育的教師合作,為在上通識教育課程的IEP學生提供額外支援和進行適當的修訂。
考慮到"居家庇護所"命令,個案管理人員正在為殘疾學生提供平等的教育機會制定計劃,並提供免費適當的公共教育資源。他們將與每位個性化教育計劃(IEP)學生的家庭聯繫,並解釋他們針對每個學生的個性化教育計劃(IEP)和遠程學習所修訂的個性化緊急學習計劃。 IEP會議仍會舉行,IEP學生的常規系統化援助將繼續在可能的範圍內進行。
學生支援
學生將能繼續獲得年級輔導員和社工的支持。如果家長有需要,亦可聯絡以下年級輔導員和社工獲取幫助和解答。 
學校的學習中心會依然會在網上為學生們開放。請瀏覽胡佛LC在線資源。學生們還能繼續獲得技術資源和指導。
所有學生都應加入其年級的Google Classroom,以便以後獲取關於各年級的特別資訊和大會信息。
Renee' Ashbaugh - 6年級輔導員 ashbaughr@sfusd.edu 
Katie O'Connor- 7年級輔導員 oconnork@sfusd.edu 
Angela Wong - 8年級輔導員 wonga18@sfusd.edu 
Thary Duong- 社工 duongt@sfusd.edu 
Jackeline Zepada Callejas- 社區健康外展專員 zepeacallejasj@sfusd.edu 
Karen Green- 訓導主任 greenk@sfusd.edu 
Alicia Blacknell- 副校長,負責學生服務 blacknella@sfusd.edu