Overview
Actively learn is a digital content platform that offers a rich and diverse catalog of texts and videos. Experience engaging standards aligned instruction including the ability to add or modify instruction and to bring your own content and share with colleagues. It includes differentiation tools including text to speech and translation in over 100 languages.

Students and teachers can access Actively Learn through Clever at clever.sfusd.edu
Curricular Uses, Resources, & Tutorials
Actively Learn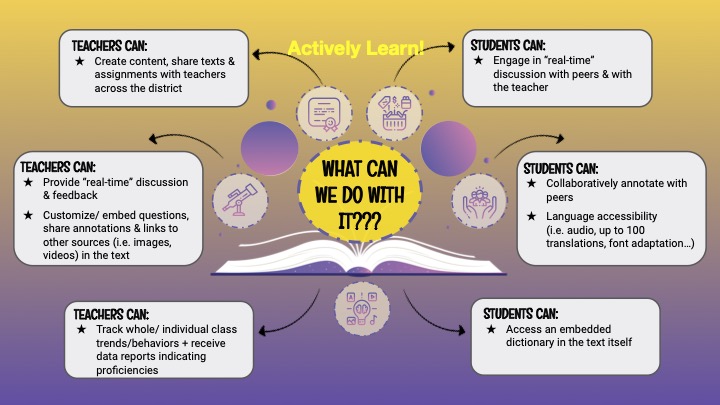 All middle grades E/LA teachers and students will have "Prime" access to Actively Learn for the 2021-2022 school year! We will also be funding a number of "Unlimited" Text Rental subscriptions for teachers and students.  Teachers and/or site leaders may express interest in receiving "Unlimited" text access by completing this request form.
Click here for a list of available titles from our SFUSD Recommended Reading Lists - including the new additions - as well as titles from our Culturally Responsive Classroom Libraries. Or, explore their full catalog (may not be fully updated). 
We will be scheduling several trainings in the fall to learn more about the platform and its many features.  In the meantime, you can get a head start with these resources:
Coaching and Support
Have questions or need support? Please contact Suzy DeBlois at debloiss@sfusd.edu
This page was last updated on September 10, 2021