Surveillance Testing and Mobile Rapid Testing on January 2-9, 2022
For students!
For the most up-to-date information on COVID-19 Testing Locations and Dates please click here.
The San Francisco Department of Public Health (SFDPH), recommends that all students and staff, regardless of vaccination status, get tested for COVID-19 one - two days prior to return to school/work, even if they are asymptomatic.  
To support this recommendation, SFUSD has partnered with Safer Together to offer mobile rapid testing as staff and students return from the Winter Break.  Safer Together will offer the antigen rapid testing at the school sites, below, during the week of January 2-9th.  Testing will be available to staff, students, and the community.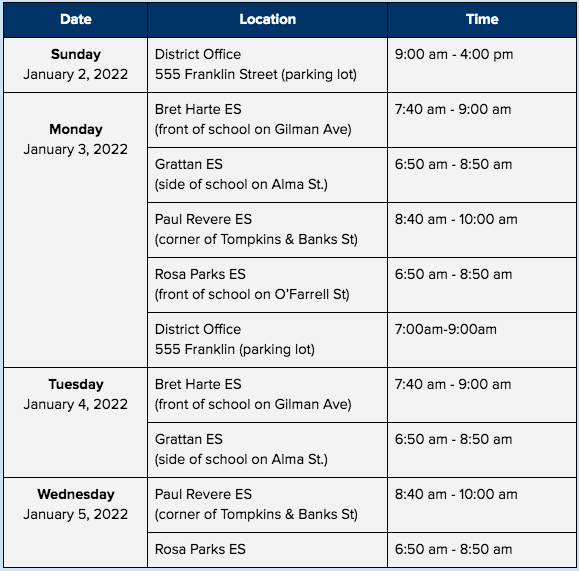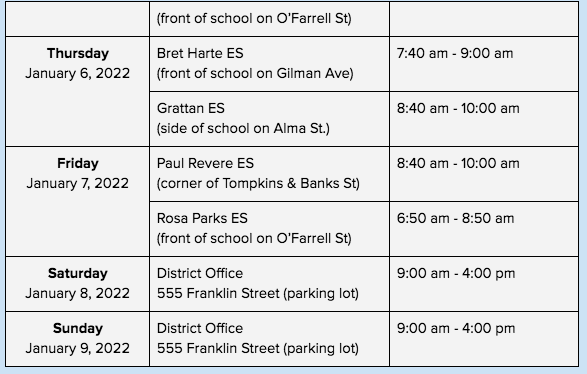 Safer Together staff will also assist with on-site day of registration.  Please note that if students are registering on the day of testing, parents/guardians of students must be present to complete the registration/consent form.
In addition to testing prior to returning to school/work, SFDPH also recommends testing 3-5 days after returning from travel as per CDC/CDPH guidelines, so depending on when your family or staff returns from travel, testing twice might be a good idea.  For example, if your family or staff returns from travel on the Sunday before school starts, it would be a good idea to test once on that Sunday (January 2nd) as well as test once again sometime during the following Wednesday through Friday. 
Student vaccines 16 and up offered now!
San Francisco is offering drop-in COVID-19 vaccine
Who?
Anyone 16 and older living in Bayview, Vis Valley, Mission, Excelsior, Tenderloin, Potrero Hill, and Portola Neighborhoods (94124, 94134, 94110, 94112, 94107, 94102, 94103, and 94130).
Where?
 Zuckerberg San Francisco General (1001 Potrero Avenue) daily between 9am and 3pm. 
Which Covid Vaccine?
Currently, ZSFG carries the Moderna and Pfizer vaccine while supplies last. 
Students 16 and 17 must be accompanied by a parent/guardian. 
Students 18 and up:
Anyone 18 and over that lives in 94124, 94134, 94112, 94110, 94107, 94102, 94103, & 94130 can drop-in for a COVID-19 vaccine at the Southeast Health Center (2401 Keith Street) daily between 9am and 3pm. Currently, Southeast Health Center carries the Moderna vaccine.
Student COVID Testing Information
Color is partnering with SFUSD to provide COVID-19 testing for students. Testing is not required for in-person learning, but it is strongly encouraged. When students return to in-person learning, they can be tested at their school site. See the Color website for your school's testing day.
Where can students get tested?
Students may go to Everett Middle School at 450 Church Street on April 17 and April 24 from 8:30 a.m. to 3:30 p.m. for testing.
This page was last updated on January 7, 2022