Parent Vue
ParentVUE offers secure, private access to your student's school information, including: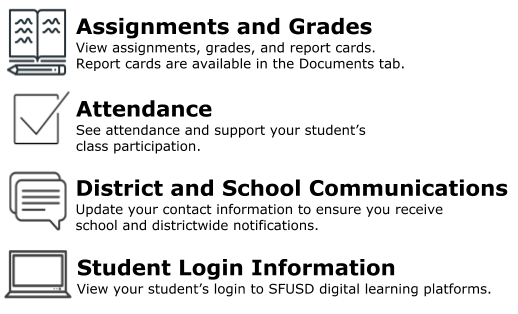 One account gives you access to all of your students in SFUSD. Activate today: sfusd.edu/activate.
ParentVUE Mobile Application
You can download the ParentVUE app on your device. Search for "ParentVUE" on the App Store or Google Play and click download.
To get started on the mobile app, follow the steps below:
Clever: Your Digital Backpack
The SFUSD Digital Backpack is a collection of tools that have been vetted for safety and privacy. Each student will have different tools in their Backpack based on their school and grade for reading, math, science and more. Everything is accessed from clever.sfusd.edu - just click the "Log in with Google" button (or K-3 students can use their badges).
Please contact your student's teacher if you need support with logging on.