8th Grade High School School Assignment Accept/Decline is due APRIL 9th!
---
八年級高中派位接受/拒絕截止日期為4月9日!
---
¡La aceptación / rechazo de la asignación de la escuela secundaria de octavo grado vence el 9 de abril!
Accept or Decline Your School Assignment by April 9
When you receive your school assignment letter, you must accept or decline your assignment by April 9, 2021. Families who do not respond by the April 9 will not be enrolled for school next year. You can accept or decline online through the Family Portal (ParentVUE), or by submitting the paper response form that was included with your assignment letter. If you have questions, attend a Virtual Workshop.
Accept the assignment (even if you apply for Round 2)
Decline the assignment if you do not plan on attending a SFUSD school; 
Go to portal.sfusd.edu and choose ParentVUE.
Click "Online Forms" on the upper right-hand corner. If you are  using the ParentVUE mobile app, click "Online Registration" then click "Open Online Registration". 

 

Select "2021-2022 Accept/Decline Assignment"
Click "Start New Application" 
Read the instructions and follow the prompts to Accept or Decline the school offer.
For tips on using the portal for Online Forms, please see http://sfusd.edu/ola
How do I Apply for High Schools?
In order to apply for High School, your family must have an activated ParentVUE Account! More information about ParentVUE can be found by clicking the link below!
How to Get to the Online High School Form
If you have a ParentVUE account, follow the steps below to start your online application. If you need help accessing ParentVUE, please email onlineapps@sfusd.edu. 
On your web browser, enter portal.sfusd.edu. Click ParentVUE >.

Enter your ParentVUE username and password. Click Login. 

Click "Online Forms" on the upper right hand corner of the screen.

Choose SFUSD Application for 2021-22 in the dropdown menu and click "Start New Application".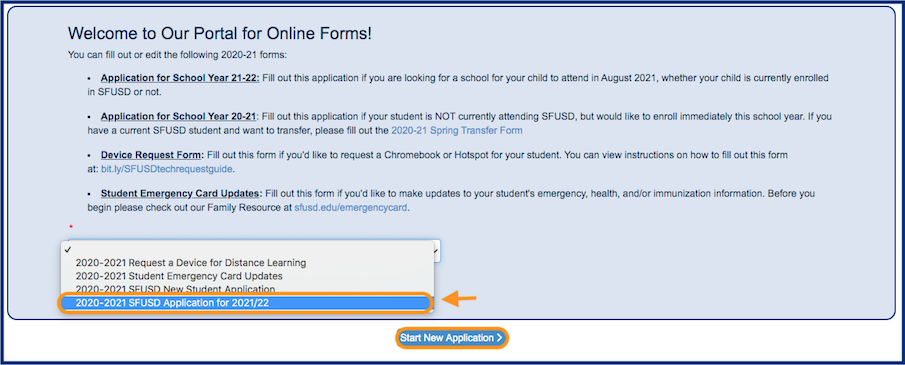 High School Town Hall Information and Recordings