MLK Middle School 8th Grade SWAG Pickup!
Congratulations MLK Class of 2020!
Pick up your MLK "swag" on Tuesday June 9th by Homeroom!
8th grade families,
Congratulations on your student completing their journey through middle school! 
Teachers and staff are putting together a package for your student that contains an MLK Class of 2020 hoodie and their completion certificate signed by Mr. Essien. 
Please continue to borrow any laptop or wifi hotspot that was borrowed from MLK or SFUSD. Borrowed technology will be returned when school sites open back up.
To pick up their package and return any text books, library books, or athletic uniforms, please pay attention to the following instructions:
Date: Tuesday, 6/9
Time: Depends on their homeroom (see below):
Time

Homeroom Teacher

10am-11am

Schickenberg

Jackson

11am-12pm

Woon    

Wette

12pm-1pm

Driver    

Founds

1pm-2pm

Anielski
Where: MLK middle school, enter at the front gate on Girard St.
What: Pick up 8th grade promotion package and return books and athletic uniforms
Safety guidelines must be followed:
A face mask must be worn at all times

Please leave siblings and other family members at home if possible

Please leave once you've received and dropped off your items (this is not a time to socialize)

Maintain social distance of 6 feet at all times

Students and family members will not be allowed in the building
If you are unable to come to MLK on Tuesday 6/9, the promotion package will be held to be picked up once the school site is back open (possibly next school year).
---
八年級升學包
八年級家庭:
恭喜您的學生完成了初中的學習之旅!
老師和教職員正在為您的學生準備一個升學包裝,其中包含2020年MLK帽衫和由Essien先生校長簽署的升學證書。
請繼續借用從MLK或SFUSD借用的任何電腦或WiFi設備。 校園開放後,借用的電腦或WiFi設備才需要退還。
學生要拿升學包裹並退還任何教科書,圖書館書或運動服,請注意以下說明:
日期:6/9星期二
時間:取決於他們的班主任課(見下文):
時間

班主任課

10am-11am

Schickenberg

Jackson

11am-12pm

Woon    

Wette

12pm-1pm

Driver    

Founds

1pm-2pm

Anielski
哪裡:MLK中學,在(Girard St.)的前門進入。
內容:領取8年級的升學包並歸還書和運動服
必須遵循安全準則:
必須戴上口罩

如果可能的話,請將兄弟姐妹和其他家庭成員留在家中

收到升學包並放下物品後,請離開(這不是社交時間)

保持

6

尺的社交距離

學生和家庭成員不得進入學校大樓
如果您無法在6/9星期二來MLK,則將在學校場地重新開放(可能是下個學年)後拿升學包。
---
Información del paquete de graduación de octavo grado
Familias de octavo grado,
¡Felicitacionesdebido a que su hijo/hija ah completado su viaje por la escuela intermedia!
Maestros y el Personal Administrativo están preparando un paquete para su hijo/hija el cual contiene una sudadera con capucha de la Clase MLK 2020 y su certificado de finalización firmado por el Sr. Director Essien.
Continúe prestando cualquier computadora portátil o punto de acceso wifi prestado de MLK o SFUSD. Las erramientas de tecnología prestada será devuelta cuando los sitios escolares vuelvan a abrir.
Para recoger su paquete y devolver los libros de texto, libros de la biblioteca o uniformes deportivos, favor de prestar atención a las siguientes instrucciones:
Fecha: martes 9 de junio
Tiempo: depende de su salón de clases (ver más abajo):
Hora

Aula

10am-11am

Schickenberg

Jackson

11am-12pm

Woon
Wette

12pm-1pm

Driver    

Founds

1pm-2pm

Anielski
Dónde: Escuela Secundaria MLK, ingrese en la puerta principal de la calle Girard
Qué: Recoja el paquete de promoción de octavo grado y devuelva libros y uniformes deportivos.
Se deben seguir las pautas de seguridad:
Se debe usar una máscara facial en todo momento

Si es posible, deje a sus hermanos y otros miembros de la familia en casa.

Favor de, retírese una vez que haya recibido y dejado sus artículos (este no es el momento de socializar)

Mantenga el distanciamento social de 6 pies en todo momento

Estudiantes y miembros de la familia no serán permitidos en el edificio.
Si no puede venir a MLK el martes 9 de junio, el paquete de promoción se recogerá una vez que el sitio escolar vuelva a estar abierto (posiblemente el próximo año escolar).
¡Esperamos verte!
8th Grade Promotion Letter to Families and Students (English)
Hello MLK 8th grade families,

Please join us for celebrating our 8th grade students by joining us for Promotion Ceremony on Friday May 29th at 10AM online. Please click here for more information about Promotion Ceremony!
If you are unable to attend the viewing tomorrow Friday May 29th at 10AM, a REPLAY will be available on Saturday May 30th at 5PM!

If you have any question please email us at MLKFamily@sfusd.edu or send a text message at 415-993-0655.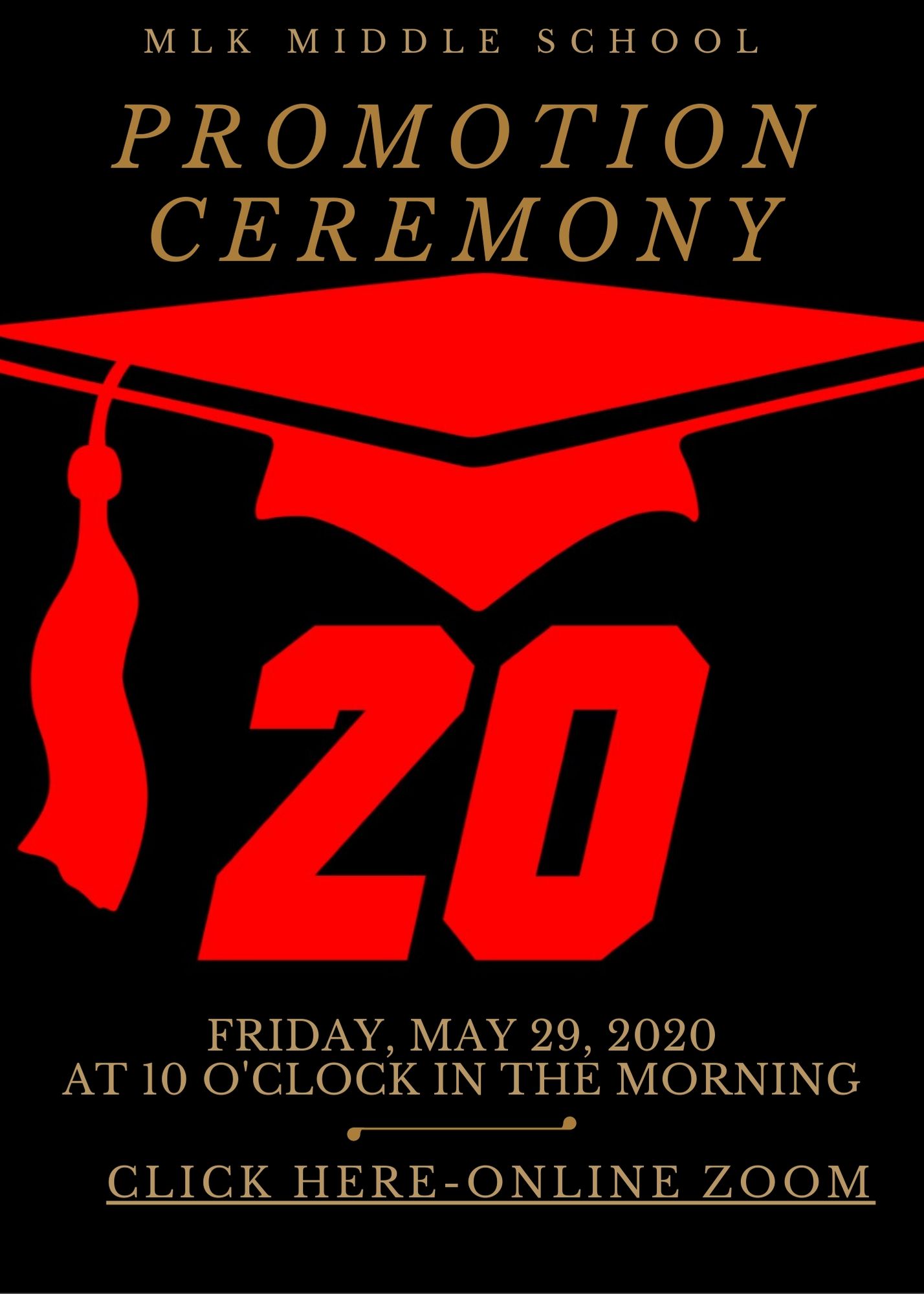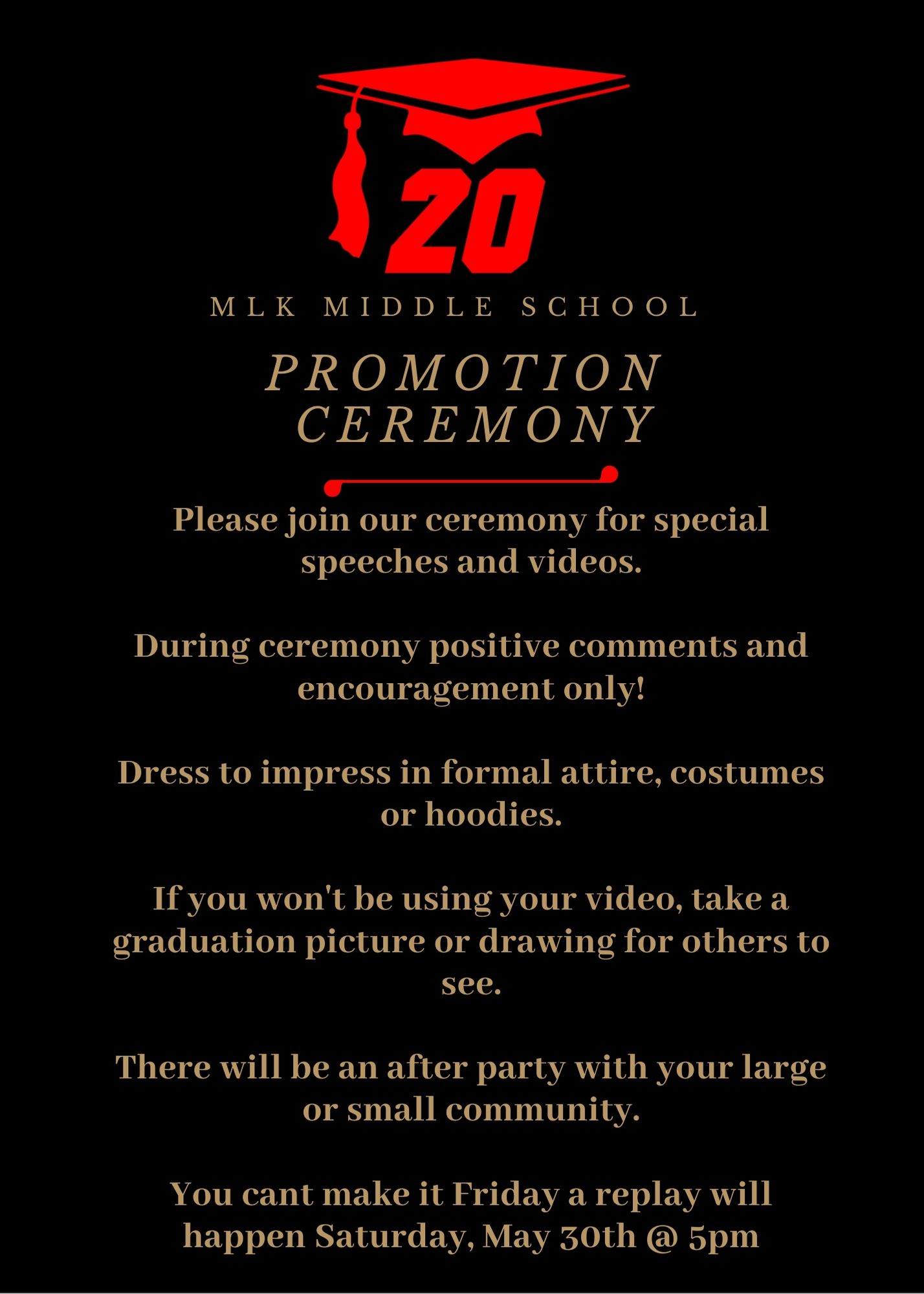 ---
MLK八年級家長您好,
請參加5月29日(星期五)上午10點在網上的升學禮,以慶祝我們的8年級學生。 請點擊此處以了解有關升學禮的更多信息!
如果您無法在5月29日(星期五)上午10點參加觀看升學禮,5月30日(星期六)下午5點可以看重播!
如果您有任何疑問,請發送電子郵件至MLKFamily@sfusd.edu或發送短信至415-993-0655。
https://www.sfusd.edu/school/dr-martin-luther-king-jr-academic-middle-school/distance-learning-info-mlk-students/8th-grade-promotion-2020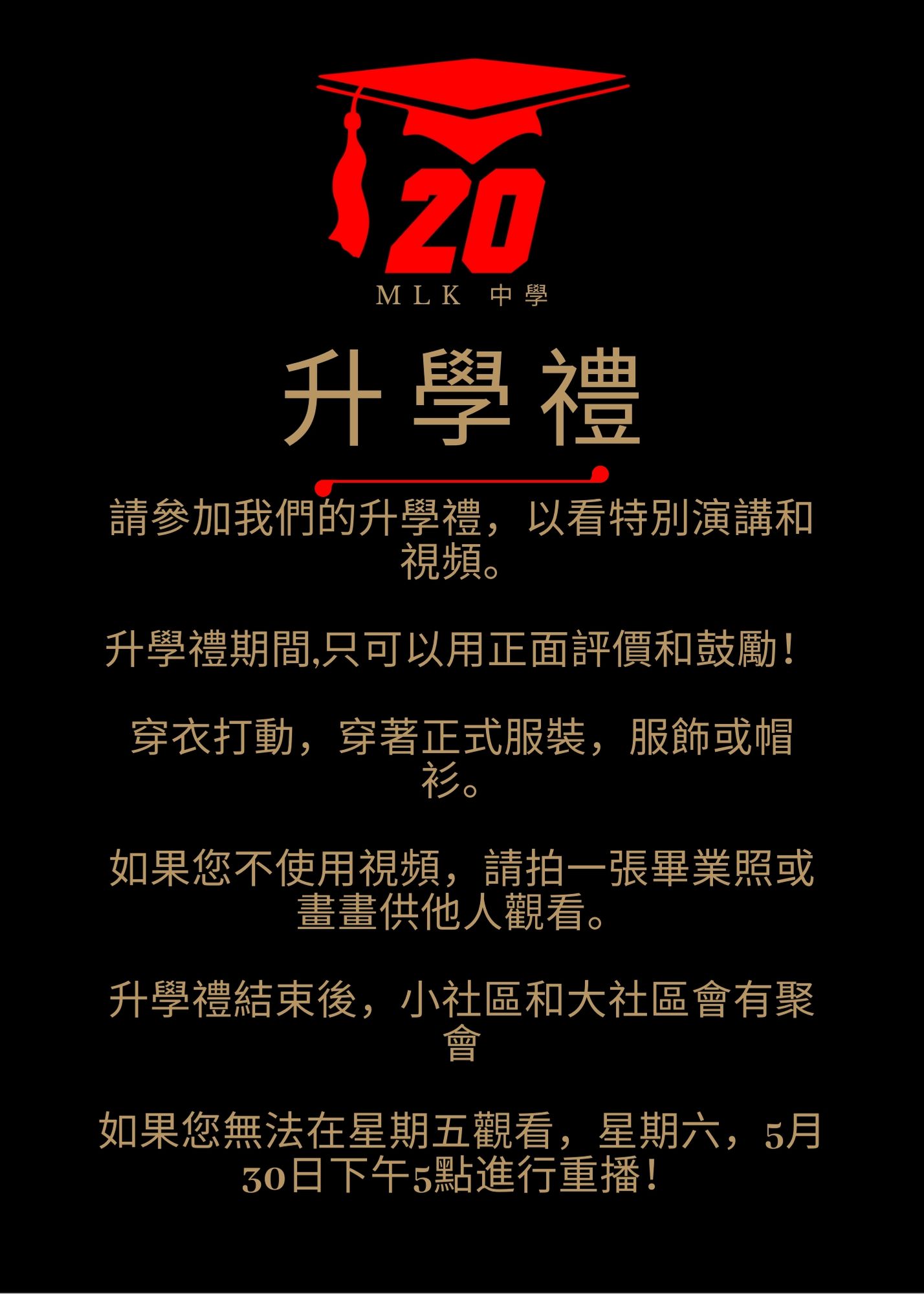 ---
Hola familias de octavo grado de MLK,
Únase a nosotros para celebrar a nuestros estudiantes de octavo grado uniéndose a nosotros para la Ceremonia de Promoción el viernes 29 de mayo a las 10 a.m.en línea. ¡Haga clic aquí para obtener más información sobre la ceremonia de promoción!
Si no puede ver la ceremonia de promoción mañana viernes 29 de mayo a las 10 a.m., ¡habrá una REPETICIÓN disponible el sábado 30 de mayo a las 5 p.m.!
Si tiene alguna pregunta, envíenos un correo electrónico a MLKFamily@sfusd.edu o envíe un mensaje de texto al 415-993-0655.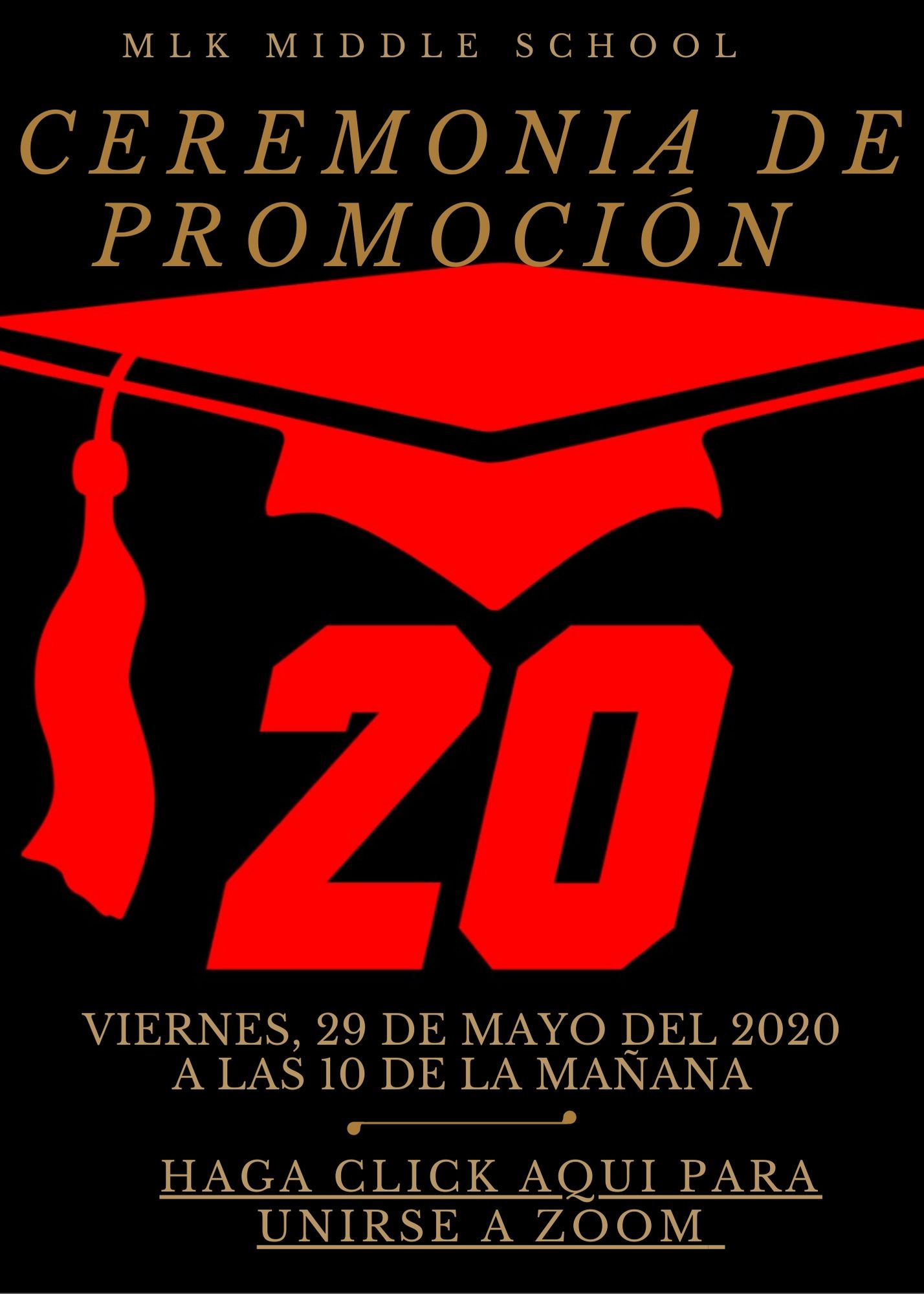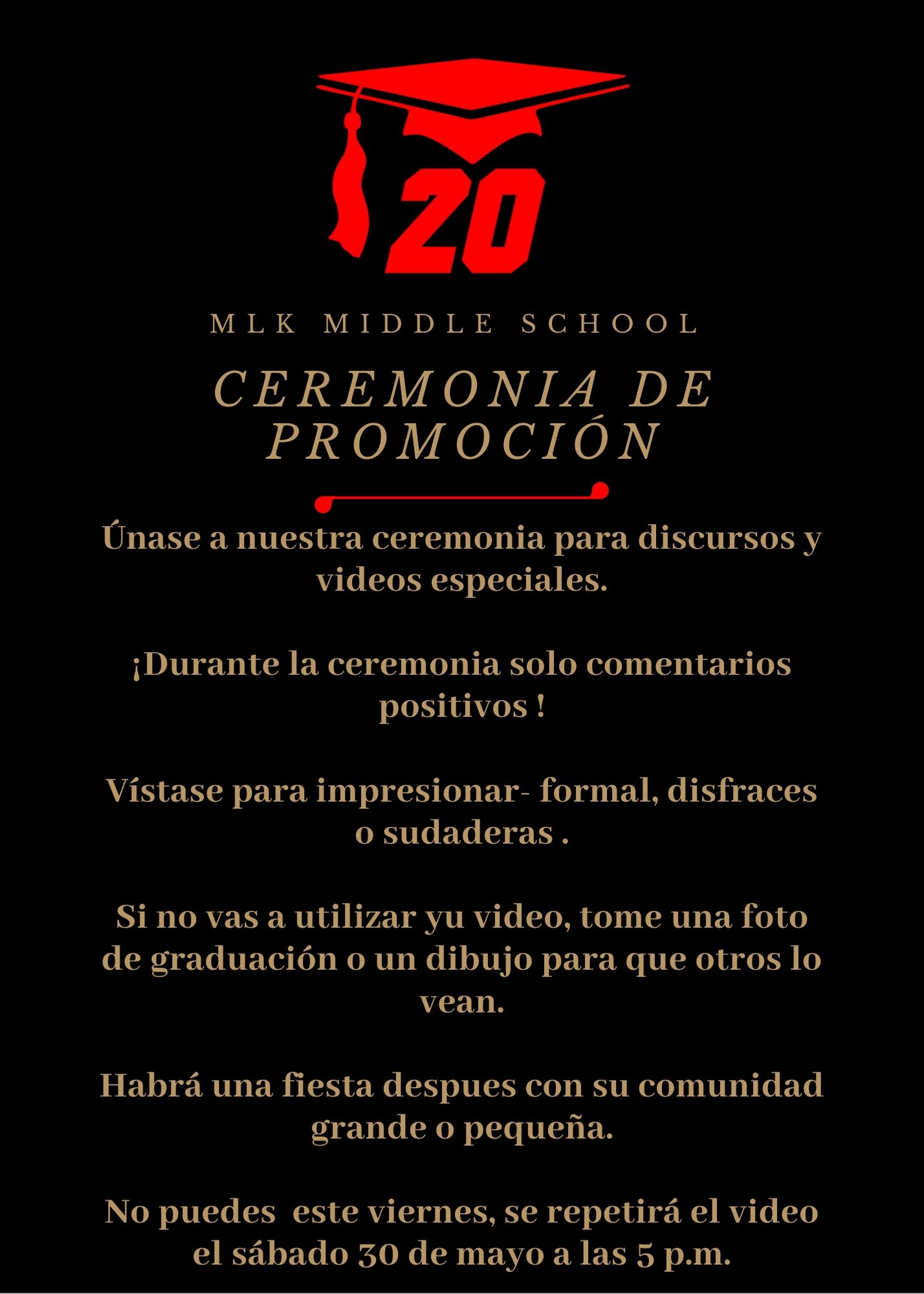 Dear 8th grade students and families,
Due to current shelter-in-place guidelines, MLK will be adjusting the 8th grade promotion ceremony. For the last couple of weeks, teachers have been receiving feedback from 8th grade students, reviewing plans from other SFUSD middle schools, and brainstorming ideas to make this 8th grade promotion ceremony memorable and special. The following is MLK's plan for celebrating our 8th graders during this unique time:
Pre-recorded video presentation with live viewing
When: 5/29 from 10:00am - 11:30am
Where: YouTube - a link will be shared with 8th grade families and students in the coming weeks.
What: Students will be watching a pre-recorded video presentation with their classmates and teachers. 
To do: Students, look for emails in the coming days from an MLK staff member asking for your input and participation in the presentation.
Memorabilia Package
What: Memorabilia package will contain MLK memorabilia.
To do: Look forward to communications about the "when" and "where" once more details are finalized.
Reunion 
When: To be determined (once we have been cleared to participate in social gatherings)
Where: MLK or a nearby park
What: The MLK 8th grade class of 2020 will be invited back to share memories, sign memory books, and enjoy food with their families. This plan will depend upon SFUSDs social-distancing guidelines.
To do: Look for updates on emails and the MLK Website in the fall of 2020 about a reunion. 
We look forward to celebrating with you and your family. While this celebration will mark the end of your middle school chapter, it is the beginning of your high school chapter, and the continuation of your learning  journey. Please contact me if you have any questions or concerns.
In community,
Tyson Fechter
Assistant Principal
Dr. Martin Luther King Jr. Middle School
350 Girard St. 
San Francisco, CA 94134
fechtert@sfusd.edu
---
尊敬的八年級學生和家庭,
根據當前的居家避疫令,MLK將調整8年級的升級禮。在過去的幾個星期,老師們一直在收集八年級學生的意見反饋,審查三藩市聯合校區(SFUSD)其他中學的計劃,並集思廣益,以使八年級的升學儀式令人難忘而又特別。以下是MLK在這個獨特的時期慶祝我們的8年級學生的計劃:
預先錄製的視頻演示
時間:5月29日早上10:00 am-11:30 am
哪裡:Youtube-在接下來的幾週內,將與8年級的家庭和學生分享一個網址。
內容:學生將與同學和老師一起觀看預先錄製的視頻演示。
要做的事情:學生,請在接下來的幾天尋找MLK工作人員發送的電子郵件,要求您提供意見並參與演示。
紀念品包
內容:紀念品包將包含MLK紀念品。
要做的事情:會有進一步確定"何時"和"何處"的信息。
團圓
時間:待定(一旦我們被批准參加社交聚會)
哪裡:MLK或附近的公園
內容:2020年MLK八年級班將被邀請回來與他人分享回憶,簽名記憶書並享用食物。該計劃將取決於SFUSD的社會安全距離準則。
要做的事情:在2020年秋季時,請留意有關團圓的電子郵件和MLK網站更新。
我們期待與您和您的家人慶祝。這次慶祝活動將標誌著您中課程的結束,但這是您高中課程的開始,和繼續您學習之旅。如果您有任何疑問或疑慮,請與我聯繫。
在社區中,
Tyson Fechter
副校長
Dr. Martin Luther King Jr. 中學
350 Girard St. 
San Francisco, CA 94134
fechtert@sfusd.edu
---
Estimadas familias y estudiantes del octavo grado,
Debido a las guías actuales de refugio de quedarse en casa,  la escuela MLK ajustará la ceremonia de promoción de octavo grado. Durante las últimas semanas, los maestros han estado recibiendo sugerencias de los estudiantes del 8vo. grado, revisando los planes de otras escuelas intermedias del Distrito Escolar Unificado de San Francisco por sus siglas en Inglés SFUSD y sugerencias de ideas para hacer que esta ceremonia de promoción de 8vo  grado sea memorable y especial. El siguiente es el plan de la escuela MLK para honrar/celebrar a nuestros alumnos del octavo grado durante este momento único:
Presentación de  video pregrabado  con visualización en vivo
Cuándo: 29 de mayo de 10:00 a.m. a 11:30 a.m.
Dónde: Por YouTube: se compartirá un enlace con las familias y estudiantes del 8vo. grado en las próximas semanas.
Qué: Los estudiantes verán una presentación de video pregrabada con sus compañeros y maestros.
Deberán hacer: Los estudiantes, buscaran correos electrónicos que se enviaran en los próximos días de parte de  un miembro del personal docente de la escuela MLK pidiendo su opinión y participación en la presentación.
Paquete de acontecimientos memorables
Qué: El paquete de memorias contendrá recuerdos de la escuela MLK.
Deberán hacer: Esperamos comunicaciones sobre el "cuándo" y el "dónde" una vez que se finalicen más detalles.
Reunión
Cuándo: se determinará (una vez que se nos haya autorizado a participar en reuniones sociales)
Donde: En la escuela MLK o en un parque cercano
Qué: La clase/promoción de la escuela MLK de octavo grado de 2020 será invitada nuevamente a compartir memorias, firma de  libros de recuerdos y disfrutar y compartir de una comida con sus familias. Este plan dependerá de las guías de distanciamiento social del SFUSD.
Deberán hacer: Busque información actualizada en los correos electrónicos y el sitio web de la escuela MLK sobre una reunión de promoción en el otoño de 2020.
Esperamos celebrar con usted y su familia. Si bien esta celebración marcará el final de su capítulo/estadía en la escuela intermedia, es el comienzo de su capítulo/estadía en  la escuela superior y la continuación de su viaje de aprendizaje. Favor de  contactarse al correo electrónico que se le adjunta,  de tener alguna duda o pregunta
En comunidad,
Tyson Fechter
Sub-director
Escuela Intermedia Dr. Martin Luther King Jr.
350 Girard St.
San Francisco, CA 94134, 
fechtert@sfusd.edu