MLK Beacon Digital Leacy Summer Program
MLK Beacon Summer Program - Digital Legacy - Students Earn $100
Hello, San Francisco community! We want to invite all of our beloved San Francisco middle school students to join in our first virtual MLK Middle School Beacon Digital Legacy summer program. We will be providing trauma-informed, equity-centered programming by co-creating excellent, dynamic spaces for children to express their creativity and gain essential skills for them to thrive and be successful in all environments. Students will spend three hours working on a selection of themed projects, activities, and enrichments. Participants will have a much-needed hour break between morning and afternoon sessions.  We know how important it is for our kids to retain and maintain skills they learned during the school year so Digital Legacy will also feature challenges and incentives for students to read and use the Freckle math program during their personal time.
Program Dates: 06/08/2020 – 06/30/2020 10AM – 2PM 
---
您好,三藩市社區!我們想邀請所有心愛的三藩市中學學生參加我們的第一個虛擬MLK中學 Beacon Legacy 暑期計劃。 我們將通過為兒童共同創造出色的動態空間來表達他們的創造力,並獲得使他們在各種環境中成功發展的基本技能,從而提供以創傷為中心的,以公平為中心的編程。 學生將花三個小時從事一系列主題項目學習,活動和充實活動。 參與者將在上午和下午之間有一個非常需要的休息時間。 我們知道,對於我們的孩子而言,保留和維護他們在學年中學習的技能至關重要,因此在這暑期計劃也將帶來挑戰和激勵,讓學生在個人時間閱讀和使用Freckle數學應用程式。
計劃日期:2020年6月8日至2020年6月30日節目時間:10:00 am-2:00pm
---
¡Hola, comunidad de San Francisco! Queremos invitar a todos nuestros queridos estudiantes de la escuela entermedia de San Francisco a unirse a nuestro primer programa de verano virtual de MLK Middle School Beacon-Digital Legacy. Este programa estará centrado en inforamacion de trauma y dará espacio donde los estudiantes puedan expresar su creatividad y adquieran habilidades esenciales para que prosperen y tengan éxito en todos los ambientes. Los estudiantes pasarán tres horas trabajando en una selección de proyectos temáticos, actividades y enriquecimientos. Los participantes tendrán un descanso muy necesario entre las sesiones de la mañana y de la tarde, por una hora. Sabemos lo importante que es para nuestros hijos retener y mantener las habilidades que aprendieron durante el año escolar, por lo que nuestro programa también dará incentivos para que los estudiantes lean y usen el programa de matemáticas Freckle durante su tiempo personal.
Fechas Del Programa: 8 DE JUNIO-30 DE JUNIO Horas del Programa: 10:00am-2:00pm
Haga clic aquí para solicitor.
MLK Beacon Extended Learning Program Schedule
Available during Distance Learning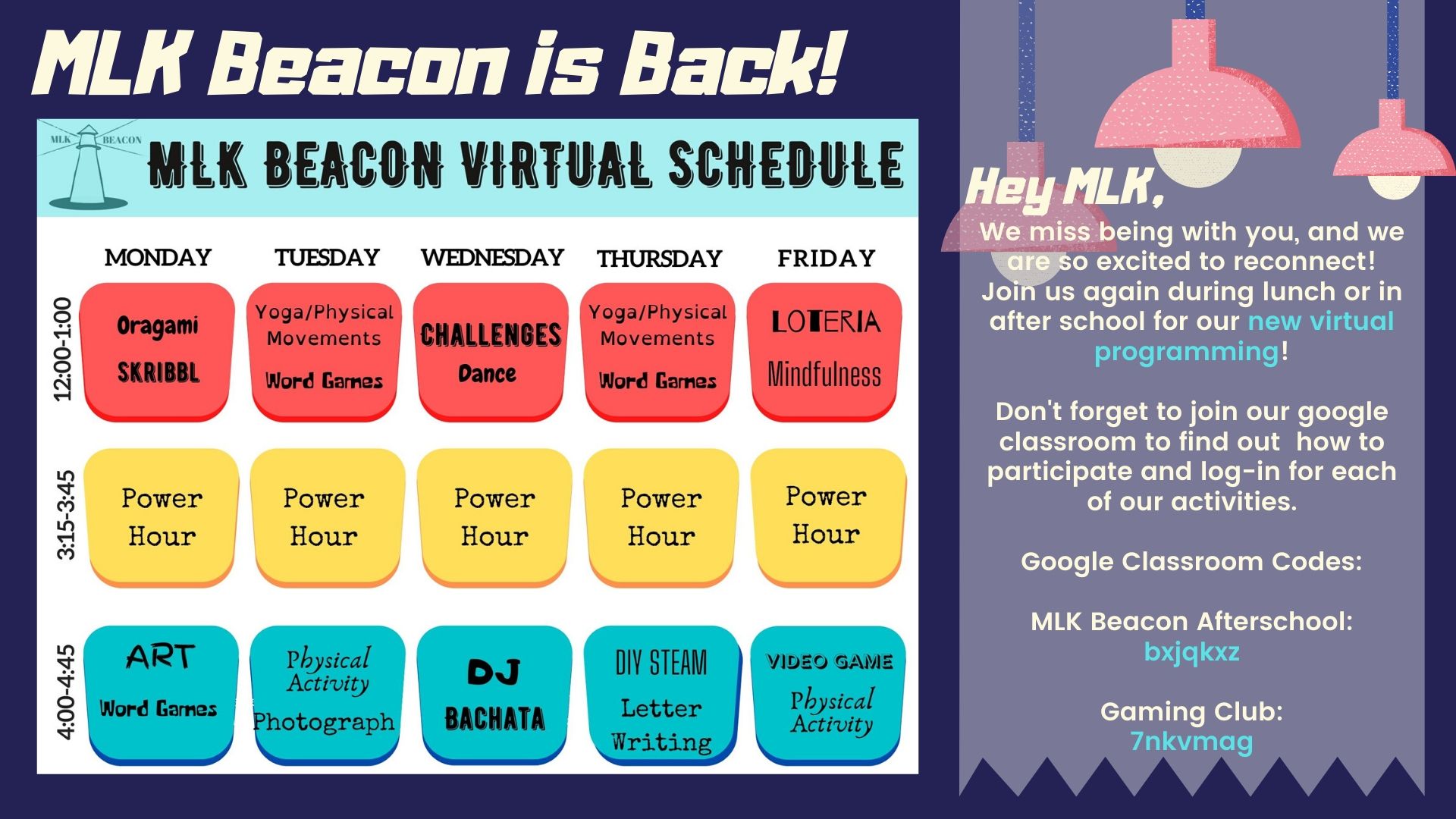 MLK Beacon Extended Learning Program Information
MLK Beacon Extended Learning Program $25 Only!
Fun Activities, Homework Help and Tutoring, Free school supper!
Open to ALL Middle School Students! 
Monday - Thursdays: 2:50PM - 6:00PM
Friday:1:15 PM - 6:00 PM
Cooking
Board Game Club
Science Mania
Sports & Fitness
Power hour (Homework)
Questions? Contact us at 415-330-1593 or email us at mlkbeacon@ymcasf.net
We are located at 350 Girard St. San Francisco, CA 94134 in Room 118.