Distance Learning Guide for Families
In addition to providing resources to guide your support of learning at home, the Family Distance Learning Guide highlights key topics and expectations around distance learning. 
Family Link
Can't find the answer to your question? Use SFUSD's Family Link!
Email: familylink@sfusd.edu
Submit a request: familylink.sfusd.edu
Call: (415) 340-1716 (Monday-Friday, 9am-1pm)
Free 1:1 Tech Support from SF EdFund
In collaboration with SFUSD, the SF Education Fund Circle the Schools team recruited numerous tech volunteers to provide one-on-one phone or video support to answer basic questions around Zoom, Google Meet, Google Classroom, and Seesaw. This opportunity is available for both teachers and families, and they have volunteers that speak multiple languages (including Vietnamese, Spanish, and Cantonese).
Sign-up for a 30 minute appointment at: https://booking.appointy.com/en-US/volunteertechsupport/bookings/service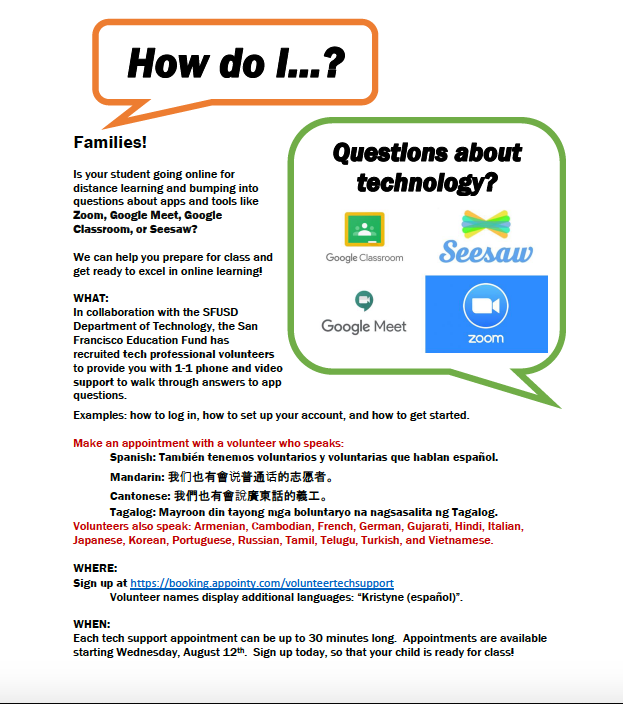 Instructional Minutes
At John Muir Elementary School, as with all elementary schools in SFUSD and throughout California, the minimum number of instructional minutes required during distance learning is as follows:
Kindergarten: 180 minutes
1st-3rd Grade: 230 minutes
4th-5th Grade: 240 minutes
SFUSD Family Technology Webinars
To support distance learning this fall, the SFUSD Department of Technology is partnering with the City and County of San Francisco and the San Francisco Public Library to provide Family Technology webinars to our families to help them support their students' basic technical needs throughout distance learning.  
 For more details visit sfusd.edu/family-webinars.