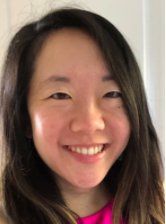 Hi! My name is Michelle Tang, and I am the teacher of the deaf/hard-of-hearing in Lafayette's K-2 Auditory Oral Special Day Class. I have been teaching at Lafayette Elementary School since 2018. Prior to working at Lafayette, I was a teacher of the deaf/hard-of-hearing in various PreK-12th grade settings within SFUSD. Lafayette is a close-knit community, and I'm happy to be a part of it. Go Dolphins!
Born and raised in San Francisco, I attended Convent of the Sacred Heart. I earned my B.A. in English with minors in Disability Studies and Global Studies from the University of California, Los Angeles. Subsequently, I received my M.A. and Ed.M. in Deaf Education and Elementary Education from Teachers College, Columbia University. 
My passion is advocating for equity and inclusion for children who are deaf/hard-of-hearing. As a person who was born deaf, I am actively involved with nonprofits for the deaf/hard-of-hearing such as No Limits for Deaf Children (Los Angeles, CA) and the Alexander Graham Bell Association for the Deaf/Hard-of-Hearing (Washington, D.C.). I am also a member of Toastmasters International and the Junior League of San Francisco. In addition, I am a certified yoga instructor who hopes to introduce yoga and mindfulness into the classroom! My interests include reading, singing, and traveling.
This page was last updated on October 20, 2021