Order Your Yearbook Now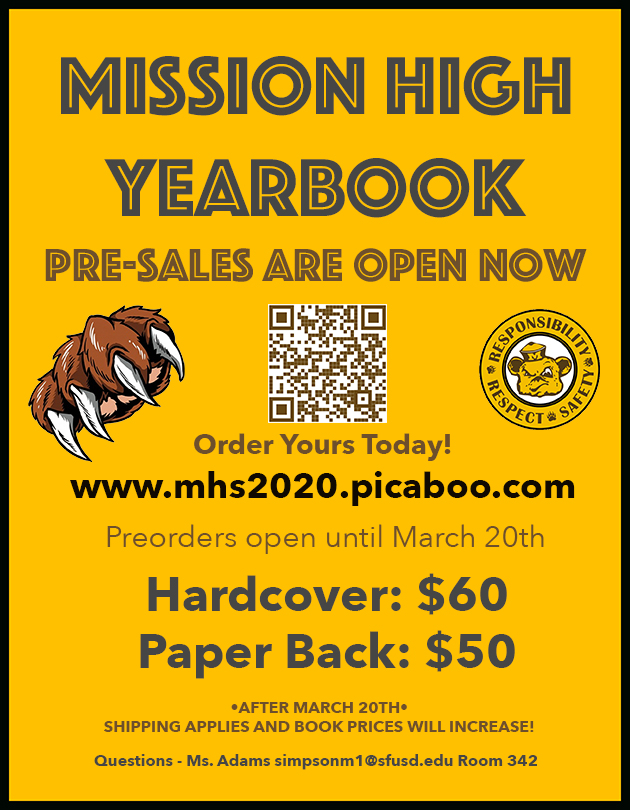 Announcements
The Yearbook team is working hard to complete the 2019/20 book. We want your help to make it amazing! Now's your chance to help shape this year's book. Please take some time to complete the following online Google forms for polls and image submissions. We need the polls and images as soon as possible. Email Ms. Adams at SimpsonM1@sfusd.edu or visit room 342 with questions, concerns or new ideas. 
Only submit your highest quality, picture frame-worthy photos. Note: Submission does not guarantee inclusion in the yearbook.
(The Mission yearbook team can help students work on adding individual pages, complete forms and upload images on Wednesdays and Fridays at lunch in room 342.)
Senior Formal Pose
Choose by Feb 21
Students should use the code given in their formal photo package to choose the formal pose they want for the yearbook! If you don't, it will default.
DEADLINE to submit images is March 20th, 2020
Pre-Order Yearbooks by March 20th, 2020
$60 Hardcover $50 Softcover - Free Shipping!
Price Increases after March 20th plus shipping/handling 
Link to storefront  https://mhs2020.picaboo.com/
PLAZO para enviar imágenes es el 20 de marzo de 2020 Reserve anuarios antes del 20 de marzo de 2020
$ 60 Tapa dura $ 50 Tapa blanda - ¡Envío gratis! $ 65- $ 55 después del 20 de marzo más gastos de envío
提交图像的截止日期为2020年3月20日  到2020年3月20日的预订年鉴 
$ 60精装本$ 50精装本-免费送货  3月20日后收取 $ 65- $ 55运费及手续费
Polls, Quotes, and Baby Picture
Submit your poll by Feb 20!