Presidio Bell Schedule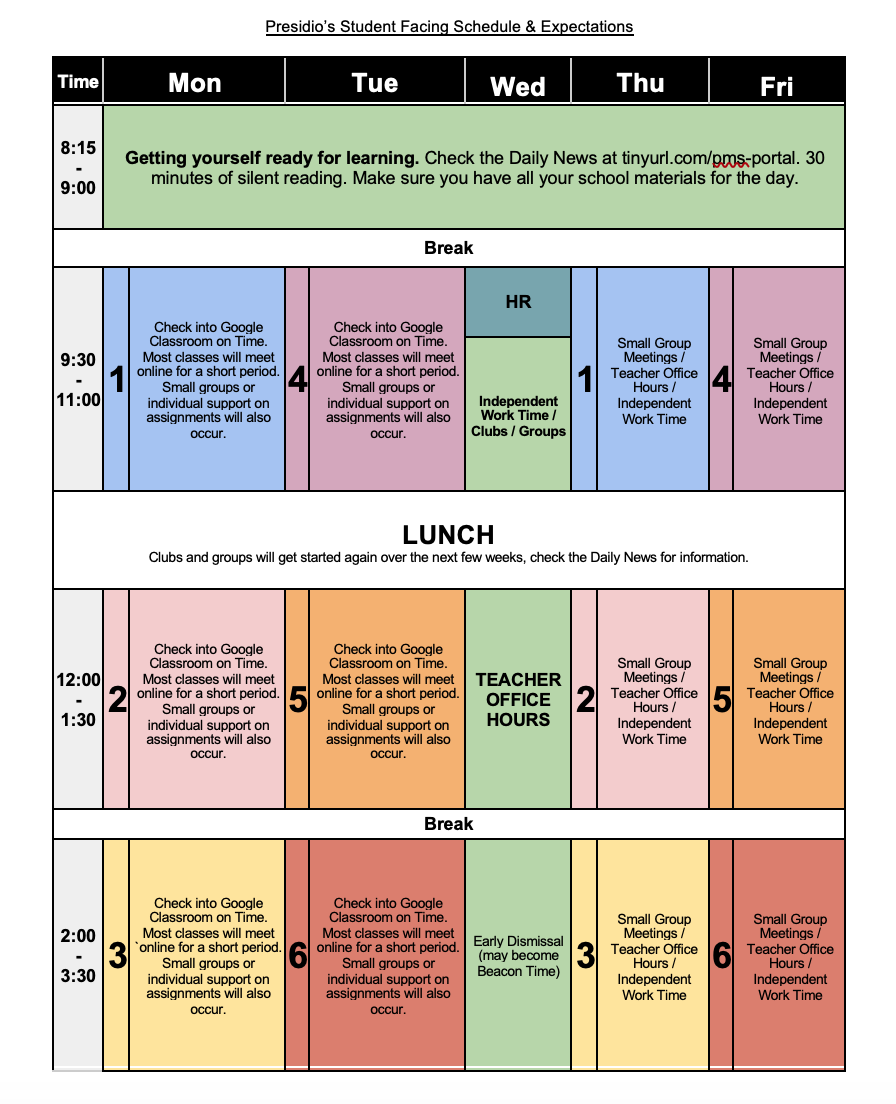 All Classes:
Start every class by logging onto the Google Classroom for that period. Your teacher will have instructions posted there for how to start the day. 

1st Period meets at 9:30 on Monday and Thursday

2nd Period meets at 12:00 on Monday and Thursday

3rd Period meets at 2:00 on Monday and Thursday

4th Period meets at 9:30 on Tuesday and Friday

5th Period meets at 12:00 on Tuesday and Friday

6th Period meets at 2:00 on Tuesday and Friday
Monday & Tuesday:  
Follow the instructions posted in your teachers' Google Classroom for more information about what this will look like.  Depending on the class, students will start by meeting with their entire class on Zoom or Google Meet, then be asked to work on a Google Classroom assignment, either individually or in smaller groups.  
Wednesday: HR Check-in, Teacher Office Hours & Independent Learning Day
Check in with your HR from 9:30 - 10:00am on Zoom or Google Meet.  

Zero Period and any clubs or groups will meet from 10 - 11am.

Your teachers will be available to answer any questions you have about an assignment or lesson from 12pm - 1:30.  

The rest of the day is for you to work independently. 
Thursday & Friday:  
This time is for each of your classes to meet in small groups.  You may request this time with your teacher for additional support, or your teacher will invite you to a small group session.  

Check Google Classroom for feedback on previous work, or another assignment.
SFUSD Student Norms for Learning Online  -  Be Respectful, Be Responsible, Represent Presidio Pride!
Be respectful, responsible, and safe-

The rules from your school apply to your online environments as well. Keep your language respectful, compliment others for positive contributions, and be safe with your information.

Consider your Digital Footprint-

Anything recorded or posted online is out there for anyone to find and use, positively or negatively. Make sure what you put out there shows you in a positive light.

Don't share your personal or private information-

Keep personal information off the internet that others can use like your full name, birthdate, address and phone number. Never share your username or password.

Write and read postings carefully to avoid unnecessary confusion-

Remember that your peers cannot see your body language or hear your tone of voice, so you need to keep your language direct and respectful.

Ask for help if you get lost-

If you are having a hard time following what's being talked about or don't understand a part of the conversation, please let others know so they can help you get back on track.