SFUSD Family Webinars
SFUSD Webinars: Accessing SFUSD Technology Apps (ParentVUE, Clever, Google Suite, and Zoom.)

Time:
All sessions are 5:30 - 6:30pm

Upcoming Dates:
Monday, October 19
Wednesday, October 21

Go to https://www.sfusd.edu/family-webinars 10 minutes before the webinar begins. A link to the YouTube livestream will appear on the page.
Webinar Details
Distance Learning Guide for Families
In addition to providing resources to guide your support of learning at home, the Family Distance Learning Guide highlights key topics and expectations around distance learning. Some critical information from the guide is in the FAQ. You are encouraged to read the guide.
Family Distance Learning Guide
SF Loves Learning
How to watch SF Loves Learning:
On KTVU Plus on TV, Monday through Friday from 2 PM to 3PM:

Broadcast Channel - 36
AT&T - 1006
Comcast - 6 / 706
DirectTV - 36
DISH - 36
WAVE - 92 / 201

On the SFUSD website:

SFUSD will also post each episode on the same day it is airing on the SFUSD YouTube Channel by 2 p.m., which will be linked from the SFUSD website. You can find all past episodes on the SFUSD website:
https://www.sfusd.edu/services/health-wellness/covid-19-coronavirus-resources-families-students/sf-loves-learning-tv-show

Mr. Stephen, Drama Teacher at TCS, will be teach Drama on SF Loves Learning on the following dates:
September 18
September 25
October 2
October 9
Mrs. Thompson, Librarian at TCS, will have a LIVE Storytime on SFUSD Loves Learning on the following dates:
September 28th
October 5th
October 14th
SFUSD Ready4Learning
For TK-2nd Grade Families
Free 1:1 Tech Support from SF EdFund
In collaboration with SFUSD, the SF Education Fund Circle the Schools team recruited numerous tech volunteers to provide one-on-one phone or video support to answer basic questions around Zoom, Google Meet, Google Classroom and Seesaw. This opportunity is available for both teachers and families, and they have volunteers that speak multiple languages (including Vietnamese, Spanish and Cantonese). 
Sign-up for a 30 minute appointment at: https://booking.appointy.com/volunteertechsupport. Appointments are available. 
More information in multi-languages.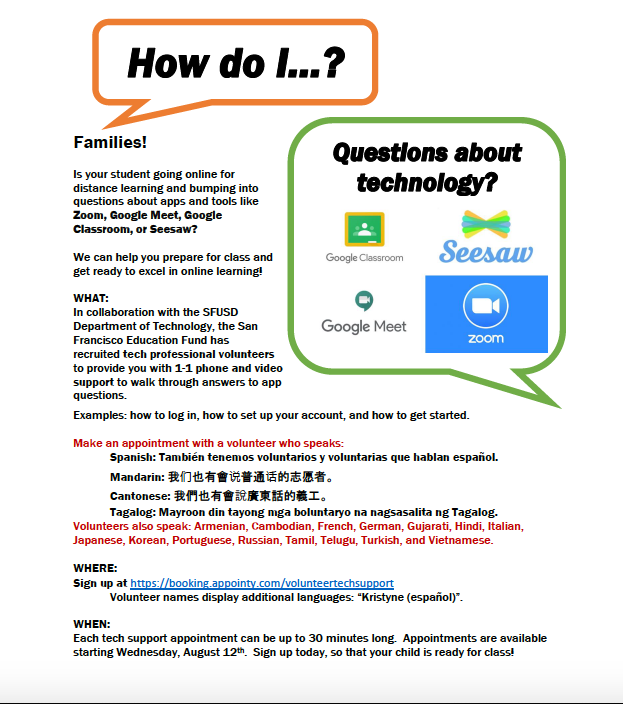 Instructional Minutes
At Tenderloin Community School, as with all elementary schools in SFUSD and throughout California, the minimum number of instructional minutes required during distance learning is as follows:

Kindergarten: 180 minutes
1st-3rd grade: 230 minutes
4th-5th grade: 240 minutes
Family Link
Can't find the answer to your question? Use SFUSD's FamilyLink!
Email: familylink@sfusd.edu
Submit a request: familylink.sfusd.edu
Call: (415) 340-1716 (Monday - Fridays, 9am-1pm)