Be Smart & Safe Online
Videos, games, comics and quizzes to help you be safer online.
Mindfulness Activities
Slay your stress, get more sleep, or find your calm with short mindfulness activities tuned to your emotions.
More Info. Less Weird.
Amaze takes the awkward out of sex ed. Real info in fun, animated videos that give you all the answers you actually want to know about sex, your body and relationships.
Nightmare on Puberty Street
Information, support, and community to help middle school students and their trusted adults navigate the roller coaster of adolescence.
Explore their website for more health related resources!
Addressing Anxiety
With so much going on in the world it's easy to become overwhelmed by things that we have no control over! Use this template to reflect on things that you can let go of and things that you can focus on instead. 
1.) Click on the link. 2.) Go to "File" in the left corner. 3.) Click on "Make a copy"
Check Out Big Bessie's Wellness Programs
Lunch Clubs
Anyone can join a club - it's a great way to meet new friends and make your school a better place!
The slide deck with group descriptions and Zoom links can be found in your class "Cheat Sheet" schedule.
Technology Support Group - Mondays 11:45-12:15

Need help with Zoom? Google Classroom? Email? Want to learn some helpful tips for online learning? Drop by!

6th Grade Project Arrive - Wednesdays 11:45-12:15

This is a group just for 6th graders! During group we'll hang out, play games, and talk about what it's like to start Middle School. 

Student Leadership - 1st & 3rd Wednesday 12:00-12:30

Meet to plan events and fundraise for your school!

Alphabet Soup - Fridays 11:45-12:15

Along with playing games, students discuss issues and plan activities related to making our school inclusive and welcoming to all students!

Mission Graduates and Galing Bata also host daily clubs & activities!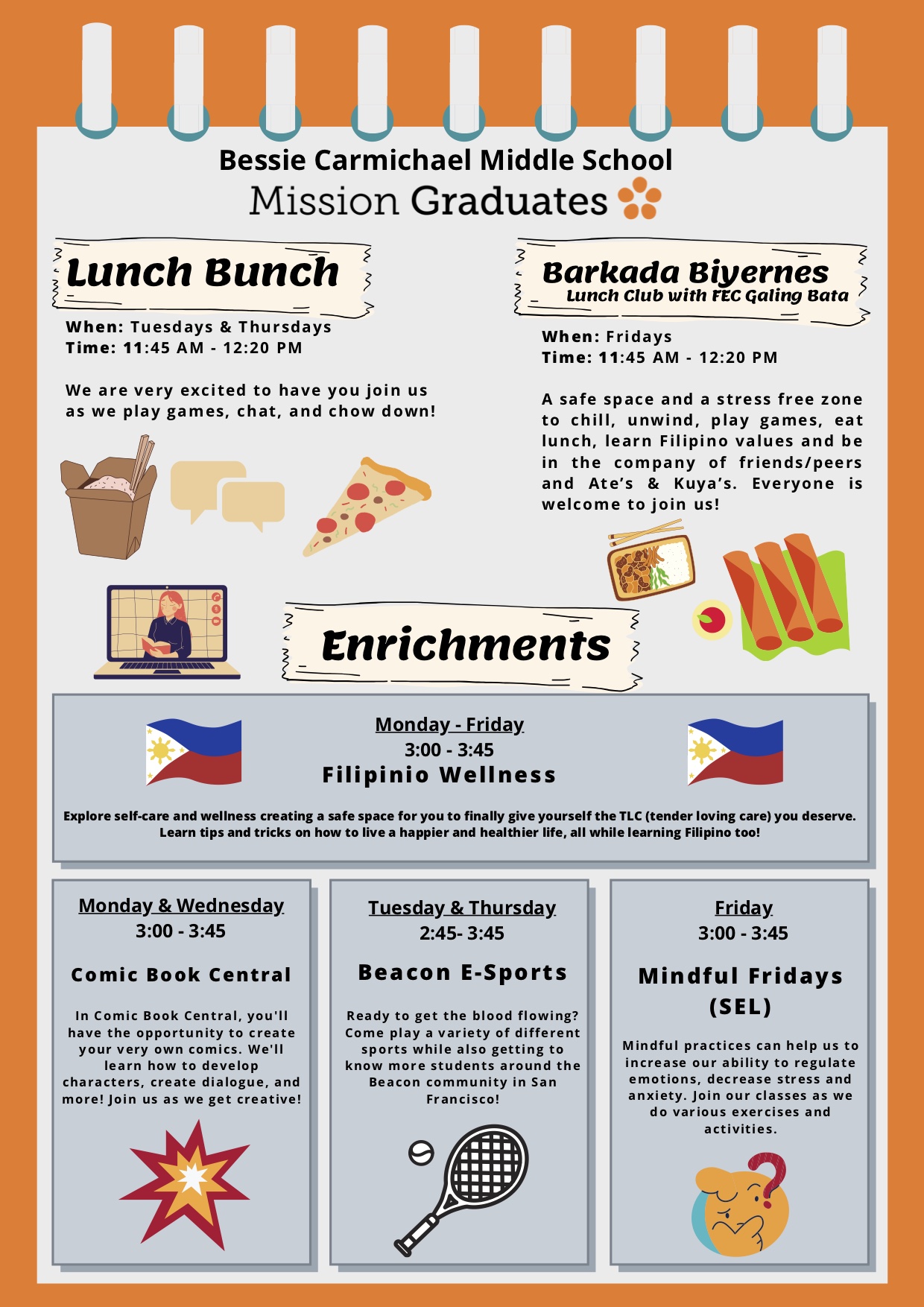 Groups
Participating in a small group is a great way to learn new skills, and have a healthy and balanced school experience!
Cognitive Behavioral Intervention for Trauma in Schools (CBITS)

This group meets weekly for 12 weeks. Students learn skills to cope with stress and difficult experiences. 

UCSF Voices H.E.A.L.

This group is for teen girls and is facilitated by UCSF clinicians. This is a great opportunity to learn healthy life skills and gain support from your peers! The groups are 12 weeks long and 1 hour per week. 
There will be more information as groups start. Please email Ms. Katie if you would like to join or have any questions.
Counseling
We work with some great people who can talk with you one-on-one to provide you with the support you need!
Contact Ms. Katie for a referral or if you have questions.