Who was Ed Lee
Mayor Ed Lee
We often talk about the importance of having teachers that reflect the students in the classrooms they serve.  It makes a positive difference for students to see and interact with teachers who look like them and who share their same cultures.  I can attest to this because I never saw an Asian teacher until I entered by second year of college.  My Kindergarten through freshmen year of schooling did not offer me any racial / cultural / linguistic role model who I could connect with.  
If the importance of having teachers like this is real, then so is leadership.  I stil recall when Ed Lee became San Francisco's mayor.  It was exciting having an Asian American, Chinese American leader heading the city in which I lived.  
Years later, I ran into Mayor Ed Lee at a fundraiser event.  I was struck by how comfortably he connected with the audience.  I remember feeling like I wanted to shake his hand, but also feeling scared like, "who am I to talk with him."  As the voices bantered back and forth inside my head with a mental debate of whether or not to approach him, I looked up from my thoughts to see him leaving the event.  I mustered all my energy and caught him just at the top of the escalators.  I ran up like some star-struck kid and started blabbering to him, introducing myself and asking to take a selfie with him.  I was afraid one of the people in his entourage might physically push me back, especially because of how I ran out like some crazy person.  Instead, Mayor Lee stopped and smiled warmly as he listened to me.  He chatted a bit and then, instead of having me take a selfie, he had one of his aides take a photo of the two of us with his professional camera.  His aide promised to send it to my email.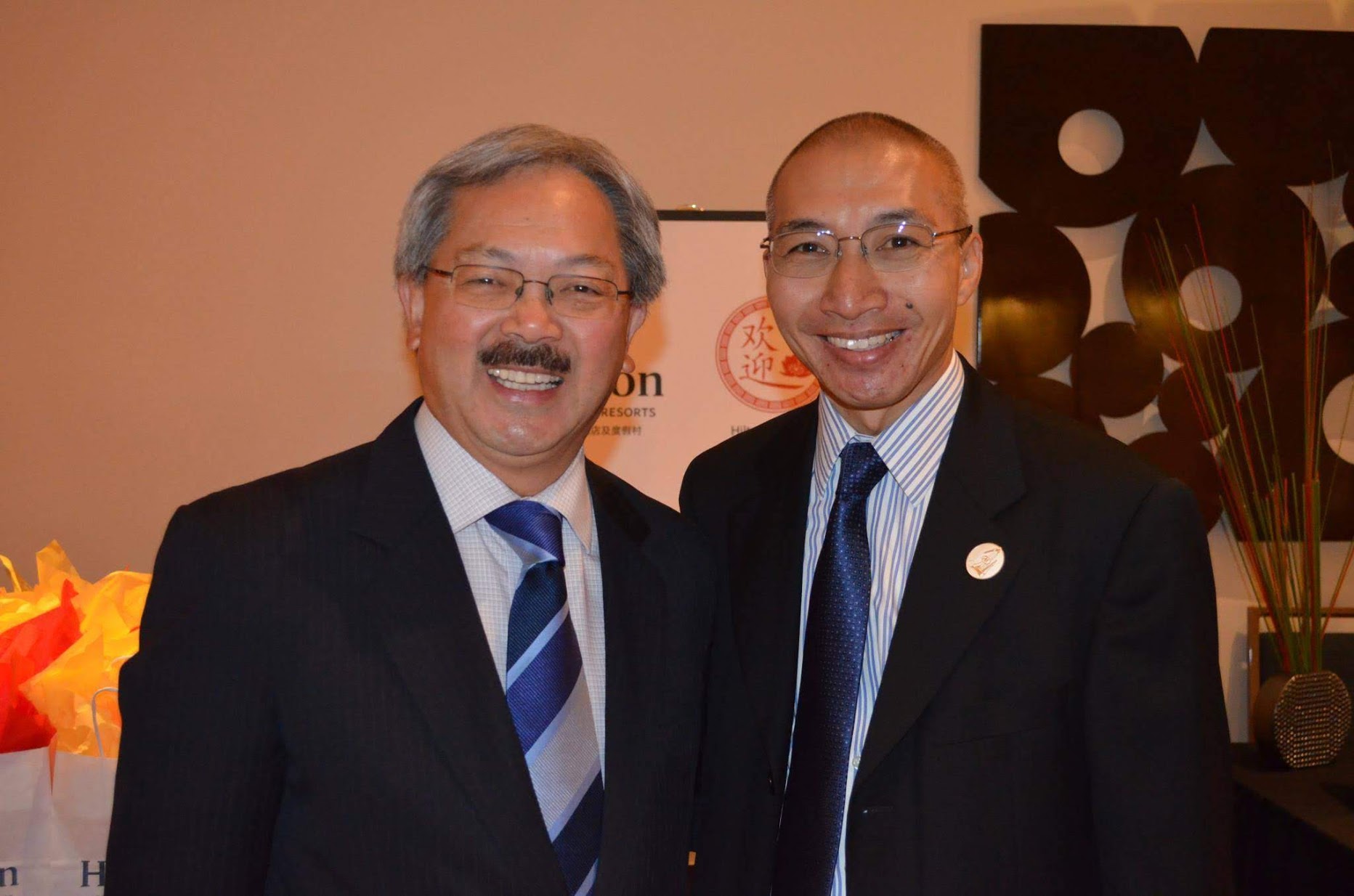 It was such an honor for me to connect with our city's first Asian American, Chinese American mayor.  He was so kind and supportive, making me feel as though the rest of his commitments on his schedule were not as important as talking with me.  
I was lucky to run into the mayor two other times after that, and he always remembered me, as well as the invitations to visit our school.  Unfortunately, he never made it in-person to visit our site.  I woke up on December 12, 2017 to hear that Mayor Lee had passed away earlier that morning.  My heart broke. 
Mayor Lee had been such a champion for education, for children and families, and for immigrants.  Everything that our school was about.  Upon reflection, under his tenure, our City thrived; it was a heyday period for our City.  
Fast forward to March 2018, when discussions began for dedicating our school after Mayor Lee and his wife.  The rest of this is simply history, when our full school board voted unanimously to support the renaming of our school.  It is such a huge honor for our small school to carry the name of such a big person and his wife in the work of supporting children, students, families, education, and immigrant rights.  
Included are some links to learn more about this great man and his wife, Anita:
This page was last updated on June 8, 2020