Anastasia Klafter
Principal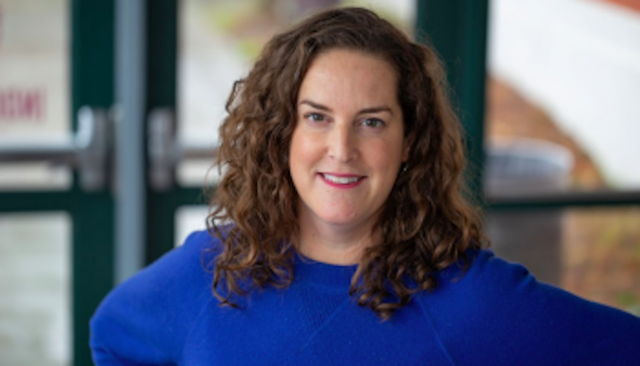 Anastasia "Anna" Klafter has been the principal of Independence High School since 2016.  A San Francisco native, Ms. Klafter came to Independence from Boston Public Schools, where she spent three years as the Chief Academic Officer of TechBoston Academy, a 6th-12th grade school in the Dorchester neighborhood. Ms. Klafter holds a B.A. in Art from the University of California at Los Angeles, an M.A. in Art from New York University and an M.Ed. in School Leadership from Harvard Graduate School of Education. Ms. Klafter was a special educator and English Language Arts teacher for eight years in San Diego and Boston, and she is also a proud parent of a SFUSD 5th grader and 2nd grader. In her former life, Ms. Klafter deejayed and wrote about music for websites and magazines and she still loves to listen to music and see live shows. Ms. Klafter loves the diversity of experience and background within the Independence student body.
Kelly Kruger
Assistant Principal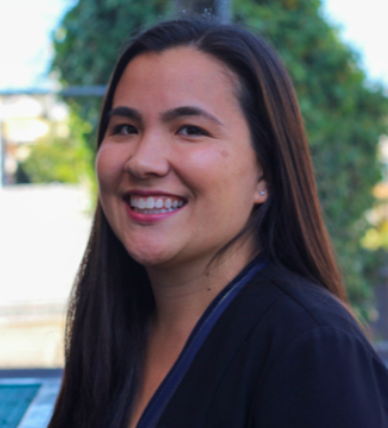 Kelly Kruger is in her sixth year as Assistant Principal at Independence/Community Home-Based and her ninth year total at the school. Ms. Kruger facilitates the Response to Intervention (Triangle) Team. Prior to school leadership, Ms. Kruger was a special educator and a teacher in the One Room Schoolhouse Program. She holds a B.A. in Child and Adolescent Development and an M.A. in Special Education, both from San Francisco State University. Ms. Kruger is an SFUSD graduate and the stepmother of an Independence graduate. She enjoys spending time with her sons and family. She admires the strength and resilience of the Independence students.
Michelle Agbayani
Occupational Therapist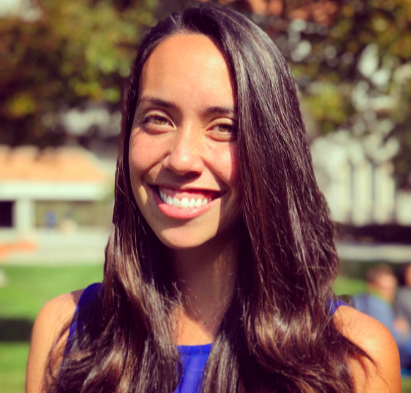 Michelle Agbayani is an occupational therapist in her second year of working with the students at Independence High School. She holds a B.A in Psychology with a minor in Education from UC Santa Barbara and an M.S. in Occupational Therapy from San Jose State University. In her spare time, Michelle enjoys dancing, doing art, swimming, and traveling.
David Allen
Paraprofessional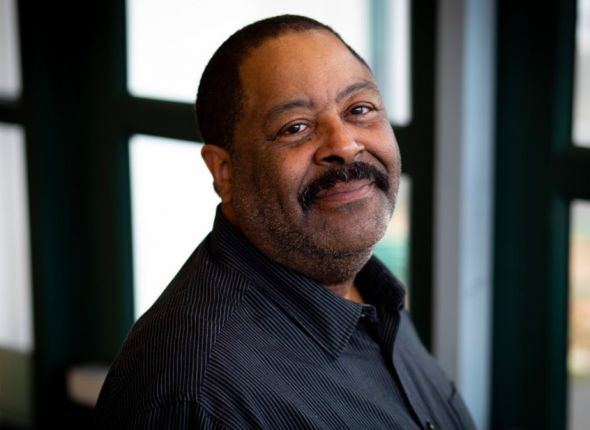 David Allen has been a paraprofessional at Independence for seven years. He holds a B.A. from San Francisco State University. Born in Chicago, Mr. Allen is a long-time Bay Area resident who enjoys working with the staff and students at Independence.  Mr. Allen is also a member of the Para to Teacher program with the district.
Teresa Anderson
School Social Worker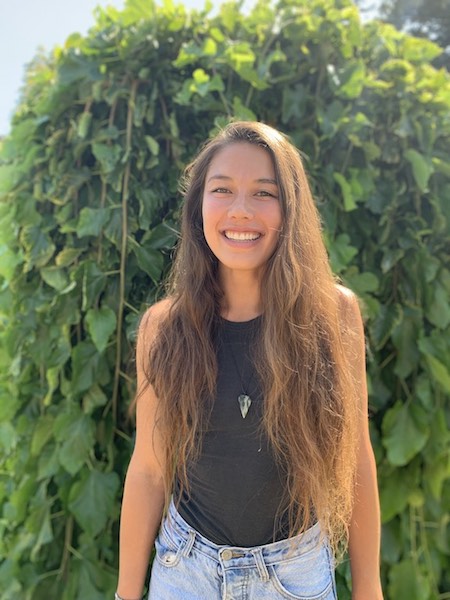 We are thrilled to welcome Teresa Anderson this year as our new School Social Worker. Teresa recently graduated from UC Berkeley with a Master's degree in Social Welfare and she earned her B.A. in Psychobiology at UCLA. Teresa has worked in schools in Hayward, Berkeley and Los Angeles and she has a wealth of knowledge in using Restorative Practices to support students. Outside of school, Teresa loves mindfulness practices, cooking, reading and outdoor adventure.
Michael joined Independence as our security guard in 2019. Michael is a San Francisco native and a graduate of Lincoln High School. When he's not at work, he enjoys working out, traveling with friends and being a dad. Michael appreciates the close-knit atmosphere at Independence where co-workers "feel like family".
Christopher "X" Budz
Teacher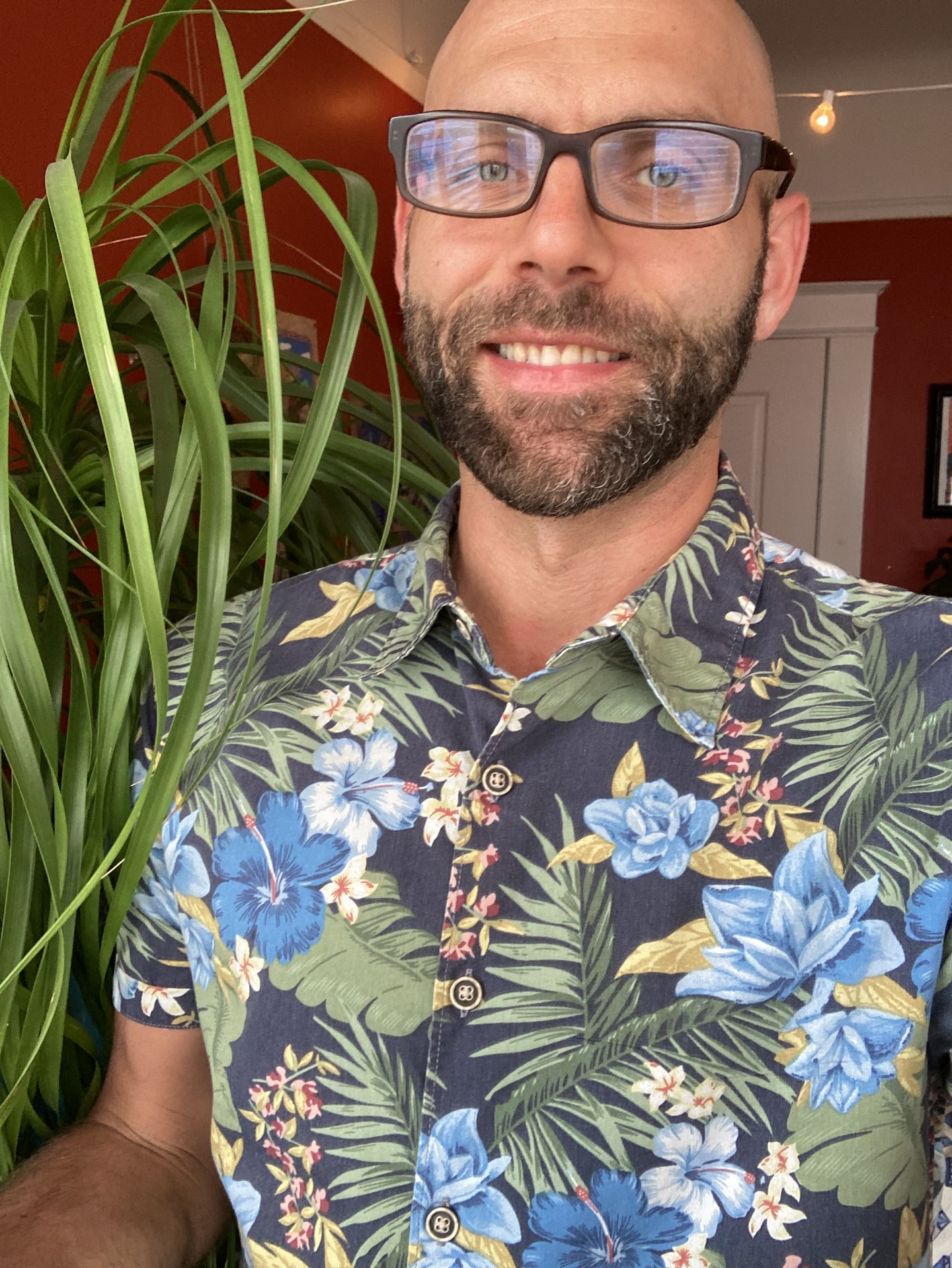 Christopher "X" Budz is in his sixth year of teaching, and in his first year of teaching at Independence HS. He is currently in the SFUSD Pathway to Teaching program for special educators, but was previously teaching English as a second language. From Providence, Rhode Island, Mr. Budz earned his B.A. in English from the University of Massachusetts, Amherst. He is a California native plants enthusiast and enjoys cycling, swimming and backpacking. He also loves cooking and baking and is especially fond of chocolate.
E. Michael Chelsky
Teacher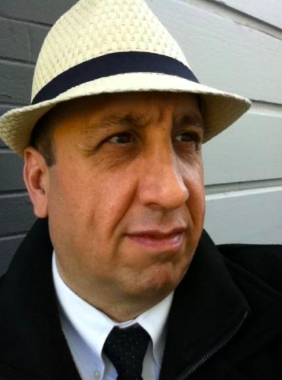 Mr. Chelsky has taught throughout the Bay Area including Vallejo High School where he was Certificated Staff Member of the Year 2014-2015. Mr. Chelsky had a previous career in broadcasting primarily in broadcast operations for PBS Silicon Valley, Paul Allen's TechTV, Al Gore's Current TV, NBC Telemundo, Univision and others. Mr. Chelsky earned a Master of Arts in Teaching Degree from the University of San Francisco preceded by a Bachelor of Arts Degree in Political Science from Golden Gate University. He holds teaching credentials in Social Sciences and Career Technical Education for Arts, Media and Entertainment.
Mary Chirichella
Counseling Enriched Classroom Teacher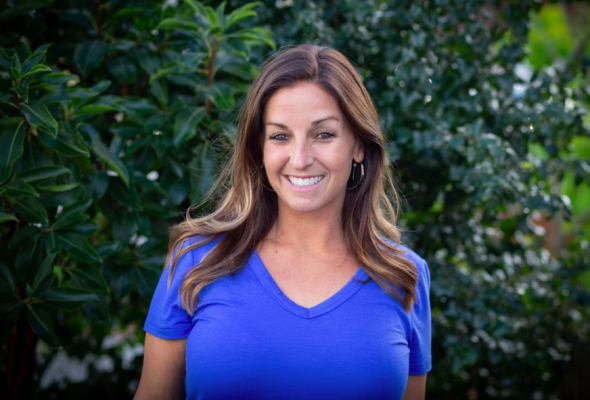 Mary began working in special education in her home state of New Jersey twelve years ago. After moving to San Francisco, she immediately began her career with SFUSD as a paraprofessional at George Peabody Elementary School. She then moved to Visitacion Valley Middle School where she was special education department chair, resource specialist and special day class teacher. During her time there, she earned her master's in special education and completed her education specialist credential. After five years at VVMS, she decided to join the staff at Independence High School to start the Counseling Enriched Classroom Program.
Suzanne Choy-Li
School Lunchroom Assistant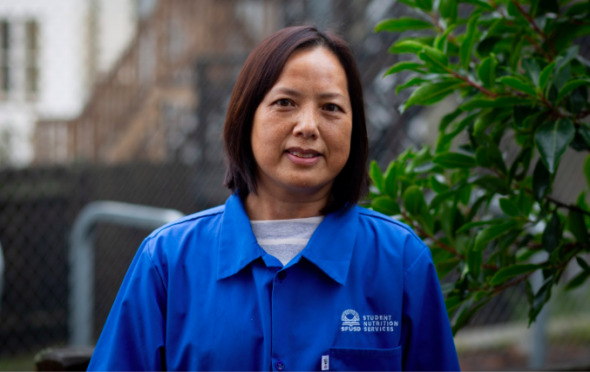 Suzanne Choy-Li was born in Canton, China and moved to Stockton, California in 1985. A recent addition to SFUSD, Suzanne started working as the Independence High School lunchroom assistant in April 2019. She lives in the Sunset with her husband of 25 years. Her daughter is studying pharmacy at UC Irvine and her son is a graduate in Microbiology from UC Riverside and is studying to be a nurse.
Andrea "Dre" Collaço
Wellness Coordinator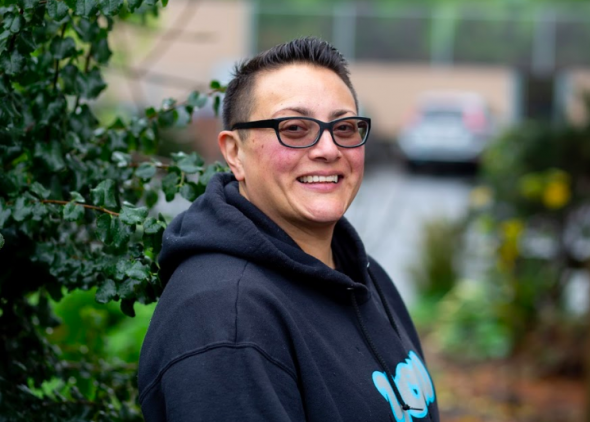 Andrea "Dre" Collaço is a Licensed Clinical Social Worker and has been the Independence Wellness Coordinator for nine years and has spent twelve years as a School Social Worker in SFUSD. Dre holds a B.A. in Psychology and an M.S.W. in Social Work, both from San Francisco State University. 
Dre was born and raised in the Sunset district, where she now lives with her wife and two children. Both of her kids are SFUSD students too! Dre loves to travel, cook and hang out with family and friends. She loves our, "small community where caring relationships are forged between all community members."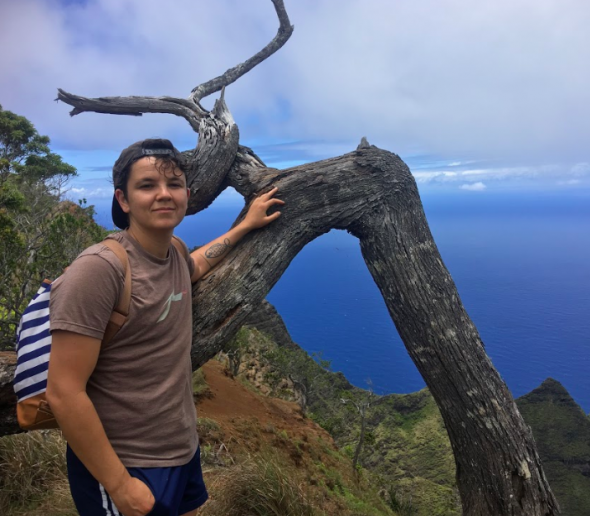 Monet ("MD") joined Independence High School in 2019. They completed their B.A. at UC Berkeley, their M.A. at San Diego State University, followed by a special education and social studies teaching credential through Teach for America on the Big Island of Hawai'i. They have taught in both public and non-public schools and enjoy learning from their students and collaborating with their families. They enjoy reading, writing, seeing art, traveling (preferably to beaches, campsites, or campsites on beaches), dancing, spending time with their family, and seeing the sunshine through tree silhouettes. GO HAWKS!
Cicily Ennix
Resource Specialist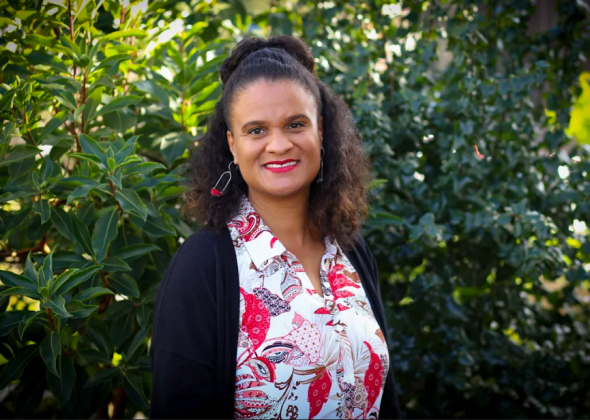 Born and raised in San Francisco, Cicily is an SFUSD alum, who attended CCSF and SFSU.  She first began working as a paraprofessional at Visitacion Valley Middle School, where she earned a credential and master's in special education through SFUSD's Para-to-Teacher Program. After teaching in middle school for over 15 years, Cicily transitioned to Independence High School, where she has been teaching for four years and she couldn't be happier.  Cicily's office is continuously buzzing with students, who she supports with developing the skills and strategies needed to succeed in the adult world. She also helps students identify their unique qualities, which make them an asset to the community. What Cicily appreciates most about Independence High School is the flexibility it provides to students, who need an instructional delivery model specific to their needs and a kind and peaceful learning environment that makes students feel safe and cared for.
William Ford
Education Specialist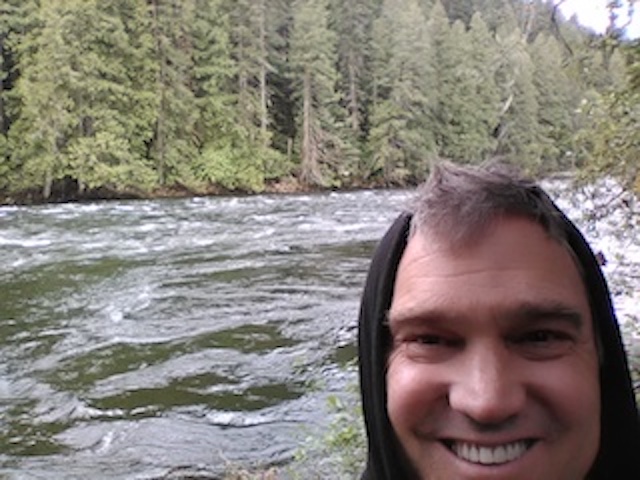 William Ford is our new Education Specialist at Independence this year. William has worked in SFUSD since 2002, at A.P Giannini Middle School, Thurgood Marshall High School, RL Stevenson Elementary, and John O'Connell High School. Most recently, he spent four years as a Restorative Practices and PBIS Coach at Pupil Services. Mr. Ford has a Bachelor's degree from New York University and a Master's degree from San Francisco State University. Mr. Ford is father to two SFUSD graduates. Mr. Ford says: "I think being a special education teacher is the best job because you get to know your students and your families well." When he's not teaching, Mr. Ford enjoys eating movie popcorn at the movies.
Yadira Gonzalez
Administrative Assistant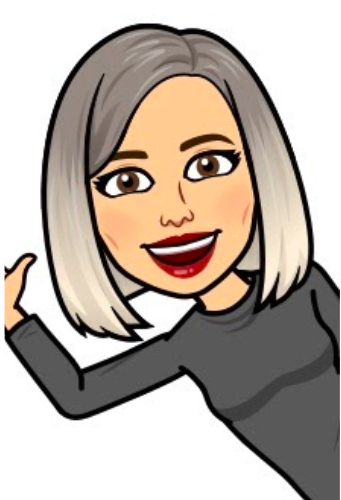 Yadira Gonzalez is an Independence High School graduate who has been working at the school for seventeen years. She is a San Francisco native who holds an A.A. from City College. Ms. Gonzalez loves fashion, music, dancing, and appreciates the strong relationships between students and staff at Independence. ​
Jocelyn Gutierrez
Community Health Outreach Worker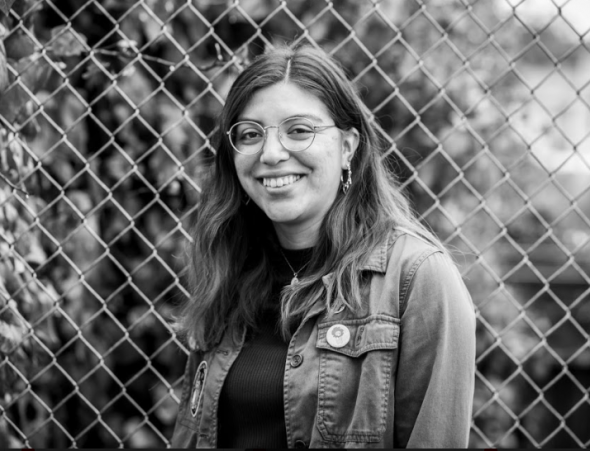 Jocelyn is in her second year at Independence High School and is LOVING IT! She holds a B.S. in Kinesiology from San Francisco State University with a focus on empowering marginalized youth to pursue physical activity. Jocelyn has experience coaching, facilitating youth groups, and running mindfulness activities. She is also a proud AmeriCorps Alumni where she served at Lowell High School's Wellness Center during the 2018-2019 school year. Originally from Costa Mesa, CA, Jocelyn has been living in San Francisco for 6 years. During her spare time she likes to collect pins, eat good food, and take long walks.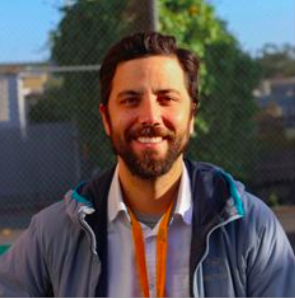 Eric Harper is in his seventh year of teaching, and his fourth year as a special educator at Independence High School, where he also serves on the Instructional Leadership Team. Mr. Harper holds a B.A. in History from the University of California at Santa Barbara, a Single Subject Teaching Credential from California State University at Monterey Bay and an M.A. with Education Specialist Credential from San Francisco State University. Mr. Harper loves spending time with his dog, Rune, and his wife, Michelle, whose sister is an Independence High graduate. Mr. Harper loves getting to know students as individuals, here at Independence High School.
A Bay Area native, Andrea was born in Berkeley to hippie parents who moved to San Francisco when she was sixteen.  At that time, she went to CCSF and continued to attend off and on before transferring to Dominican University of California to complete her B.A. in Art History.  Her passions include the arts-especially film studies-and health which lead her to become a nurse. She graduated from the Licensed Vocational Nursing (LVN) program at CCSF in 2009 before completing a one-year accelerated B.S. in Nursing through Samuel Merritt University in San Francisco to get her RN license.  After graduating, she worked at the Department of Public Health in San Francisco.  She is currently in her ninth year in the district and has received her school nurse credential and Masters of Science in Nursing from Sacramento State University in 2018.  She enjoys reading mystery/sci-fi novels, films, politics, conspiracy theories, entering contests as a hobby, and is the biggest cat lady on the block.
Ashley Hildred
CEC Social Worker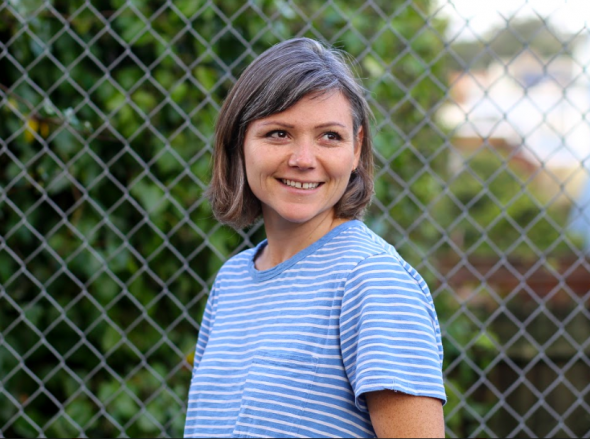 Ashley is the Social Worker for the Counseling Enriched Classroom. She holds a Pupil Services Credential in California and Illinois, and is a Licensed Clinical Social Worker in the state of Illinois. She has a BS in Psychology from Montana State University at Bozeman, and an MA in Social Work from The University of Chicago School of Social Service Administration, where she specialized in school social work with an emphasis on Community Schools and the overlap of education and human rights. In her free time, Ashley likes to surf, hike, and walk her dog Flex. Ashley's favorite day of the week is Tuesday, when she gets to participate in the City Surf Project surfing class with Independence students.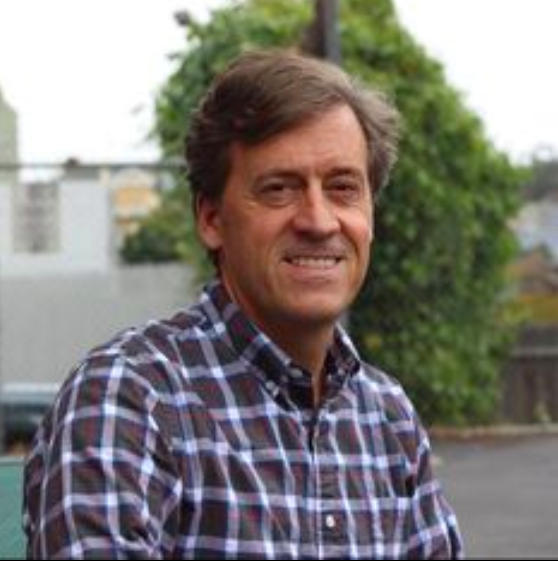 Peter Hippard is in his eighth year at Independence High School. Prior to this, he taught at Clarendon Elementary School, JBBP for 16 years. Mr. Hippard has a BA in History of Public Policy from UCSB, and an MA in Instructional Technology from SFSU. He is credentialed in Social Sciences and enjoys teaching about the connection between historical events and current topics. Mr. Hippard enjoys the great outdoors, traveling around the world, and practicing yoga. He likes how Independence High School provides a safe and supportive environment for all kinds of students in San Francisco.
Simmin Holland
OTTP Therapist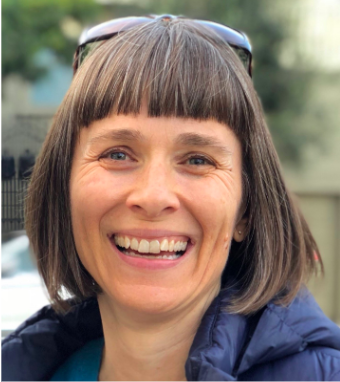 Simmin is a psychosocial Occupational Therapist who enjoys supporting youth to explore interests and develop skills through engagement in activities.  A native Jersey girl, Simmin received a B.A. in Sociology-Anthropology from Skidmore College (NY), migrated to the west coast where she received a B.F.A. in Printmaking from the California College of the Arts (Oakland), and eventually combined her passions to finish a M.S. in Occupational Therapy at San Jose State University.  She's mom to an SFUSD 4th grader, and enjoys reading, yoga, dancing, crafting, and being in nature. She values the collaborative nature of Independence High and finds the students are genuine and kind.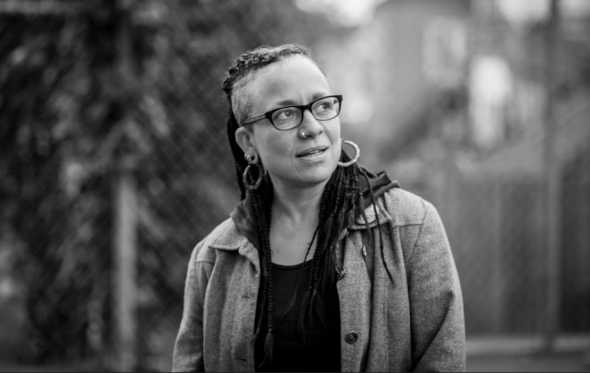 This is AJ Johnstone's 21st year in SFUSD teaching a variety of grade levels and subjects. AJ is a National Board Certified Teacher. She attended Barnard College and the University of Virginia and holds a B.A. in Sociology and an M.A. in Teaching from the Curry School of Education. She enjoys cooking, knitting, dancing, reading history and discovering tessellations in nature. AJ loves digging into exciting mathematical ideas here in the small, close-knit community that Independence provides.
Jennifer Klecker
Art Teacher
Jennifer Klecker is in her fifth year at Independence High School. Ms. Klecker has taught for ten years and she holds a B.A. in Art Education from Cardinal Stritch University in Milwaukee, WI and an M.F.A. from California College of the Arts. Outside the classroom, Ms. Klecker's art practice includes drawing, photography, video and installation. She spends her breaks backpacking in the Sierra Nevada mountains and traveling to Italy. Ms. Klecker is excited about helping Independence students develop their visual voices.
Christopher Lamb
Librarian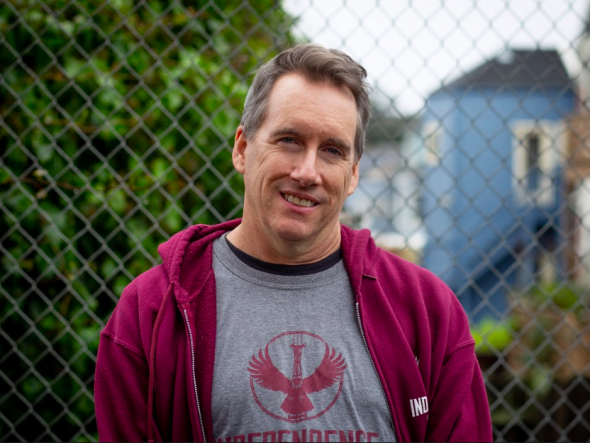 Chris Lamb has been teaching in SFUSD for 28 years.  This is his thirteenth year working as a librarian and his third at Independence.  He holds a B.A. in French from SUNY Binghamton, a BCLAD teaching credential from SFSU and a Master's degree in library science from San Jose State University. Born and raised in New York City,  he moved to San Francisco 28 years ago after serving in the Peace Corps in Honduras. In his free time he enjoys reading (naturally), traveling and hiking.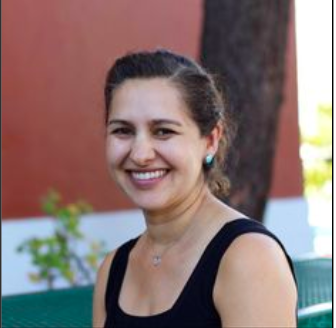 Rose Ludwig is in her ninth year of teaching, and her fourth year at Independence High School. Ms. Ludwig holds a B.A. in Political Science from Loyola Marymount University, an M.A. in International Political Economy and Development from Fordham University and an M.A. in Special Education from San Francisco State University. Ms. Ludwig likes to read, hike, cook, and travel in her free time. She loves the sense of humor of her Independence students.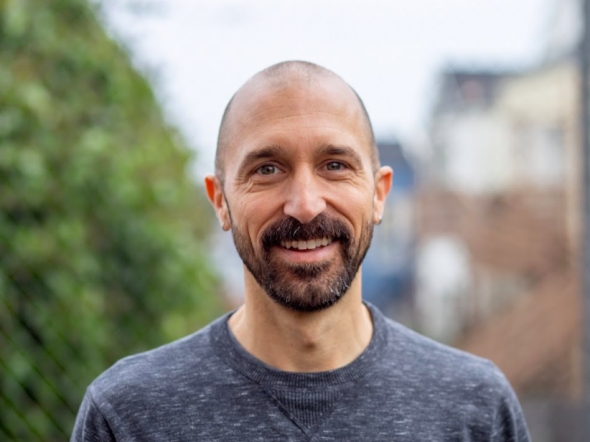 Joseph Machado started teaching in 1999 at a small middle school in central California where he was born and raised. They came to Independence in January of 2014 after completing their M.A. in Somatic Psychology from California Institute of Integral Studies in San Francisco. In their spare time, they enjoy dancing, hiking, and slothing around at home. There are many things Joseph appreciates about their students, but the thing that stands out the most are when students give permission for their unique personalities to be seen.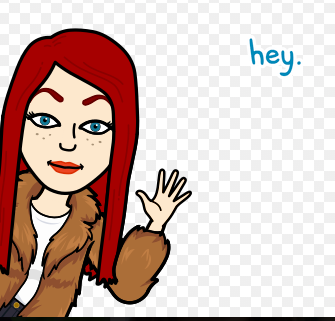 Donna Muse is in her fifth year at Independence HS and in her seventeenth year of teaching. She is a math content specialist as well as the facilitator for Independence. She holds a B.S. in Business Administration from California Polytechnic Institute, a Teaching Credential from John F. Kennedy University, and M.S. in Math Education from Western Governors University. Her goal is to have students approach mathematics more positively and improve their mathematical confidence. In her spare time, she loves photography as well as spending time with her dog and friends.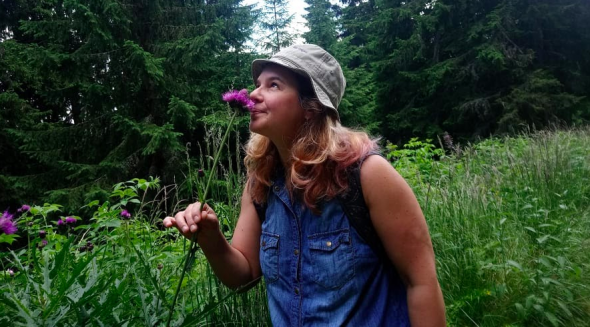 Mira Raykova joined Independence High School in 2018 and SFUSD in 2015. Her academic background is in Environmental Science and  Biology. She holds two teaching credentials: Science Single Subject, and Multiple Subject teaching credential from San Francisco State University. Prior to teaching, Ms.Raykova worked on eelgrass restoration and research at Dr. Boyer's wetlands ecology laboratory at Romberg Tiburon Center for Environmental Studies. In her free time, Ms. Raykova enjoys spending time outdoors with her family, two rescue dogs, and friends.  Ms. Raykova appreciates the diversity of Independence students and is committed to empowering them to be successful in science.
Yolanda Reyes
Spanish Teacher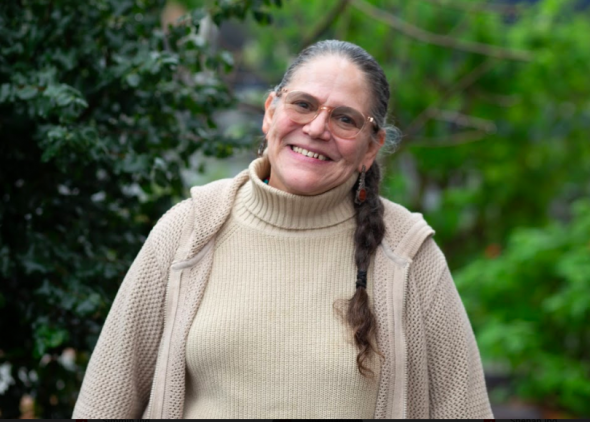 Yolanda Reyes brings over 40 years of experience in education- thirteen teaching at Independence High School.  In addition to her wealth of experience, she brings a wealth of education including a B.A. in Liberal Studies and Ethnology, a Clear Multiple Subject CLAD Credential, and an M.A. in Educational Technology, all from San Francisco State University.  Ms. Reyes enjoys reading, traveling, music, dance, cooking, and building strong relationships with students.
Jennifer Roffle
Head Counselor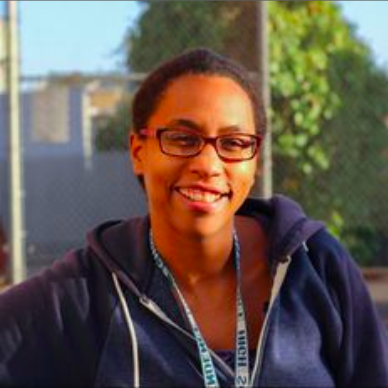 Jennifer Roffle is in her ninth year at Independence High School, where she serves as Head Counselor, Facilitator of the Student Engagement Team and member of the School Site Council. She previously taught special education and worked at the Educational Placement Center. Ms. Roffle holds a B.A. and M.A in History. Ms. Roffle has one daughter and they enjoy going to the park and story time.  She is also an avid sports fan and is responsible for organizing the Independence Field Day and other sports activities. Ms. Roffle loves her adopted home of San Francisco, and she loves Independence because, "all students know and understand that all the adults at Independence have their best interest at heart."
Ignacio Saldaña has been teaching in SFUSD for 21 years. This is his 15th year at Independence High School. He holds a B.A. in Physical Education from Chico State and a Multiple Subject teaching credential, CLAD emphasis on Early Childhood from San Francisco State.
Linda Sawamoto
Learning Lab Coordinator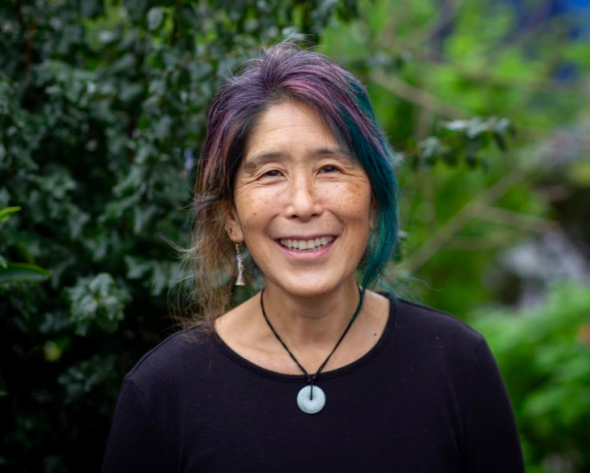 Linda Sawamoto is our Learning Lab Coordinator. Ms. Sawamoto was born and raised in San Francisco and has served the students of this city for 30+years. When she is not working, Ms. Sawamoto enjoys gardening, spending time with her family and being silly. Ms. Sawamoto loves the diversity at Independence and she loves being a HAWK (caw caw)!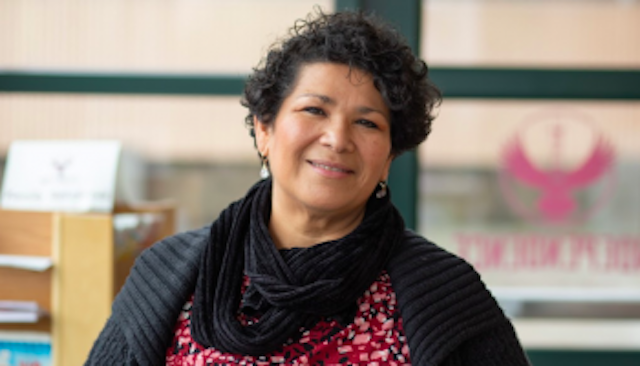 Claudia Shehan joined Independence High School in 2006.  Ms. Shehan studied Social Work at Universidad Tecnológica de El Salvador,  and received her B.A. in Liberal Studies and a bilingual credential (BCLAD) from San Francisco State University. Ms. Shehan has lived in the San Francisco Bay Area since 1987 and has made San Francisco her permanent home.  She loves to travel with her family, read, cook recipes from different parts of the world, experiment cooking with new ingredients, relax when time permits it, and take care of herself and others as much as possible. Ms. Shehan appreciates the deep relationships that Independence High School allows her to have with students and parents.
Deborah Sommers
Administrative Assistant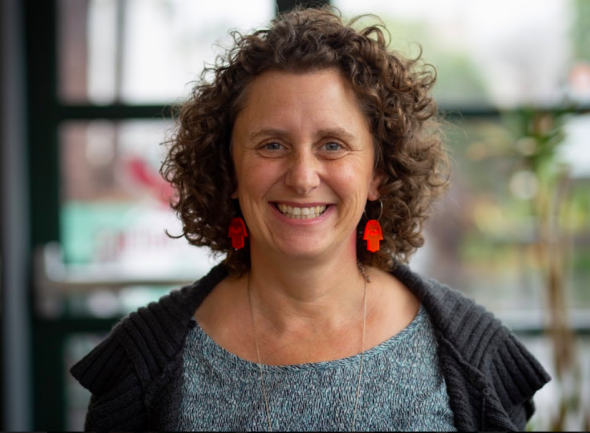 New to Independence High School, Deborah is enjoying getting to know the staff and students at Independence High School. She has been living in San Francisco for over 25 years and is a proud SFUSD parent of two children. Before having children, Deborah worked in operations and marketing for Antenna Audio Inc., an international audio tour company. She holds a B.A. in English from Rutgers University.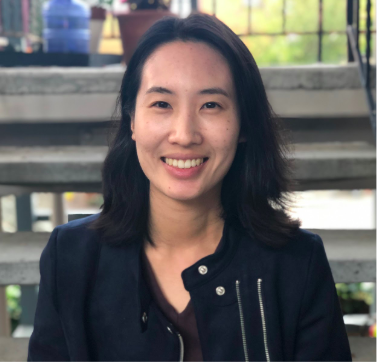 Helen is in her second year at Independence High School Wellness Center as one of two occupational therapists! She grew up in Vancouver, B.C. and attended UC Berkeley for a BA in Psychology and the University of Alberta for a  MS in Occupational Therapy. She is happy to be back in the Bay Area and is excited to be part of the Independence team. As a community mental health occupational therapist at the Wellness Center, she aims to support students to develop their sense of self and life skills to pursue their goals through individualized and group sessions. She enjoys playing the violin, tennis, and trying out new recipes in her free time.
Shuohua Zhen
Custodial Services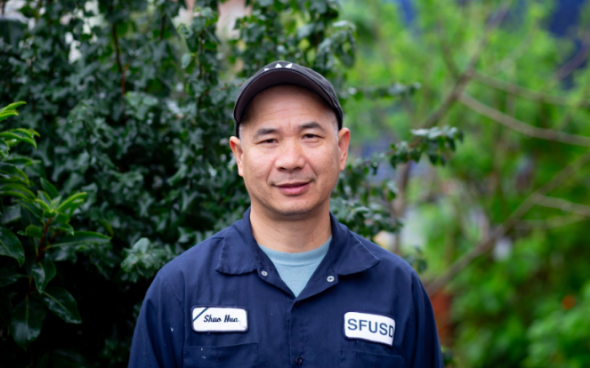 Born in Canton, China, Shuohua Zhen has served SFUSD as a custodian for over 25 years. He lives in San Francisco and has two sons who are SFUSD students. When he's not working, he enjoys spending time outdoors with his family.