MCCOPPIN DROP-OFF PROCEDURES
(Updated August 2021)
All grades are to enter the school yard in the morning through the gate on 7th Ave. 
There will be hand sanitizer available on the schoolyard. If your student arrives to school late, please use the 6th Ave entrance and ring the bell, and Principal Lee or Mrs. Wong will let them in.
School starts at 9:30 am. Pick up is at 3:45 pm on Monday, Tuesday, Thursday, and Friday; pick up on Wednesday is at 2:30. 
McCoppin and the San Francisco Police Department are working together to enforce the below drop-off procedures. Failure to follow these procedures will result in parking tickets. So, please follow the rules!
Please do not drop-off your children on 6th Avenue.
Please do not double park.
Please do not make 3-point turns.
Please do not park on the opposite side of 7th Avenue.
Avoid escorting children across the middle of any street.
Please use crosswalks.
We'll be organizing staff and volunteers to assist with the traffic flow and drop-off in the morning and afternoon, and to help guide your students in and out of cars and into the schoolyard. Please be patient as they try to assist everyone! If there is no one to greet your child, please make sure you drop them off on the curb by the schoolyard on 7th Ave.
If another adult in your party is entering the schoolyard to drop off or pick up your student, please make a loop around the block instead of waiting on 7th Ave for them to return to the car.
If you're picking up your student by car, please write their name on a sign in BIG letters (use a dark marker), and put it on the dashboard on the passenger side where it can be seen through the window. This will help Mr Lee and volunteers know at a glance who you're picking up. Staff and/or volunteers will guide your student to your car.
Please do not double park and leave your car at any time. Its OK if you need to get out of your car briefly to help your student in or out of the car; if you need to enter the schoolyard, please park in the neighborhood and walk to the school.
Thank you for observing these procedures!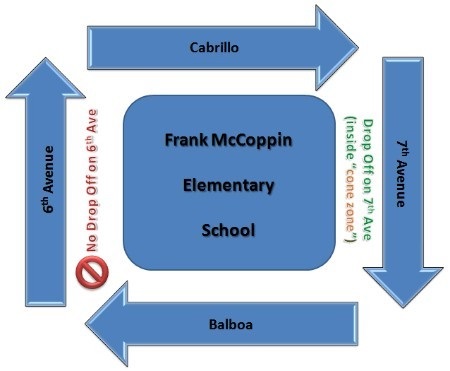 This page was last updated on August 16, 2021