Additional Programs Offered During the School Day
LEAP Arts Program (Dance, Performance Arts, Architecture)
Leap Arts in Education brings their creative energy to Frank McCoppin, supplementing our strong academic program with two 10-week school-wide programs in the creative arts. Leap is a private nonprofit organization founded in 1979 in response to the severe cuts in California school budgets that effectively eliminated the arts from elementary education. Their mission is to provide top quality arts education programs that help students build skills to achieve their fullest potential. They envision a world where art is a fundamental part of every child's education and success.
Leap hosts an Annual Sandcastle Classic every October at Ocean Beach, the largest sandcastle-building event in Northern California. Teams of architects, engineers, contractors, designers and local elementary school students, including third graders from Frank McCoppin, get together each October at Ocean Beach to build some incredible sand creations. These are no ordinary sandcastles! The funds raised by teams and sponsors make it possible for Leap to continue to provide arts programs to Bay Area students.
Today Leap's art and architecture residency programs serve 7,000 Bay Area children each year. They offer students the opportunity to engage in visual and performing art and architectural learning experiences that enhance their overall education, and prepare them for future success in school, in their communities, and in life. McCoppin is proud to be part of the Leap program. Learn more about Leap by visiting www.leaparts.org.
Adventures in Music with the San Francisco Symphony
The San Francisco Symphony is committed to serving every neighborhood and community throughout the City by providing access to music education for all San Francisco schoolchildren. The Symphony's longstanding partnership with the San Francisco Unified School District provides educational experiences and training to the City's public school students throughout grades 1–12.
Adventures in Music (AIM) includes in-school presentations by music ensembles, specially-designed classroom curriculum, classroom materials, and a visit to Davies Symphony Hall for a private concert by the San Francisco Symphony. AIM provides San Francisco's public elementary schoolchildren five consecutive years of music education free of cost to schools. AIM is designed to support the implementation of national, state and local academic standards. To learn more about AIM visit https://www.sfsymphony.org/EducationCommunity/Education/Education-in-SF-Schools.
Instrumental Music
McCoppin has an Instrumental Music program for fourth and fifth graders. This year Ukulele and Violin are offered; in past years Flute, Trumpet, and Clarinet have been available as well. Students borrow instruments for the year and attend weekly group lessons where they're taught about musical notes and how to read sheet music. To wrap up the program, students hold a concert for the school to showcase the songs they have learned.
Climate Corps Education Outside 
Climate Corps Education Outside (CCEO) is an AmeriCorps Fellowship program operated by SEI that serves over 30 public elementary schools in the San Francisco Bay Area. The program's goal is to advance science and environmental literacy education to instill a sense of environmental stewardship in the next generation. Activating interest in science during elementary school is critical, as studies suggest that children who develop interest in science at an early age tend to stay engaged in science and/or contribute to scientific discovery and innovation in their adult lives.
CCEO sparks our students' interest in science and excites them about the natural world by providing a dedicated full-time Fellow to conduct hands-on learning. McCoppin's CCEO Fellow teaches weekly garden-based science and environmental literacy lessons in our outdoor garden classroom, and they also help guide planting and other garden activities around our schoolyard. Click here to learn more about CCEO.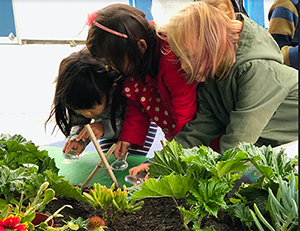 This page was last updated on June 8, 2022