The Generations of Hope Mural
The GENERATIONS OF HOPE MURAL, located on the 6th Ave side of our school, is the first public mural commissioned by Asian American Women Artists Association (AAWAA) in partnership with Frank McCoppin Elementary School, painted by muralists Erin Yoshi and Frankie Gamez.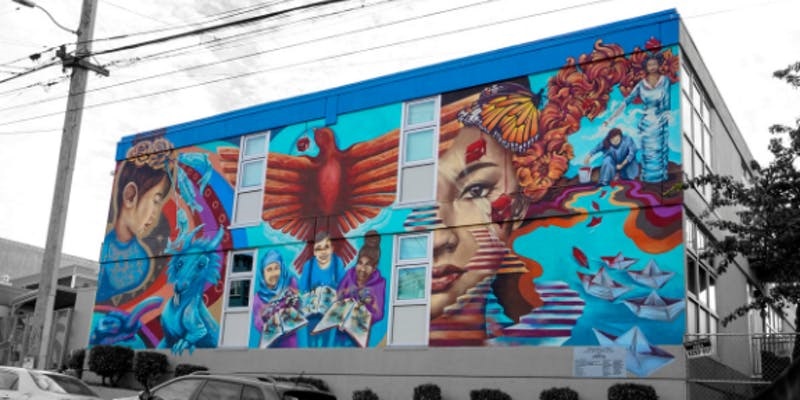 The mural was completed in July 2018 and officially unveiled on September 28, 2018, which included community speakers such as District Supervisor Sandra Fewer.
The community mural aims to be a leading example of:
Investing in San Francisco's arts and culture by adding cultural value and beauty to the Richmond District.
Transforming public space to honor and reflect the legacy and contributions of local communities - Asian American women artists and the Richmond District community.
Providing inspiration for younger generations of artists and creatives.
HISTORY
The mural is a result of the Mural Muses Project, conceptualized during Asian American Women Artists Association's 25th anniversary in 2014 as a commissioned mural to honor its mission of ensuring visibility and documentation of Asian American women in the arts. In 2015, AAWAA partnered with Frank McCoppin Elementary School to do the mural at the school as part of its new redevelopment. Over a series of workshops with AAWAA artists, Frank McCoppin parents, students, teachers, and the greater Richmond District, the concept for the mural was created by artists Erin Yoshi, Frankie Gamez, and Cece Carpio. After multiple rounds of sketch edits, the mural was painted in July 2018 by Yoshi and Gamez. This project was funded by Indiegogo campaign backers as well as a Special Project Grant from the San Francisco Arts Commission.
IMAGERY
Left Panel
The young girl is growing and blooming like the flower in her hair.  The fish flags are a Japanese symbol for Kids Day, a celebration of youth.  The loveable sea turtle is an animal the kids in the Richmond neighborhood are familiar with because the school is located close to the San Francisco Academy of Science's aquarium. The Dragon is Frank McCoppin Elementary School's official school mascot. 
Center Panel
McCoppin Elementary School is known for its robust literacy initiative. At the center, there is a group of diverse students watching their books come to life, representing the possibility of imagination and adventures come to life when you read.  The phoenix represents rebirth as the school has been under redevelopment. The completion of the mural is a celebration of an exciting, new phase for the school. The little house in the corner is symbolic of cultural heritage rendered in the traditional pagoda style house. 
Right Panel
There are three women highlighted in the this panel. The woman crouching is an elder who has paved the way through the life she has created symbolized by the painting of the river.  The origami boats are an homage to waves of migration that have come to this land.  The tall woman in the clouds has one of the traditional pagoda style houses on her head, symbolizing her connection to homeland. This image is also based upon artwork from AAWAA artist Cynthia Tom, giving homage to the artistic achievements of Asian American Women in the arts.  The butterfly symbolizes transformation and growth. The stairwell is a pathway climbing up to break cultural and gender glass ceilings.
THE ARTISTS
Erin Yoshi
Born in Los Angeles, Yoshi's artwork goes beyond the easel. Her work is rooted in historic cultural memories and informed by global conditions to inspire, engage, and transform space. Yoshi is a member of Trust Your Struggle Collective,  COI (LA), and APC (Colombia). She holds an MBA in International Sustainability. She managed two public art non-profits as Executive Director of Estria Foundation and Interim Director of Mural Conservancy LA. Yoshi has murals in Mexico, Guatemala, Nicaragua, Honduras, Colombia, Ecuador, Chile, Philippines, United Kingdom, Ireland, Netherlands, and the US.
Franceska "Frankie" Gamez
Born in Manila, Philippines and raised in the Bay Area, Gamez resides in Sacramento where she has a practice in mixed media sculpture as well as mural painting. She received her degree in Fine Art at CSU Sacramento. Her practice in arts has led to dynamic bouts in music, writing, art conservation, and project organization. She has existing murals in Sacramento, SF Bay Area, and Washington D.C. Along with being a full-time artist, she is co-director of 1810 Gallery in Sacramento and member of M5 Arts Collective.
Cece Carpio
Born in the Philippines, Carpio resides in the Bay Area. Her work tells stories of immigration, ancestry, resistance, and resilience. She's exhibited in the Philippines, Fiji Islands, Cuba, Mexico, Guatemala, Nicaragua, Italy, Norway, and the US. She's been awarded NY Foundation of Art's Immigrant Artist Fellowship, Café R.E.D & La Botica Espacio Cultural Xela's teaching residency (Colombia), and KulArts's residency. She guest lectured at New School (NYC), CA College of Arts (Oakland), and produced work for Multicultural Community Center (UC Berkeley). Carpio collaborates with Trust Your Struggle and True Colors Mural Project (Berkeley City College), and teaches at East Oakland School of Arts.
PROJECT TEAM
Melanie Elvena, Project Creator & Director
Aaron Yen, School & Community Liaison
Diana Li, Intern
Elisa Gyotoku, Copywriter
Desi Daganan, Crowdfunding Consultant
SPECIAL THANKS
Principal Bennett Lee
Frank McCoppin Parent Teacher Organization
San Francisco Unified School District
San Francisco Arts Commission
Mural Workshop Participants
This page was last updated on May 25, 2021