About A-L-A-M-O!
Alamo Elementary School, founded in 1926, is a National Blue Ribbon School of Excellence
located in the Richmond District in San Francisco. The school serves over 400 students
from Kindergarten to Fifth Grade. Alamo's goal is to provide a rich, rewarding education
for our students delivered by experienced teachers, staff and community volunteers.
As you tour our school, you will see beautiful and enriching artwork and writing from our talented
students. This artwork reflects our school's motto -  "Be A Friend."
Our Mission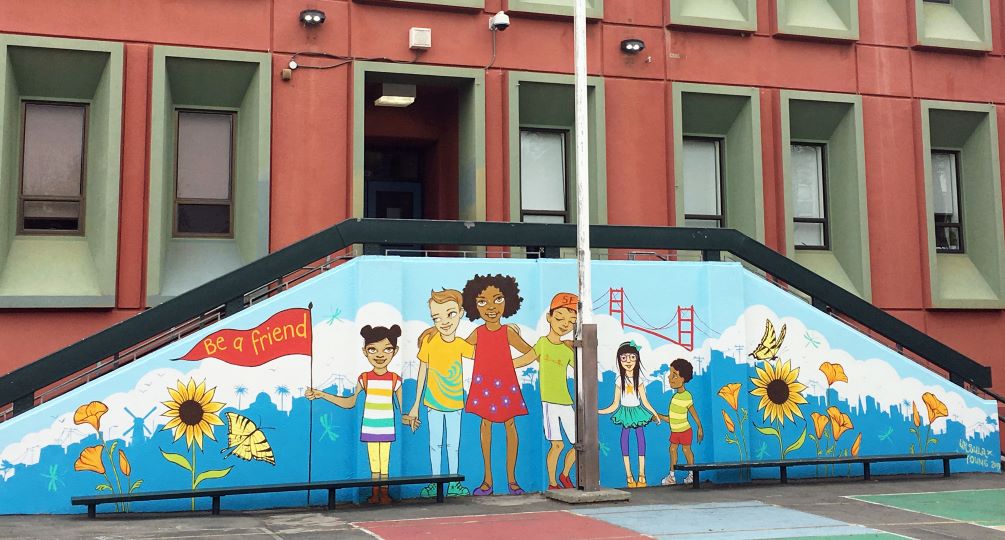 We believe that all students have the ability to learn. Our goal is to nurture life long learners. Alamo strives to encourage a growth mindset for all learners to do their personal best both socially and academically.
Our Traditions
Alamo hosts a number of community and fundraising events throughout the year including:
− Summer Playdates for Incoming Families
− Back - to - School Picnic
− Halloween Parade and Carnival
− Beach Clean Ups
− STEAM Family Night
− Winter & Spring Chorus Concerts
− Alamo Garden Work Days
− Spell-a-thon Fundraiser
− SF Chinese New Year Parade
− Literacy Week (Authors' Day, Special readers, Book Exchange)
− Grandparents and Special Friends' Day
− Talent Show
− Science Fair
− Spring Auction, Raffle, Gala
− Alamo Field Day
− 5th Grade vs. Staff Kickball Game
This page was last updated on September 29, 2023