CYC Beacon Spring Festival 2022
Free event with food, carnival games, photobooth and more...
CYC Aptos Beacon
Community Youth Center of SF - Aptos Beacon 
The CYC Aptos Beacon Center offers comprehensive services that promote social emotional learning, healthy youth development, and family partnerships. Our program includes After School & Summer Programming, Behavioral Health & Wellness Services, College & Career Awareness Program, STEAM Program, Family Engagement, Academic Supports, etc. 
Contact us at beacon@cycsf.org or 628.233.6356. Our admin office is located in Room 004 on the Ground Level.
CYC Beacon After School Program
Our Beacon afterschool and summer programs focus on community building, academic assistance, arts and recreation, enrichment classes, leadership development, STEAM, college and career exploration, and project-based learning. 
After School Program Time: M/Tu/Th/F 4-6:45pm; W 2:15-6:15pm
Program Fee: It's FREE!!!
Program Location: Aptos Middle School, 105 Aptos Ave, SF, 94127
Enrollment Form (Fill out to be put on our waitlist)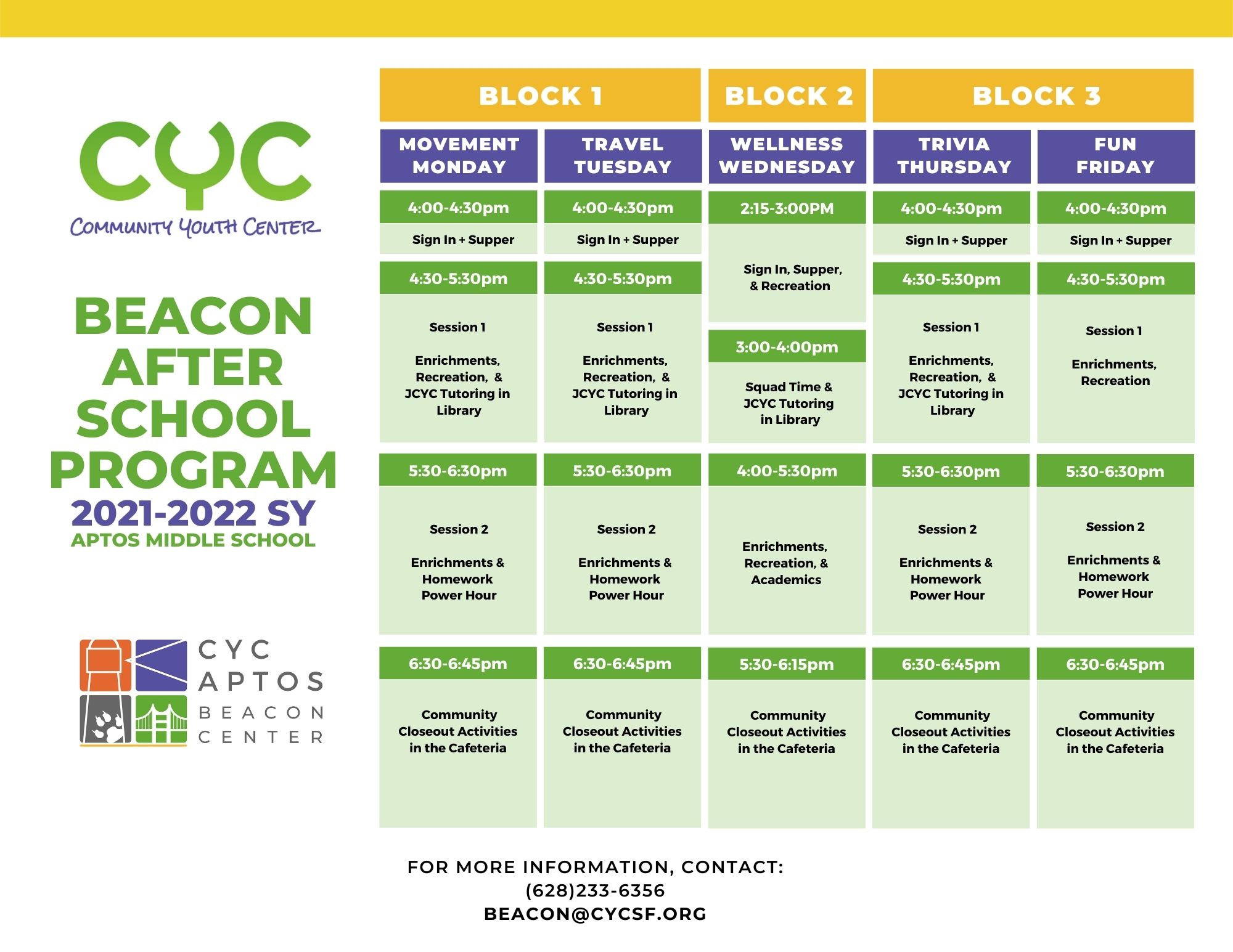 Behavioral Health & Wellness Services
As part of the Beacon model, our staff collaborates with school staff to support intentional coordination of family and community partnerships, provide and build capacity for families and school to partner effectively, and facilitate referrals and support services to meet the behavioral and mental health needs of our youth. Contact us at beacon@cycsf.org or 628.233.6356 for any referrals. Our Wellness Center is located on the 3rd Floor.