Everybody Books
Everybody Books is a diverse books website run by Ms. McKinney who is one of the 6th grade Resource Specialist at Everett Middle School. It is a place where students, families, and teachers can find books about all different types of communities! You can find books by authors who are: Black & African American, Asian American & Pacific Islander, Latinx, Native American & Indigenous, Muslim, Gay, Lesbian, Bisexual, Transgender & Nonbinary, and People with Disabilities.
Become a Member of the PTSA!
Become a member of our Everett PTSA and support our school in providing essential resources for students and families! Fill out the form to get started. 
Nutrition Meals/Nutrición y comida
Student Nutrition Services is committed to providing nutritious meals for students while schools are closed.
Every Wednesday, a bag of 5 days' worth of meals (including breakfast, lunch, supper, fresh fruits and vegetables, and milk) is available at the following sites.
As of September 1, free meals are now available to all students, regardless of eligibility. Please continue to submit the Multipurpose Family Income Form for the school year.
Distance Learning website/Sitio web de aprendizaje a distancia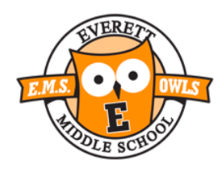 Please visit our new Distance Learning website for updates on Everett's schedule, how to get technology and materials, and other important information during school closure: bit.ly/EverettMS
Everett's got talent
Everett's Got Talent! ¡Everett tiene talento! EMS + PTSA  Donate NOW! 
Spring 2021/Esta primavera 2021 April 28 + 29
School and District Calendars
More about this school
School Type

Middle School, 6-8

Estimated Enrollment

745

Principal

Assistant Principal

Kamaria Carnes
Lauren Vega

Hours

Office Hours: Monday - Friday, 8am - 4pm

School Tour

Please call the school for the schedule of school tours.

Uniforms Policy

Everett Dress Code: No Red or Blue clothing allowed. (including shoes; Less than 20% of the actual item of clothing can have red or blue on it) Clothing or buttons which show obscene words or pictures, or sexually suggestive statement. Garments where the entire thigh is exposed, such as micro minis or short shorts. Bathing suits or cut-offs. The wearing and carrying of tobacco promotional items, or he wearing and carrying of items promoting controlled substances (illegal drugs) and/or alcohol No undergarments should be visible No sandals (unless you bring a pair of shoes for PE)

This School Is Fed By

Neighborhood

Mission / Castro / Upper Market

School Meals

Breakfast, Lunch, After School Supper

School Code

529
Everett Middle School
Grades 6-8
8:00 a.m. to 3:30 p.m. Every Friday, school is dismissed at 12:30 p.m. Students can leave after lunch or attend the afterschool program.