History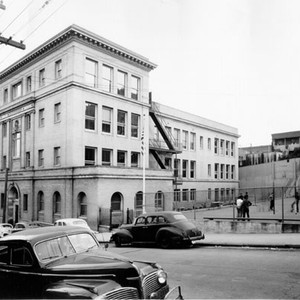 The Chinese Primary School was created in 1885 to segregate Chinese from white students in public schools.  In 1906, it was renamed Oriental School to include children of Japanese descent.  However, the Chinese community objected to the demeaning term "Oriental," thereafter the school board changed the name in 1924 to Commodore Stockton Elementary School in honor of Commodore Robert F. Stockton a U.S. Naval officer who later served as a U.S. Senator.  Alice Fong Yu, the first Chinese American teacher, taught at this school in 1926.  In 1998, the school was renamed Gordon J. Lau Elementary School, in honor of the community activist and first elected Chinese American Supervisor of San Francisco.  Today, children of all races are celebrated and welcomed at this school.
Names of Our School Through the Years
1859 -1906
The Chinese School
Chinese children were assigned to a school for only Chinese students; they were
not permitted into any other public schools in San Francisco.
1906-1924
The Oriental School
The school was renamed so that in addition to Chinese students Korean and
Japanese students could be assigned to this school as well.
1924-1998
Commodore Stockton School
The school was renamed after an American naval officer, Commodore Stockton,
who ordered the sale of property of Mexican landowners and the money used
to build public schools in California.
1998-Present
Gordon J. Lau School
The school was renamed after an outstanding Chinese American who was a
community leader and a civil rights pioneer in San Francisco.
This page was last updated on September 11, 2019