Super Volunteers
As you get to know Guadalupe you will see that we have a number of community volunteers who support our students.  Our longest-running volunteer is Ms. Lillian Tomimoto, who has been working with our school for over 36 years. In fact, her service has been so appreciated by our community that we named the library that she founded after her.
Here are some highlights from our recent conversation with Ms. Lillian Tomimoto:
"I first came to GES in the early 1980s. My three children all came to Guadalupe and I became an active parent volunteer. My kids went on to Luther Burbank and Lowell High School but I stayed at Guadalupe.
I worked as a paraprofessional for 24 years at GES with RSP teacher Paula Borgfeldt. I volunteered as PTA president, and then later in the library. I got my library skills from Pat Berglund the librarian at Longfellow. They didn't have the funds for a librarian here at GES and the teachers wanted the library open so that's when I started as the librarian doing an extra two hours a day back in the '90s. I retired at the age of 67 in 2006 after 24 years of service."
Ms. Tomimoto still volunteers in our library once a week on Tuesday mornings and has now completed 36 years of service to the school. In 2006 the school staff recognized her service by naming our library after her.  Ms. Tomimoto still loves our school because it's near her home and she loves working with the children. The children treat her with love and respect and that is how she treats them.
Ms. Tomimoto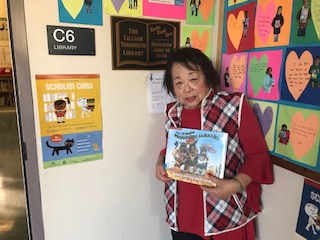 Look At Us!
Please, check our photo album!
School Tours Are Available:
Wednesdays from Oct. to Jan.
Call school for times and dates.