Principal's Welcome
Mr. Michael Stachon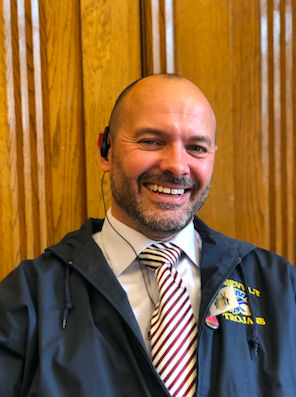 As someone who has dedicated over 20 years to public education, I find myself very fortunate to be a member of the Roosevelt community. This is my 5th year as Principal of Roosevelt.
I grew up in the Bay Area native and have been a San Francisco resident for almost 20 years.  I adore being a part of the San Francisco community and am passionate about providing the best public school experience possible  for our young people, knowing that my work will help make a stronger community for all of us who live here.
I started my career in downtown San Jose as a 4th/5th grade teacher, after teaching 4th grade in Mill Valley.  When I moved into administration, I started as an Assistant Principal in Cupertino before coming to San Francisco. I served two years as the Assistant Principal at Herbert Hoover Middle School. At Hoover, I was instrumental in the implementation of a new Special Education Program called SOAR  (Success, Opportunity, Achievement, and Resilience), along with the roll out of the Response to Intervention Framework that supports all students with what they need to achieve success in a comprehensive middle school environment.
My belief in fostering community and supporting family begins at home where I spend a lot of time with my wife Ashley and our children. In our free time I enjoy eating our way through San Francisco or the Napa Valley.
I love what Roosevelt brings to our students, and I am a big believer in student centered and project based learning. These are two initiatives I have brought to the Roosevelt community that have showed significant success on benchmark assessments and in our sense of community and wellness.  With a beautifully renovated building, technology seamlessly integrated into every classroom, and a very dedicated faculty and staff, I am certain our students will continue to thrive and be proud to be Roosevelt Middle School Trojans.