Traffic Safety Pledge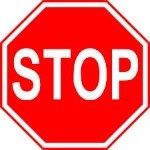 I WILL use the Vicente Gate drop-off when I drive my child(ren) to school and do not (or cannot) legally park
I WILL be patient - The Vicente Gate drop-off can take 5-7 minutes
I will NOT make any illegal U-turns at 24th/Vicente or 25th/Vicente
I will NOT double-park around the school, especially on 24th, 25th and Vicente
I WILL use designated cross walks to cross the street with my child(ren)
I WILL volunteer to help with Traffic Duty when my child's classroom is assigned for the week
I WILL be courteous to neighbors and will NOT block driveways, etc.
Traffic Safety
Getting our students to school safely is of utmost importance. The Stop, Drop & Go program, staffed by family volunteers, runs most smoothly when all follow a few simple guidelines.
How to use Stop, Drop & Go
Use the designated drop-off site on Vicente Street between 24th and 25th Avenues (see map below)
Have your child ready to go (backpack in hand, coats on) and drop off ONLY with a volunteer!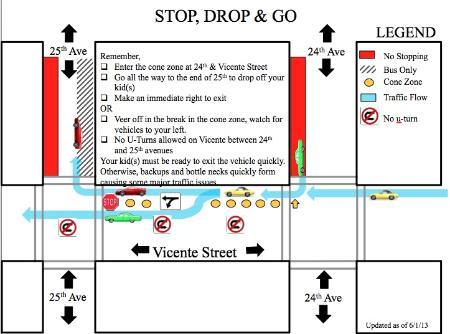 Please DO the following:
Arrive on time. Drop-off is from 7:30-7:50 am. After that, your child is late.
Be patient and allow the traffic volunteers to open the door and let your child out.
Be courteous. The line moves more slowly as 7:50 approaches. Allow 5-7 minutes for the process.
Watch for pedestrians as they cross the street -- especially during dark winter hours.
Watch for other cars as you exit the line. The 25th Avenue intersection is very busy in the morning!
Yield to the crossing guard and all pedestrians.
Be considerate of neighbors -- do NOT double park or block/use their driveways.
Please do NOT:
Make U-turns in the intersections at 24th and 25th on Vicente.
Stop/park on the school side of Vicente or 25th Avenue.
Double park anywhere around the school!
Use the white-curbed Bus Zone to drop off your child at any time.
Jump the line of cars on 24th Avenue
Talk on your cell phone while in the line; it is against the law, and a distracted driver is an unsafe driver.
If walk your child into the school yard, park in a legal spot. Be sure to read the street cleaning signs! The streets around the school are cleaned on Tuesday, Thursday and Friday during our drop-off
Thank you for your help in keeping our community safe!
Please refer to the street cleaning map/schedule (need file) to help you manage your time and parking woes.
Rules and Guidlines for Traffic Volunteers
Thank you for your help in keeping our community safe! If you have any questions, please contact our VP of Traffic & Safety at DFEStrafficsafety@gmail.com.
This page was last updated on May 19, 2019