Galileo Academics
Ready to Think, Learn and Grow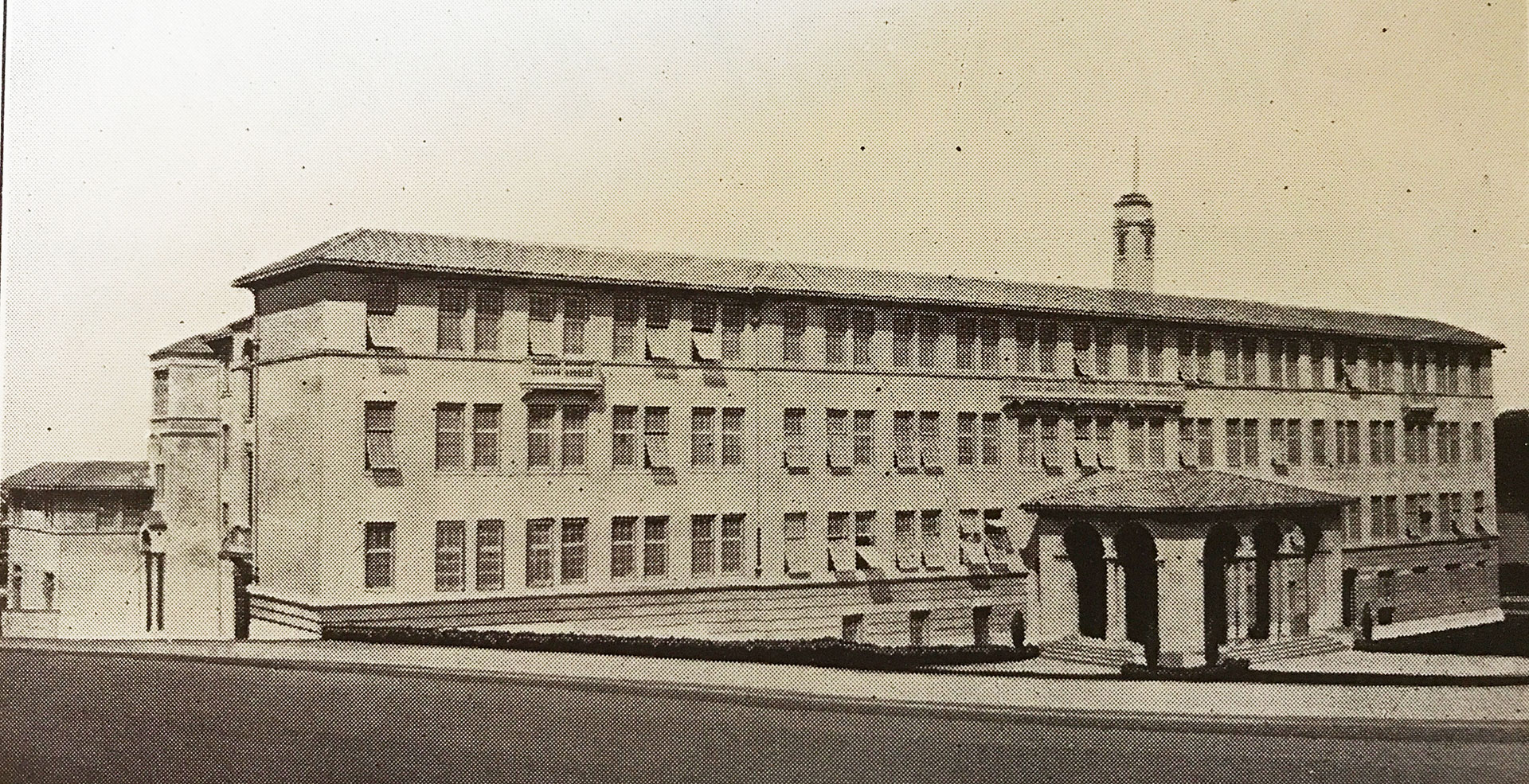 As one of the oldest public high schools in San Francisco, Galileo Academy of Science and Technology High School has a rich tradition of providing rigorous academics and extra-curricular opportunities to students. Set in a historic building in the Marina district, Galileo maintains high expectations and standards for all students. With a particular focus on science and technology, the school offers students six specialized academy and pathway choices beginning in 10th grade. The staff and community work collaboratively to ensure that students are provided with rigorous and meaningful learning experiences in their classrooms, in extra-curricular activities and in number of special school-wide events.
Our vision is to develop students who will grow academically, emotionally, and personally in a safe and supportive school setting that emphasizes the development of a well-rounded education. Students will be inspired to become resilient, curious, globally minded and socially conscious in a 21st century world.
Our mission is to provide equal access to all education programs and ensure success for all students.
Academies & Pathways
What is an Academy?
The academy system in the school is basically a school within a school.  In an academy, students attend several classes together, forming a tight sense of community.  When a student attends an academy program, they are not only getting their normal school credit requirements out of the way, they are also getting in depth into a specific profession.  So when a student applies in an academy, they can expect to have an extra elective class relating to their academy along with high school requirement courses.  These classes feature job training, drastically decreased class sizes, 1 on 1 attention by the instructor, as well as any other planned activities provided by the academy.  The academy also reserves seats at San Francisco City College.  These city college classes offer both High School and College credit to the student, typically making these classes more if not equal in value to the AP classes offered at Galileo.
Academy Benefits
Classes that only the academy offers to its students are available to those that apply
Smaller class sizes
Attending the same classes with the same classmates for several courses
One on One attention with the instructor
Summer internships will be provided
City College classes will be reserved for students in the academy
Galileo offers (3) Academy Programs:
Startup! Entrepreneur Academy
Computer Science Academy
Health Academy
What is a Pathway?
Pathway students take a sequence of special-focus classes together, but are scheduled for their other classes independently.
Galileo offers (3) Pathways:
Biotechnology
Environmental Science
Digital Communication
Graduation Requirements
230 credits must be completed in order to earn a high school diploma.
A-G coursework (150 credits)
Additional required classes (30 credits); 1 semester of college/career, 1 semester of health education, and 2 years of PE
Electives (50 credits, 10 of which must be from the A-G categories)
High School Graduation Requirements & A-G
SFUSD adopted a policy that aligns high school graduation and the A-G requirements. To ensure that all students take college preparatory courses and have the option of applying to a wide range of colleges and universities, students must meet these requirements with a D or better in order to earn a high school diploma.  To be UC/CSU eligible, students must complete these courses with a C or better.
What Is A-G?
A-G are 15 year-long college preparatory courses established by the University of California (UC).  These are the minimum required courses students must take during high school in order to be eligible to apply to UCs/CSUs. SFUSD's high school graduation requirements are aligned with A-G; however, there are slight differences.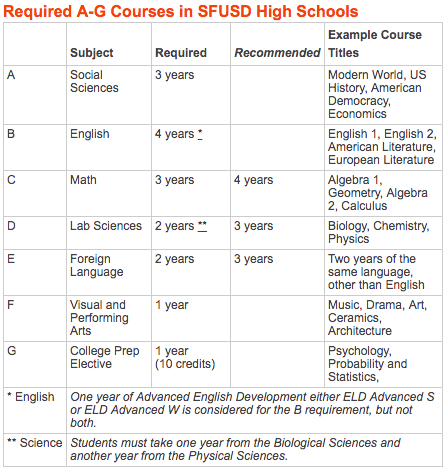 This page was last updated on October 25, 2019