Arrival and Drop off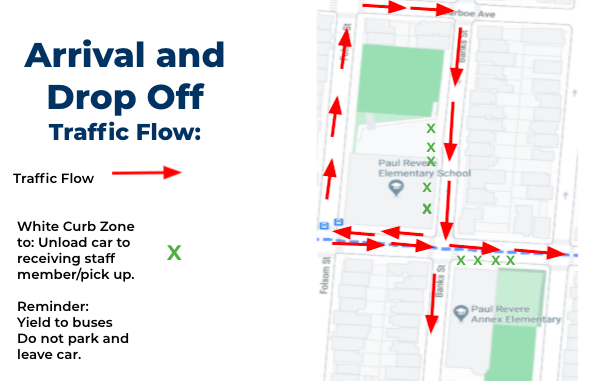 Are Masks required
Currently everyone on campus, regardless of vaccination status, is required to wear a mask. 


School start and end time
Including before and afteschool
School begins on Monday, August 16. Paul Revere's school day starts at 9:30am. We will be offering optional breakfast for Paul Revere students at no charge from 9:00-9:20am in the cafeteria. The yard(s) will be open and supervised for student drop off beginning at 9:10. The school day ends at 3:45 pm (Grades PreK-5) and 4:00 pm (Grades 6-8) on Monday, Tuesday, Thursday and Friday. On Wednesday, the school day ends at 2:15 pm (Grades 6-8) and 2:30 pm (Grades PreK-5). The BEACON program is offering early care beginning at 7:30 am, and an after school care program running until 7:00 pm. Please contact Maria Joya Garcia (mjoyagarcia@bacr.org) or Sherry Galdamez (sgaldamez@bacr.org) for early care enrollment. Please feel free to contact the BACR line as well: (415) 650-7462. Space is limited. 
Arrival and Drop off
Drop Off:

Students may be dropped off starting at 9:10 am either on the Upper Main Yard (Grades PK-2) or the Upper Annex Yard (Grades 3-8). Cars dropping off students are asked to drive down Banks Street and use the white curb to drop off at the Main Building, or then make a left and drop off on the white curb in front of the Annex Building on Tompkins Avenue. White curbs are loading and unloading zones only; if you wish to leave your car please find street parking in the surrounding neighborhood. Students will be welcomed through the gates by their associated yards and transition from family to school supervision as they enter the campus.

Late arrivals

: Students arriving after 9:30 am must check in at the main office for the building they have classes in to sign in and receive a pass to class. All students are encouraged to arrive at school on time!

Early Pickups:

Students are expected to stay at school the entire school day; if your child must leave early for a specific reason you or a guardian listed on your child's emergency form must first check in at the office to sign out the student. The office will then arrange for the student to be picked up.
This page was last updated on August 9, 2021