School Tours
School Tours have gone virtual! Check out the SFUSD Enrollment Fair for Middle Schools on Thursday, November 12th.
SFUSD PreK-12 Virtual Enrollment Fair
You are invited to the SFUSD PreK-12 Virtual Enrollment Fair from November 6-13, 2020. If you have a child starting prekindergarten, kindergarten, middle school, or high school next year, you are encouraged to attend this event! Talk to principals and school staff, learn how to apply, watch videos about each school--all conveniently online. You can also attend workshops to learn about the enrollment process, how to apply for special education services, and more.
Format of the Virtual Enrollment Fair
Due to Shelter-in-Place, the enrollment fair will take place online using Zoom, YouTube Live, and Google Meet. You can join any of the meetings with a computer, laptop, tablet, or cell phone. You can also call in to any of the meetings and participate in audio mode. (Help documents coming soon.)
Registering for the Fair and Requesting Interpretation and ADA Services
Registration is not required, but strongly encouraged so that we can plan for the best experience for your family. 
If you require language interpretation, American Sign Language or closed captioning, or want to submit questions to schools town halls in advance, you must register by November 3. 
Register here: English | 中文 | Español | Tagalog | Tiếng Việt | عربى | Samoan
School Town Halls
School town halls are 30 minutes online meetings where families can talk to principals and school staff. School town halls are organized by grade level; for example, elementary schools present on one day, middle schools present on another day, and so forth. Each school will host four town halls.
Each town hall will have a short presentation from the school, followed by questions and answers. We encourage you to submit your questions ahead of time when you register.
See Full Schedule of School Town Halls
Workshops
Workshops are informational meetings about a specific enrollment topic, such as How to Apply to a Language Program or What's the Enrollment Steps for Getting A School. Workshops take place on Friday, November 6 and Saturday, November 7. All workshops are presented live, and recordings will be made available 3 days after the fair ends. 
See Full Schedule of Workshops
School Videos
Due to Shelter-in-Place, schools will not host in-person tours this year. Instead, each school will provide a short video for you to watch and learn more about that school. Videos will be available to watch three days before the start of the fair.
Overview of Enrollment Fair Schedule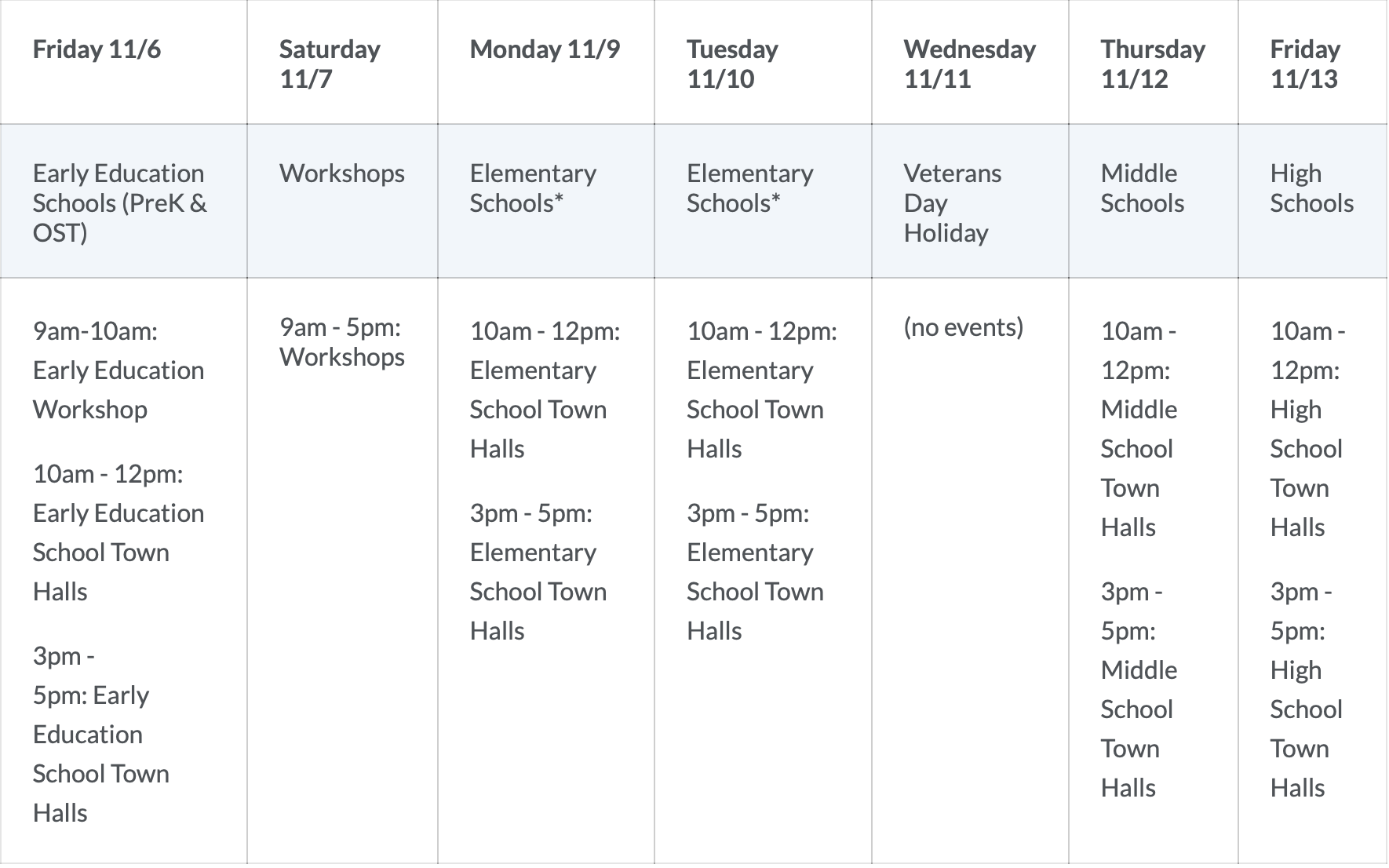 *Includes elementary schools that offer PreKindergarten and K-8 schools
This page was last updated on October 19, 2020