SFUSD and SFMOMA Partner to Create and Distribute 2,000 Visual Art Kits for Third to Fifth Graders at 13 Schools
Press Release
San Francisco (December 15, 2020) - Two thousand art supply kits with curriculum materials from the San Francisco Museum of Modern Art (SFMOMA) were distributed to 13 elementary schools in the San Francisco Unified School District (SFUSD). The supplies and materials will help 3rd to 5th graders at PITCH schools with distance learning for the visual arts and inspire a bit of at-home creativity.
Each kit contains engaging curriculum focused on one of three artists in SFMOMA's collection: Frida Kahlo, Georgia O'Keeffe, and Romare Bearden. The kits will balance online instruction with hands-on creative experiences and offer a way for students to experience SFMOMA artwork and resources while the museum is closed. Each kit contains art-making supplies, materials about the career and artwork created by each artist, and an SFUSD tote bag.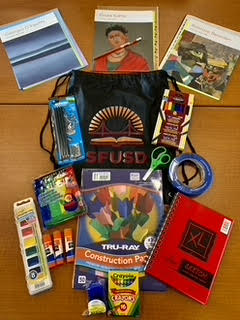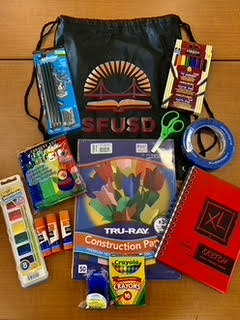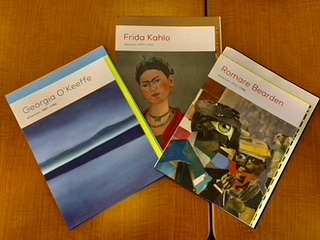 "Our visual art teachers will use these kits to further our students' artistic growth and deeper knowledge of artists as well as their own skill building in painting, drawing, and creating," said Sam Bass, Director of SFUSD's Visual and Performing Arts (VAPA) Department. "It will also level the playing field of participation in art classes as all of those students will have the same supplies."
The kits are an extension of a partnership between SFUSD's Visual and Performing Arts  Department and SFMOMA. SFMOMA has previously provided supplies and resources from their collection to elementary school students as well as professional development workshops to visual arts teachers at SFUSD. SFMOMA also has a long-standing history of collaborating with Balboa High School's CAST program and the Architecture & Design program at Ruth Asawa San Francisco School of the Arts, bringing curators, artists and other arts professionals in dialogue with students. 
"We know that visual arts education supports overall academic performance.  We also understand how important art-making is for children's mental wellbeing and how it fosters personal resilience in times of stress," said Julie Charles, Deborah and Kenneth Novack Director of Education at SFMOMA. "It's a privilege to partner with the VAPA Department in bringing opportunities for creative expression to students in SFUSD's PITCH schools and increasing equitable access to the visual arts more generally."
"At SFUSD we're strengthening our partnerships with Bay Area arts partners to support students' arts experiences through online education and immersive activities during distance learning," said Superintendent Dr. Vincent Matthews. "These art kits enable the district to build upon the mission of the Visual and Performing Arts Department to provide a quality arts experience for each and every student."
Schools that are part of the PITCH (Professional Capacity, Instructional Guidance, Transformative Mindset, Collaborative Culture, High-Quality Staff) cohort at SFUSD aim to close the achievement gap between African American students and their peers. These schools effectively co-design, implement and continuously improve research-based strategies to meet clear and ambitious goals for African American student outcomes.
(Image credit: SFUSD)
About SFMOMA
The San Francisco Museum of Modern Art (SFMOMA) is one of the largest museums of modern and contemporary art in the United States and a thriving cultural center for the Bay Area. Our remarkable collection of painting, sculpture, photography, architecture, design, and media arts is housed in an LEED Gold-certified building designed by the global architects Snøhetta and Mario Botta. In addition to our seven gallery floors, SFMOMA offers 45,000 square feet of free, art-filled public space open to all.
Visit sfmoma.org or call 415.357.4000 for more information.
**Follow us on Twitter for updates and announcements: @SFMOMA_Press
###
This page was last updated on December 15, 2020