Paraeducator To Teacher Program
The Paraeducator to Teacher Program (PTTP) is a teacher pipeline program for SFUSD employees. The goal of the program is to recruit and support SFUSD staff to become credentialed, exemplary teachers in the district's high need areas of Special Education, Secondary Mathematics and Science and Bilingual Education.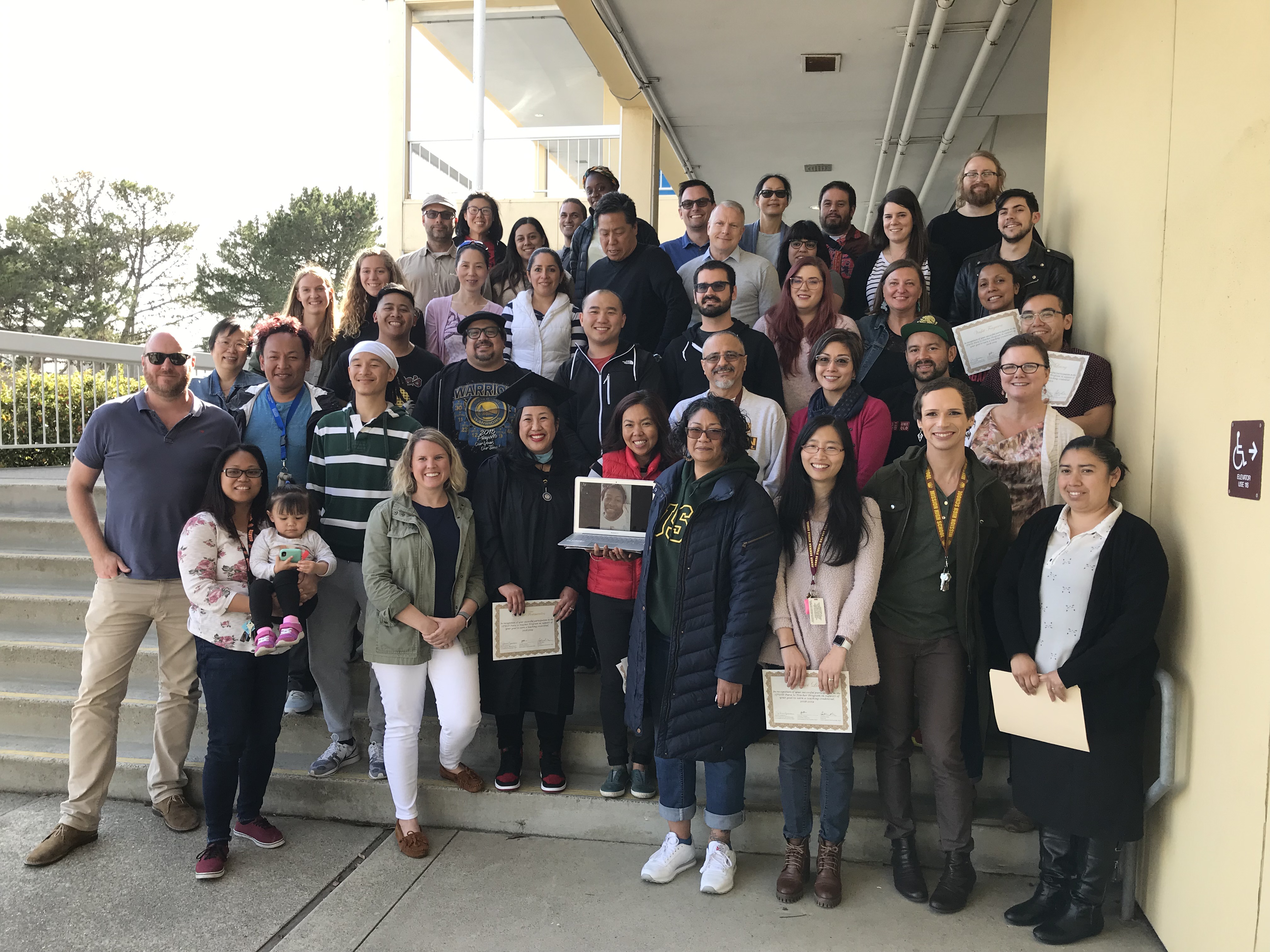 Participant Support
Paraeducator to Teacher Program participants receive a variety of supports including:
Admissions counseling to enroll in partner universities,

Support to identify financial aid and clarify career goals  

Direct contact with a HR and university representatives 
Reimbursement of some college tuition, textbooks, fees and supplies

Support to pass CBEST, CSET and RICA tests 

High quality teacher preparation professional development

Participation in a cohort of like minded and similar career stage aspiring teachers

Access to veteran teachers
Participant Entry Requirements
Current SFUSD paraeducator/classified staff working with PreK-12 students.
If not currently employed in SFUSD then visit https://careers.sfusd.edu/ for information on applying for a classified SFUSD paraprofessional educator.

Credential goal must be in teaching in a hard to staff area: Special Education, Math, Science or Bilingual Education.

60 transferable units from an accredited college and/or junior level in college.

Commitment to working in SFUSD for for same number of years you received support from the program, after receiving a preliminary credential.
Application for Para to Teacher Program
The Paraeducator to Teacher Program application is your first step to getting help to enter into a credential program of your choice.
The Paraeducator to Teacher Program application is meant to help you move towards your goal of applying to a credential program at your earliest opportunity. 
When completing the application consider the following:
The application is submitted via a Google Survey, where you upload the actual application as well as the required documents

We only need unofficial transcripts

The letters of reference can be written directly to the admissions panel of a university credential program. The Para To Teacher Program will read them in that context.

The 1- 3 page Letter of Intent or Statement of Purpose is meant to be a rough a draft for this program. Most credential programs will require some form of essay to enter their program. You can revise this 1-3 page essay at a later time after you are accepted in the Para To Teacher Program

If you are having difficulty with any part of the application reach out to Sharon Zimmern to see how we can accommodate you.
Application Timeline
The Application for the Para To Teacher Program is taken year round, there is no deadline. If the program is full you will be placed on a waitlist that will be based on the date we receive your completed application with all required documents.
Participant Expectations for the Paraeducator To Teacher Program
Whats expected of participants in the Paraeducator To Teacher Program
Participants in the program are expected to make progress on their own Individual Learning Plan This Individual Learning Plan is an outline of goals you set for yourself that will move you forward towards earning a teaching credential. Depending on what cohort you enter the program (see PTTP Cohort Chart) is how long you have to reach the next step in the credential pathway.
Participants in the program are also expected to attend all Paraeducator To Teacher Program Meetings.
Teach in SFUSD for the same number of years you received support upon

completion

of preliminary credential
Participant Expectations
The Paraeducator to Teacher Program works to support candidates through all of these phases to earn a teaching credential.
This page was last updated on June 21, 2023