Grade Level
Early Education
Elementary School
K-8 School
Middle School
High School
Central Offices
County School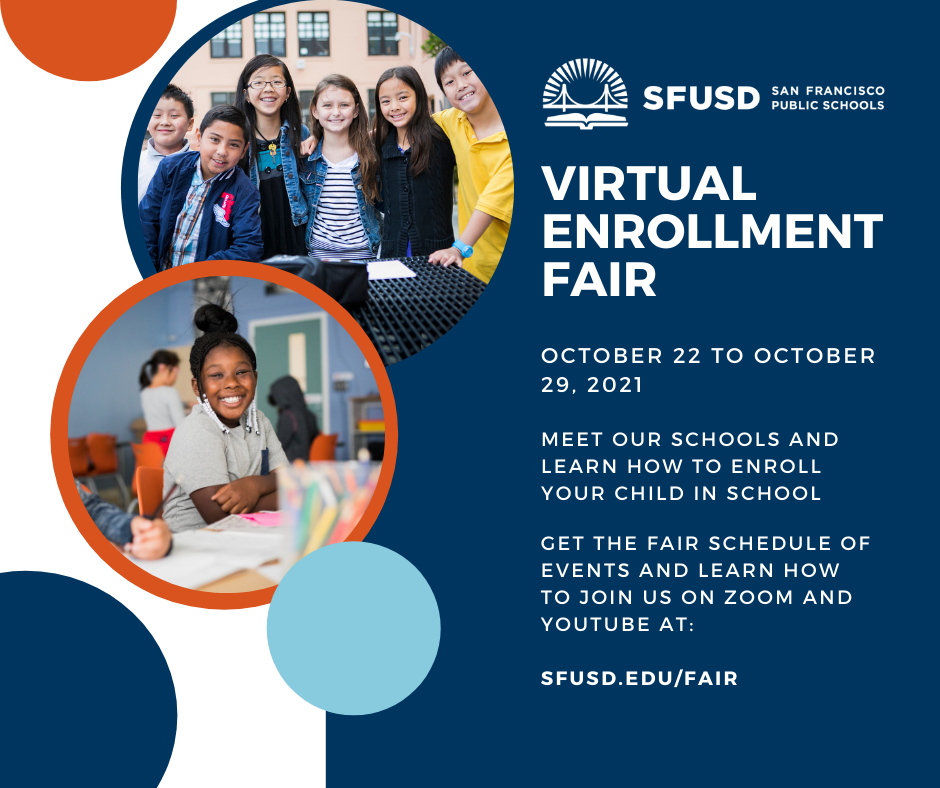 If your SFUSD student is entering kindergarten, middle school, or high school next year, you need to apply for a new school.
Get help in finding a new school by attending our Virtual Enrollment Fair on Zoom from October 22 to 29! 
This event is a great place to learn about SFUSD schools and how to apply all in the same place! To protect our community from COVID-19, the fair will again be virtual this year.
Here's your chance to: 
Meet multiple schools and their staff members 
Get information about how to enroll in schools and in our different programs (Language, Special Education)
Talk to an enrollment counselor 
We are making the fair accessible to all families: 
Language interpretation in Cantonese, Spanish, Tagalog, Vietnamese, Arabic, and Samoan
American Sign Language (ASL) interpretation for individuals who are deaf or hard of hearing
Watch the Fair on Zoom or on YouTube (YouTube only available for the Friday Early Education workshop and the Saturday workshops)
To find out the schedule when a school is presenting, the schedule of our workshops, how to request ASL interpretation, and other information about the fair, visit our Enrollment Fair page!