Overview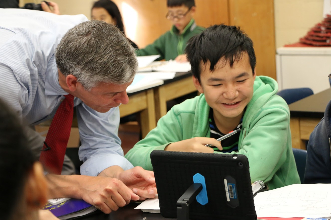 Digital Learning Week is our annual event celebrating the work accomplished this year leveraging technology to deepen learning. Your hard work and deep commitment to your students and school community has pushed digital learning to new frontiers this year as our classrooms transformed into our homes and we learned to work in a virtual environment. Digital Learning Week celebrates the achievements of SFUSD students and staff during these unprecedented times, uplifting that work and sharing it with the broader SFUSD community!

SFUSD's Digital Learning Week happens in conjunction with Digital Learning Day- a national initiative through the Alliance for Excellent Education- celebrating innovative learning experiences with digital tools.  SFUSD has been participating in this national celebration for 4 years and has modified Digital Learning Day into Digital Learning Week.
Information and Resources
Information and Resources for Teachers
Learning in 2020 was unlike any in history! When your classroom became your home, each of you stepped up, learned how to transition to a digital platform and quickly transitioned to distance learning.  Each of you and your students have been creating and working digitally all year, and to celebrate your hard work and deep commitment to push digital learning to new frontiers, we wanted Digital Learning Week 2021 to be unlike any other year! This year, the focus for Digital Learning Week is to promote and share the amazing work you and your students have done during this extraordinary time.
Resources: Artifact Choice Board - bit.ly/DLWchoice2021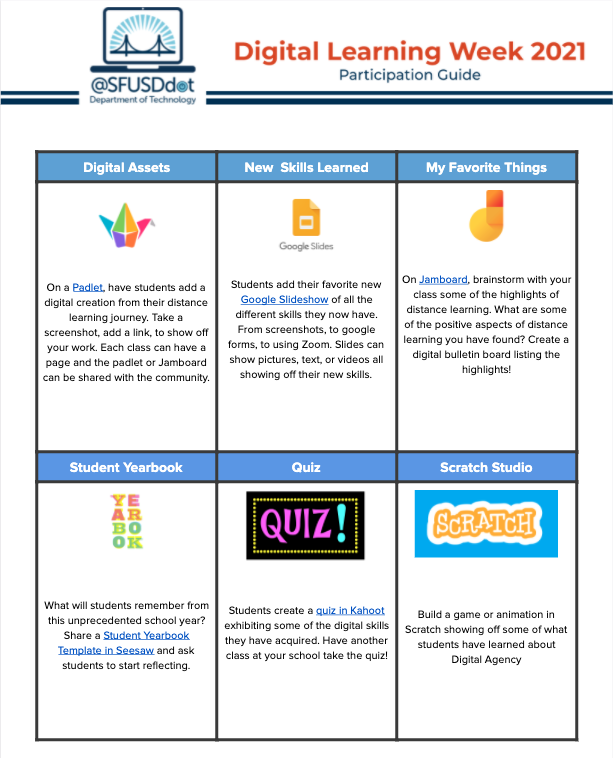 Information and Resources for DLeaFs and Administrators
The Digital Learning school site team, which included the DleaFs and Administration, should utilize the planning materials to develop a plan for the promotion and celebration of Digital Learning Week.  Please coordinate with administration and staff the activities that will take place during Digital Learning Week.  Please review the resources below in this Participation Guide and share resources with your community as you see fit.  The Digital Learning Choice Board is a great place to start the conversation to begin planning the event and get some ideas for the events at your site.
If you have any questions, please contact your Cohort Partner!
Please use and share this planning guide with any persons organizing or planning activities for Digital Learning Week. 
Resources: 
Resources from Previous Years