Student Health Advisory Board
SFUSD students representing several high schools advocating for better student health. 
Student Health Advisory Board
Who are they?
Student Health Advisory Board (SHAB) consists of 4-10 high school students who work with the Student Family Services Division to promote safe, healthy and affirming school environments for students across the district. SHAB members come from different public high school across San Francisco. Their mission is to bring awareness and educate others of the health disparities of tobacco use through the Public Service Announcement contest and promote healthy choices.
Student Health Advisory Board members will:
Be the student voice of SFUSD Student Family Services Division
Plan, promote and judge the Public Service Announcement (PSA) Contest 

Meet once or twice a month after school

Receive anti-oppression and leadership training

Plan district wide events
Become a paid intern for the Student Family Services Division
Student Health Advisory Board members participate in these main projects:
SFUSD Public Service Announcement contest (4th-12th grade)
Youth Outreach Worker End of the Year Celebration
Teens Tackle Tobacco and other Drugs Conference
For more information contact Karen Tiu at tiuk@sfusd.edu or Ian Michael Enriquez at enriquezi@sfusd.edu 
Tobacco Prevention PSA Contest
Each year, the SHAB host a Tobacco Prevention Public Service Announcement art contest including elementary through high schools.
Celebration
PSA winners claimed all sorts of prizes including trips to local escape rooms.  Some SHAB members on the right completed wizarding school and rescued a missing cat at Paniq Room SF!
Stop Anti-Asian Hate
Student Health Advisory Board members stand with the Asian Community!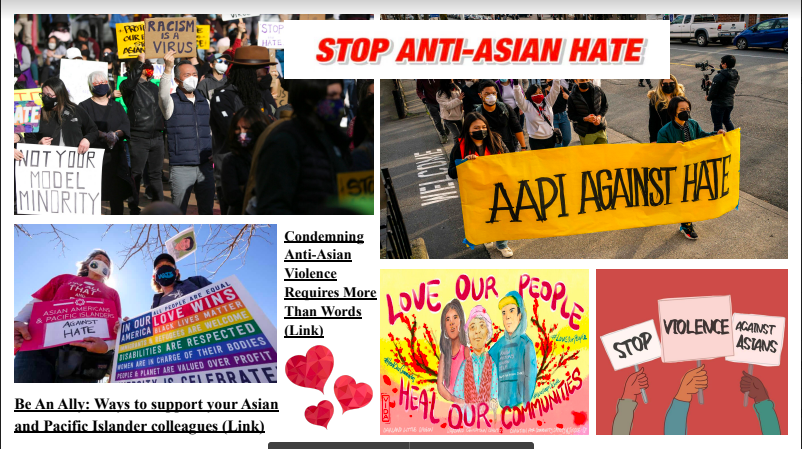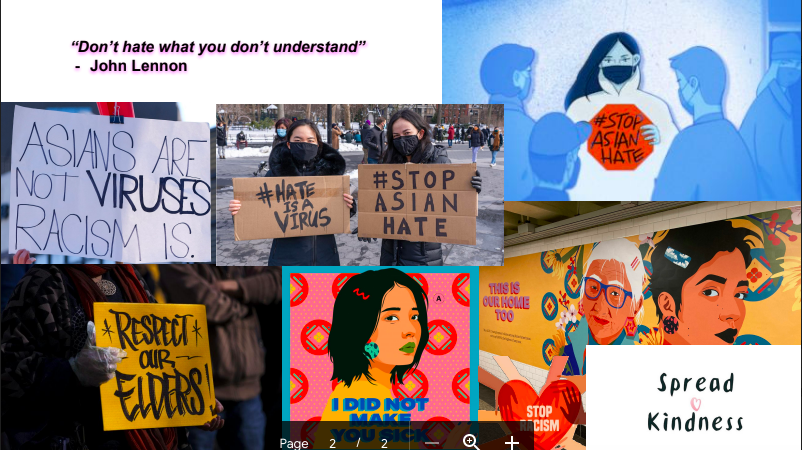 SHAB Talks About Standing Up Against Harassment
SHAB led a workshop on the rise of anti-Asian violence and shared some strategies on how to address incidences that we witness in public.
Homeless Youth in the Bay Area Presentation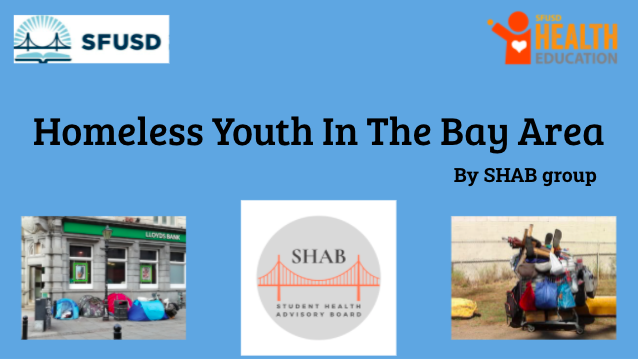 Student Health Advisory Board members presented about homeless youth in the Bay Area to middle and high school students in the 23rd Annual Teens Tackle Tobacco, Alcohol, Drugs and Youth Wellness Conferences. 
https://docs.google.com/presentation/d/1W1_l_GIl880YhSrh2vQDQ3cDEl7oqJN8aSUhAIJgIAY/edit?usp=sharing
This page was last updated on February 8, 2023