WENDY CHEONG, PRINCIPAL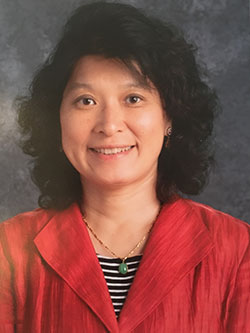 Greetings everyone!  I am very honored and enthusiastic in developing a relationship based and student centered learning environment for all of our students.

A little bit about myself and journey as an educator.  I immigrated to San Francisco from Taiwan with my parents in the mid-70s. It is in this beloved city SF that I learned Cantonese in school as a student and through interactions with friends in the community.   I am a product of the SFUSD and attended the Chinese Education Center, Commodore Stockton Elementary School (Gordon J Lau), Starr King Elementary and Marina Middle School.  After working as a classroom teacher at Jefferson Elementary, I joined the Multilingual Pathways Department as a Mandarin and ELD specialist, followed by serving as assistant principal at Gordon J Lau and then principal at Starr King.  I am also a National Board Certified Teacher and a BCLAD certified bilingual teacher in Mandarin, Cantonese and Spanish.

My commitment to dual language programs is both personal and professional. As a child, I grew up fascinated listening to many different Chinese linguistics, in addition to English and other languages spoken around me. I loved the feeling of being able to communicate in the languages spoken and, more importantly, understand the cultural connotations that words convey.  Professionally, the ability to converse in Mandarin, Cantonese and other dialects have allowed me to serve a greater student family population and advocate for the promotion of language learning in our schools.  For our students living in a globally competitive world, multilingual and cultural competencies are critical to widen their perspectives, opportunities and build bridges across cultures.

When I am not working, I enjoy reading, listening to music, taking nature walks, seeing things in new and different ways and spending time with family and friends.

I am excited to collaborate with our team of passionate and capable teachers, staff, parents and community partners to creating a joyful and successful learning environment for all of our students.
This page was last updated on August 20, 2019