MLK Distance Learning Preparation
MLK Middle School is a Community School committed to empowering all stakeholders within the organization to engage in Social Justice and Equity work. We believe this can be accomplished through a focus on our 4 North Stars. Our North Stars are: Sense of Belonging, Rigorous Learning, Student Voice, Whole Child.
All systems and structures are designed to position students, parents, teachers, and other stakeholders as learners, risk-takers, and innovators focused on becoming a self-sufficient professional learning community.
The current COVID-19 pandemic has placed schools in a unique position to explore and create "Distance Learning" within a two-week frame. MLK is committed to providing the same quality instruction and delivery of additional wrap-around services to students and families. 
MLK Staff Members designed a "Distance Learning" schedule and support services consistent with our 4 North Stars, recognizing the current environment produced by the world wide pandemic, and seeking to humanize all stakeholders included in the MLK Family.
---
MLK中學是一間社區學校,致力於賦予組織內的所有持分者以參與社會正義和平等工作的能力。我們相信可以通過專注於我們的四顆北極星來實現。我們的北極星是:建立歸屬感,提供嚴謹教學,壯大學生聲音,教育整個孩子
所有系統和結構均旨在將學生,家長,教師和其他利益相關者定位為致力於成為一個自給自足的專業學習社區的學習者,冒險者和創新者。
當前的COVID-19使學校處於獨特的處境,可以在兩星期的時間內探索和創建"遠程學習"。 MLK致力於為學生和家庭提供相同質量的指導,並提供額外的環繞式服務。
MLK員工設計了與我們的四大北極星相一致的"遠程學習"時間表和支持服務,認識到全球大流行帶來的當前環境,並力求使MLK家庭中的所有利益相關者人性化。
---
Escuela de Educación Media MLK es una escuela comunitaria comprometida a capacitar a todos los interesados ​​dentro de la organización para que participen en el trabajo de Justicia Social y Equidad. Creemos que esto se puede lograr mediante un enfoque en nuestras 4 estrellas del norte. Nuestras estrellas del norte son: Sentido de Pertenencia, Aprendizaje Riguroso, Voz del Estudiante, Desarrollo Completo del Estudiante
Todos los sistemas y estructuras están diseñados para posicionar a los estudiantes, padres, maestros y otras partes interesadas como estudiantes, tomadores de riesgos e innovadores centrados en convertirse en una comunidad de aprendizaje profesional autosuficiente.
La actual pandemia de COVID-19 ha colocado a las escuelas en una posición única para explorar y crear "Aprendizaje a Distancia" en un marco de dos semanas. MLK se compromete a proporcionar la misma instrucción de calidad y la entrega de servicios adicionales a los estudiantes y las familias.
Los miembros del personal de MLK diseñaron un programa de "Aprendizaje a Distancia" y servicios de apoyo consistentes con nuestros enfoque de 4 Estrellas del Norte, reconociendo el entorno actual producido por la pandemia mundial y buscando humanizar a todos los interesados ​​incluidos en la Familia de MLK
.
Week 2 & New Distance Learning Schedule
April 20, 2020
---
April 20, 2020
Re: Week 2 & New Distance Learning Schedule
Greetings MLK Family,
We just finished an exciting first week of Distance Learning at MLK Middle School. Today marks the beginning of the second week of Distance Learning. This is a new way of teaching for us. It becomes increasingly important for students and families to provide feedback on the design and delivery of this new method for instruction. Our program is designed to continue the educational development of  your child. Feedback on your child's experience with this new process is important and will help improve the quality of instruction delivered to your child. A Google form is being used to gather your feedback and will be available in Chinese and Spanish. Please complete the form when you receive it and assist us in improving the educational experience of your child.  
At the conclusion of the first week of Distance Learning, we became aware of a few things. Parents, here are the few things we would like to bring to your attention after the conclusion of our first week of Distance Learning. These topics were chosen based on administrator observations: 
Assignments Turned In:

some assignments were submitted after 11:00 PM and midnight. We are grateful for all assignments being completed. However, the time of some submissions indicate a sleep pattern that may not be able to take full advantage of the Distance Learning Schedule provided. Also, it may indicate your child is not getting enough sleep to function at their maximum capacity during the day. Sleep regulation is important for your growing child.

Online Skills:

students are required to use technology to turn in assignments. Please review your child's  assignments and their submission requirements. Make sure your child has practiced and developed the appropriate skills to complete their assignments: writing their thoughts on an electronic screen, real-time editing on Google documents, knowing how to make comments on Google documents, taking a picture of their work with a cell phone and uploading it to their Google Classroom...If there are any challenges with these skills and other skills not mentioned, we have staff members willing to assist. Make sure your child signs up for 1:1, small group, or Office Hours. Parents needing support can reach out as well. 

On-time Submission of Work:

all work should be submitted on-time. On-time submission provides the teacher with the appropriate time to examine your child's work and provide the required feedback for improvement. Also, on-time submission and feedback can help a student determine if they need to sign-up for 1:1, small group, or Office Hours. Timely help is crucial for continued academic development.

Daily Exercising:

school closures have significantly impacted the daily exercise students receive from physical education. Our amazing PE Teachers designed daily workout lessons for all children. Please assist your child in completing these daily exercises. Feel free to join in. It might be fun for you to exercise with your child. 

Student Support as an Option:

our Student Support Department is available to meet with your child virtually. If you feel your child should talk to an adult to work through some issues or if you feel you need assistance around some challenges at home, please reach out to our Student Support Department. You are not alone. We have adults to assist you.

8th Graders:

school closures did not impact each grade level equally. The 8th Grade had the largest impact on its activities for the year. Currently, we are engaging in dialogue with students and teachers to try and design some virtual replacements for them, including an online promotional ceremony. Stay tuned for future announcements and requests to support.
The last thing I need to bring to your attention is a change in MLK's Distance Learning Schedule for students and teachers. United Educators of San Francisco and the School District were able to reach an agreement on the working conditions for teachers during school closures. This agreement acknowledges teachers as parents, significant others, and caregivers responsible for children and loved ones sheltered at home. Recognizing the needs of teachers as parents, significant others, and caregivers, who need to support their families in a time of need,  an agreement was made requiring teachers to work no more than 240 minutes (4 hours) per day. Changes to the MLK Distance Learning Schedules reflect this agreement. Please see the attached document below for the new Student and Staff schedules. If you have any questions, do not hesitate to contact the administration.
Thank you for your patience and understanding in this unusual time. 
Best regards,
Michael Essien, Principal
Tyson Fechter, Assistant Principal
---
04/12/2020
Re: Distance Learning
Greetings MLK Families,
I hope you and your family are in good health and spirits during these unusual times.  Our paths have not crossed in quite some time. MLK Staff Members miss our daily interactions with students. We can only hope that your children developed a strong sense of belonging here at MLK and miss us as well.  As you know, SFUSD school sites are closed for the remainder of the school year placing an additional burden on supporting your child's education development. In order to continue supporting your child's development, MLK has created a Distance Learning plan for your child. All schools in SFUSD are set to begin Distance Learning on April 13, and continue it through June 2. This communication is to share MLK's version of Distance Learning and the expectations for your children.
Your child will need access to a laptop and Wi-Fi at home. If your child is missing either of these, please contact administration immediately via email at mlkfamily@sfusd.edu or text (415) 993-0655. In addition to a laptop and Wi-Fi, your child is required to use the following to engage in Distance Learning,
Join all required Google Classrooms

Ability to access and use their SFUSD student email account

Ability to access the online Freckle program for Math and English Language Arts
Teachers have communicated with your child through the student's district email. They have communicated plans for instruction and how to join the various Google Classrooms. Parents wishing to understand how to use Google Classroom, there are YouTube videos in
Please check in with your child and ask them to show you all of their Google Classrooms, demonstrate their ability to access each classroom, show you any email sent to them from their teacher, and to demonstrate an ability to login to Freckle. If your child has challenges with any of these tasks, send an email to their homeroom teacher immediately describing the challenge.
There has been a strong focus on conversations related to instruction during Distance Learning. Services provided by Student Support are also part of MLK's Distance Learning plan. Your child will be able to access and request services from our Student Support Department, which consists of a Social Worker, Student Advisor, 2 Head Counselors, Beacon Support Staff, and Site Administrators. Your child may have an established relationship with a Student Support staff member. Your child can access any member of Student Support through the Student Support Google Classroom. Student Support services will be provided Monday through Friday during times indicated on the schedule. 
Please review MLK's Distance Learning documents. They are attached to this communication and can also be found on the MLK's Distance Learning Webpage. Take some time to sit down with your child, review the documents, expectations, and write down any questions that either of you might have. If there are any questions, please email those questions to your child's homeroom teacher.  If there are questions specifically for site administrators, share them via email or text and expect a response within 24 hours.
We are looking forward to reengaging with your children. 
Sincerely,
Michael Essien, Principal
Tyson Fechter, Assistant Principal
Communication Document 1: MLK Cobra Weekly Bulletin
MLK Cobra Weekly Bulletins are now posted on your website. Please click this link to view this week's (NEW!) Cobra Weekly Bulletin.
Communication Document 2: Attendance During Distance Learning
Engaging in Distance Learning is required. We do understand that these are stressful times and there may be obstacles at home that make it difficult to attend every virtual class meeting and complete all assignments. We are asking that students engage in Distance Learning to their fullest ability, and that students ask for help from teachers and counselors when needed. If students choose not to participate in Distance Learning (not completing assignments in Google Classroom, not attending virtual class meetings), they will be considered "absent" from school. Please reach out to your teachers or Student Support if you are having trouble engaging in Distance Learning; they are here to help you. 
Communication Document 3: Grading During Distance Learning
The specifics of how students' work will be graded is still being discussed by school leaders. Students will get feedback from their teachers on the work they turn in, and they will receive a final grade for this semester based on the work they completed and their level of engagement in Distance Learning. Students grades will not suffer due to circumstances beyond their control that prevent them from completing assignments and participating in their virtual classes.
Communication Document 4: Student Schedule
Laptop Loan to students and Internet Access
Dear MLK family member,
I hope this message finds you well and healthy. 
As for myself, and everybody I'm sure, there has been a lot going on personally and professionally. Personally I have been spending the last week adjusting to a new routine and doing my best to keep my own children (6th grader and kindergartener) engaged and active. Professionally, I'm dealing with the new reality of our school site being closed and how we will continue to best support our MLK students and families in this time of uncertainty.
The following is some information we want to make sure gets to you:
1. Currently, any work that teachers have posted online or given to students to take home is optional. While we would love for students to engage There are no expectations that students complete any work currently, and it will not affect their grade. 
2. MLK will be providing laptops for students to use at home if needed. Currently, school is scheduled to resume after Spring Break on 4/3. However, if the school district makes a decision to extend the school closure, we will be making a shift into "distance learning" (online learning). In preparation for SFUSD's distance learning plan, we need to know if your MLK student needs a computer and can access the internet. If you do not have internet access, you may be able to get it using this link. If your student will need a computer (and you have not already communicated the need with your student's home room teacher), please send a text message to our MLK text account at 415-993-0655, and include your student's name, grade level, and if you can access the internet. You will then receive information on when and where to pick up a laptop. 
3. MLK is still here for you! If you have questions, concerns, need to talk to a counselor, etc… please feel free to reach out using the following contacts:
Both email and text will be checked regularly during school closure. 
As we move forward, please check our school website for important announcements. Please take care of yourselves. Your family's well-being is on our minds.
In community,
Tyson Fechter
 Assistant Principal, MLK
遠程學習 中文 信
2020年4月20日
回复:第二星期和新的遠程學習時間表
問候MLK家庭,
 我們剛剛在MLK中學完成了興奮人心第一星期的遠程學習。今天是遠程學習第二星期的開始。這是一種新的教學方式。對於學校來說,學生和家庭提供有關這種新的教學方法的設計的意見變得越來越重要。我們的計劃旨在繼續您孩子的教育發展。對孩子在這個新過程中的經歷的反饋是很重要,這將有助於提高給孩子的教學質量。MLK將使用Google表格收集您的反饋,並會有中文和西班牙文。請在收到表格後填寫表格,並協助我們改善孩子的教育經歷。
在遠程學習的第一星期結束時,我們意識到了一些事情。家長,這是我們結束遠程學習第一星期後希望引起您注意的幾件事。這些主題是根據行政人員的觀察結果選擇的:
上交作業:

有些學生提交作業是在晚上

11:00

和午夜之後提交的。我們感謝學生完成所有作業。但是,提交的時間表明睡眠時間可能無法充分利用所提供的遠程學習時間表。另外,這可能表明您的孩子沒有充足的睡眠以發揮最大的功能。睡眠調節對成長中的孩子是非常重要。

上網技巧:

要求學生使用技術上交作業。請查看您孩子的作業及其提交要求。確保您的孩子已經練習並發展了適當的技能來完成作業:在電子屏幕上寫下他們的想法,對

Google

文檔進行實時編輯,認識如何對

Google

文檔發表評論,對自己的作業進行拍照並將其上傳到他們的

Google

課室

...

如果這些技巧遇到任何挑戰,我們有工作人員願意提供幫助。確保您的孩子報名參加一對一,小組或辦公時間。需要幫助的可以聯係教師。

按時提交工作:

所有作業應按時提交。準時提交有助於老師在適當的時間檢查孩子的作業,並提供所需要的反饋意見以改善自己的作業情況。同樣,按時提交和反饋可以幫助學生確定是否需要以一對一,小組或辦公時間進行報名。及時的幫助對於學生的持續學術發展至關重要。

日常運動:

停課對學生從體育運動中獲得的日常運動產生了重大影響。我們出色的體育老師為所有兒童設計了日常運動課程。請協助您的孩子完成這些日常運動。隨時加入。與您的孩子一起運動可能很有趣。

學生支持部門作為學生的選擇

:我們的學生支持部門可以與您的孩子虛擬面談。如果您認為您的孩子應該與學生支持部門人員交談以解決一些問題,或者您認為在家中遇到一些挑戰需要幫助,請與我們的學生支持部聯繫。你不是一個人。我們有工作人員來協助您。

八年級學生:

停課沒有平等地影響每個年級。對該年度,八年級的活動影響最大。目前,我們正在與學生和老師進行對話,以嘗試為他們設計一些虛擬的替代品,包括在網上舉行畢業禮。請繼續關注將來的公告和支持請求。
我需要引起您注意的最後一件事是MLK學生和老師的遠程學習時間表的變化。三藩市聯合教師工會和三藩市聯合校區在學校停課期間就教師的工作條件達成協議。該協議承認教師是父母,伴侶,以及對在家中居住的兒童和親人的監護人。認識到教師作為父母,伴侶和照顧者的需要,他們需要在這時候支持家人,因此達成了一項協議,要求教師每天的工作時間不超過240分鐘(4小時)。 MLK的遠程學習時間表的的更改反映了該協議。請參閱附件中的新學生和教師工作人員時間表。如有任何疑問,請隨時與行政人員聯繫。
感謝您在這個不尋常的時刻的耐心和理解。
最好的祝福,
Michael Essien,校長
Tyson Fechter,副校長
---
希望您和您的家人在這段不尋常的日子裡身體健康,精神振奮。我們的路已經有一段時間未有交集。 MLK員工想念我們與學生的日常互動。我們只能希望您的孩子在MLK擁有對學校的歸屬感,也想念我們。如您所知,SFUSD學校在這個學年的其餘時間都關閉,給您的孩子的教育發展帶來額外的負擔。為了繼續支持您孩子的成長,MLK為您的孩子製定了一個遠程學習計劃。 SFUSD的所有學校都將於4月13日開始遠程學習,並將持續到6月2日。這信件是為了分享MLK的遠程學習版本以及對您孩子的學習期望。
您的孩子將需要在家中使用電腦和Wi-Fi(上網)。如果您的孩子缺少電腦或Wi-Fi,請立即通過電子郵件(mlkfamily@sfusd.edu)或通過短信(415)993-0655與學校行政聯繫。除了電腦和Wi-Fi之外,您的孩子還需要使用以下進行遠程學習(在網上學習),
老師已經通過學生的校區電子郵件與您的孩子進行了聯繫。他們傳達了教學計劃以及如何加入Google課堂的計劃。如果家長有興趣了解如何使用Google課堂請看YouTube視頻:
請與您的孩子一起,請他們向您展示所有Google教室,展示他們登入每個Google教室的能力,展示他們老師發送給學生的電子郵件以及展示登錄到Freckle的能力。如果您的孩子登入這些應用程式中遇到任何挑戰,請立即向班主任老師發送電子郵件,說明挑戰是什麽。
遠程學習計劃期間一直關注與教學相關的對話。學生支持部門提供的服務也是MLK遠程學習計劃的一部分。您的孩子將能夠聯絡並請求我們的學生支持部門的服務,該部門包括一名社工,學生顧問,兩名首席輔導員,Beacon支持人員和學校行政管理員。您的孩子可能之前與學生支持人員建立了聯繫。您的孩子可以通過學生支持部門的Google課堂聯係學生支持部門的任何成員。在星期一至星期五的時間表內,將提供學生支持服務。
請查看MLK的遠程學習文件。它們是此通訊的附件,也可以在MLK的遠程學習網頁上找到。花一些時間與您的孩子坐下來,查看文件和期望,並寫下你們任何問題。如有任何疑問,請將這些問題通過電子郵件發送給您孩子的班主任老師。如果有專門給學校行政員的問題,請通過電子郵件或短信分享,預計在24小時內得到答复。
我們期待與您的孩子們重新互動。
真誠的
Michael Essien,校長
Tyson Fechter,助理校長
---

通訊文件1
---
通訊文件2
 有關出勤的消息: 
需要從事遠程學習。 我們確實明白這是一個充滿壓力的時期,家裡可能會有障礙令參加每次的網上課堂會議和完成所有作業有困難。 我們要求學盡力參與遠程學習,並要求學生在需要時尋求老師和輔導員的幫助。 如果學生選擇不參加遠程學習(未在Google課堂中完成作業,未參加網上課堂會議),則將他們視為學校"缺席"。 如果您在進行遠程學習時遇到困難,請與您的老師或學生支持小組聯繫; 他們在這里為您提供幫助。
---
通訊文件3
有關成績的消息
學校的領導仍在討論如何對學生的作業進行評分。 學生會從老師那裡收到關於他們上交功課的批評,並且將根據學生完成的作業和參與遠程學習的水平獲得本學期的最終成績。 學生因無法控制的情況而不可以完成作業或參加網上學習,成績不會因無法控制的情況而受到影響。
---
通訊文件4
學生時間表
時間表結構:
星期一至星期四的老師學生的時間安排

每星期兩天的直接指導:

可以根據學生的需求而調整星期中而又不會壓倒性的內容(尤其是鑑於目前的情況,有些孩子可能無法花8個小時上學)

老師辦公室時間:

回答需要澄清的問題

講座時間(1:1或小組活動時間,讓老師聯繫需要材料/概念/技能幫助的學生)

健康檢查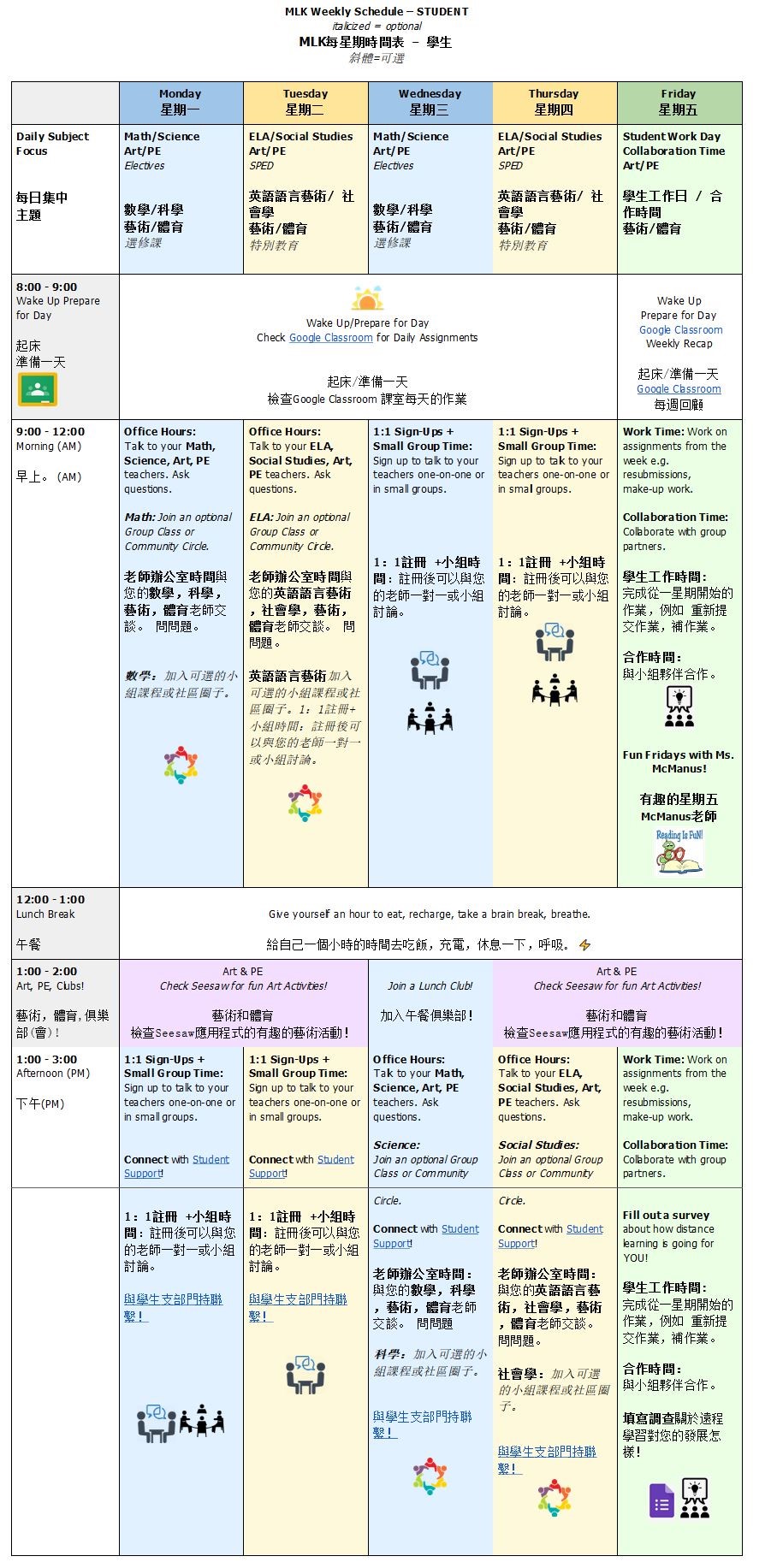 MLK將提供手提電腦
尊敬的MLK家庭成員:
希望此消息能使您身體健康。
就我自己而言,以及您們每一位,不論在生活上或工作上都有很多事情發生。在生活上,上週我還在適應學校關閉這個新改變,並儘我最大的努力讓自己的孩子(六年級和幼兒園的孩子)找到新的活動和變得活躍。從工作上來說,我正在應對學校校園關閉的新現實,以及在這種不明確的情況下,我們如何繼續為MLK學生和家庭提供最佳的支持。
以下是我們想確保為您提供的一些信息:
1.目前,教師在網上發布或交給學生帶回家的任何作業都是可選的。雖然我們希望學生能夠參與其中,但我們並要求望學生目前完成任何作業,並且不會影響他們的成績。
2.如有需要,MLK將提供手提電腦給生在家中使用。目前,學校計劃在4/3春假後恢課。但是,如果學區決定延長停課時間,我們將轉向"遠程學習"(在網上學習)。在準備SFUSD的遠程學習計劃時,我們需要知道您的子女是否需要電腦並可不可以上互聯網。如果您沒有互聯網,則可以到這網站申請上網。如果您的子女需要手提電腦(並且您尚未與子女的班主任教師溝通),請發短信至415-993-0655,其中包括您的子女的姓名,年級,以及是否可以上互聯網。然後,您將收到有關取手提電腦的信息。
3. MLK還在為您服務!如果您有任何疑問,需要與輔導員交談等等,請隨時與以下聯繫:
電郵:MLKFamily@sfusd.edu

 

短信:415-993-0655

微信:MLK_MS
在學校關閉期間,本校會定期檢查電子郵件和短信。
隨著我們前進,請到我們學校的網站以取重要的公告。
請保重。 您的家人的健康在我們心中。
在社區中,
泰森·費希特(Tyson Fechter)
  MLK副校長
Aprendizaje a Distancia - Español
20 de abril de 2020
Re: Semana 2 y Nuevo Horario de Aprendizaje a Distancia
Saludos Familia MLK,
Acabamos de terminar una emocionante primera semana de Aprendizaje a Distancia en la escuela secundaria MLK. Hoy marca el comienzo de la segunda semana de Aprendizaje a Distancia. Esta es una nueva forma de enseñar para nosotros. Cada vez es más importante que los estudiantes y las familias nos  proporcione comentarios sobre el diseño y la entrega de este nuevo método de instrucción. Nuestro programa está diseñado para continuar el desarrollo educativo de su hijo/hija. La retroalimentación/comentarios sobre la experiencia de su hijo/hija con este nuevo proceso es importante y ayudará a mejorar la calidad de la instrucción entregada a su hijo/hija. Se está generando un formulario de Google para recopilar sus comentarios el cual está disponible en los idiomas Chino y Español. Favor de Completar el formulario de  encuesta cuando lo reciba y ayúdenos a mejorar la experiencia educativa de su hijo/hija.
Al finalizar la primera semana de Aprendizaje a Distancia, nos dimos cuenta de algunas cosas. Padres, estas son las pocas cosas que nos gustaría llamar su atención después de la conclusión de nuestra primera semana de Aprendizaje a Distancia. Estos temas fueron elegidos en base a las observaciones del Personal Administrativo:
Tareas entregadas:

algunas tareas se enviaron después de las 11:00 p.m. y la medianoche. Estamos agradecidos por todas las tareas que se completaron. Sin embargo, el tiempo de algunas presentaciones indica un patrón de sueño que puede no ser capaz de aprovechar al máximo el Programa de Aprendizaje a Distancia provisto. Además, puede indicar que su hijo no está durmiendo lo suficiente para funcionar a su capacidad máxima durante el día. La regulación del sueño es importante para su niño/niña en crecimiento.

Habilidades en línea:

se requiere que los estudiantes usen tecnología para entregar las tareas. Revise las tareas de su hijo/hija y sus requisitos de envío. Asegúrese de que su hijo/hija haya practicado y desarrollado las habilidades apropiadas para completar sus tareas: escribir sus pensamientos en una pantalla electrónica, editar en tiempo real en documentos de Google, saber cómo hacer comentarios en documentos de Google, tomar una foto de su trabajo con un teléfono celular y subirlo a su aula de Google ... Si hay alguna dificultad con estas habilidades y otras habilidades que no se mencionan, tenemos miembros del personal dispuestos a ayudar. Asegúrese de que su hijo/hija se registre para 1: 1, grupos pequeños u horas de oficina. Los padres que necesitan apoyo también pueden comunicarse.

Entrega del trabajo a tiempo:

todo el trabajo debe presentarse a tiempo. La presentación a tiempo le brinda al maestro el tiempo adecuado para examinar el trabajo de su hijo/hija y brindarle los comentarios necesarios para mejorar. Además, la presentación y la retroalimentación/comentarios a tiempo pueden ayudar a un estudiante a determinar si necesita inscribirse para 1: 1, grupos pequeños u horas de oficina. La ayuda oportuna es crucial para el desarrollo académico continuo.

Ejercicio diario:

el cierre de escuelas ha impactado significativamente el ejercicio diario que los estudiantes reciben de la educación física. Nuestros increíbles maestros de educación física diseñaron lecciones diarias de entrenamiento para todos los niños/niñas. Ayude a su hijo/hija a completar estos ejercicios diarios. Siéntase libre de unirse. Puede ser divertido para usted hacer ejercicio con su hijo/hija.

Apoyo estudiantil como opción:

nuestro Departamento de Apoyo estudiantil está disponible para reunirse con su hijo/hija virtualmente. Si cree que su hijo/hija debe hablar con un adulto para resolver algunos problemas o si siente que necesita ayuda para superar algunos desafíos en el hogar, comuníquese con nuestro Departamento de Apoyo Estudiantil. Usted no está solo/sola. Tenemos adultos para ayudarlo.

Estudiantes de octavo grado:

el cierre de escuelas no tuvo un impacto igual en cada nivel de grado. El octavo grado tuvo el mayor impacto en sus actividades durante el año. Actualmente, estamos entablando un diálogo con estudiantes y maestros para tratar de diseñar algunos reemplazos virtuales para ellos, incluida una ceremonia de promoción en línea. Estén atentos para futuros anuncios y solicitudes de apoyo.
Lo último que necesito llamar su atención es un cambio en el horario de Aprendizaje a Distancia de MLK para estudiantes y maestros. Los Educadores Unidos de San Francisco y el Distrito Escolar pudieron llegar a un acuerdo sobre las condiciones de trabajo de los maestros durante el cierre de las escuelas. Este acuerdo reconoce a los maestros como padres, personas importantes y cuidadores responsables de los niños/niñas y seres queridos que viven en el hogar. Al reconocer las necesidades de los maestros como padres, personas importantes y personas a cargo, que necesitan apoyar a sus familias en un momento de necesidad, se llegó a un acuerdo que requiere que los maestros trabajen no más de 240 minutos (4 horas) por día. Los cambios en los horarios de Aprendizaje a Distancia de MLK reflejan este acuerdo. Consulte el documento adjunto para ver los nuevos horarios de Estudiantes y Personal. Si tiene alguna pregunta, no dude en ponerse en contacto con el Personal Administración.
Gracias por su paciencia y comprensión en este momento inusual.
Atentamente,
Michael Essien, Director
Tyson Fechter, Subdirector
---
12 de Abril de 2020
Re: Aprendizaje a Distancia
Saludos a las familias de MLK,
Espero que usted y su familia gocen de buena salud y buen humor durante estos tiempos inusuales. Nuestros caminos no se han cruzado en bastante tiempo. Los miembros del personal de MLK extrañan nuestras interacciones diarias con los estudiantes. Solo podemos esperar que sus hijos/hijas hayan desarrollado un fuerte sentido de pertenencia aquí en MLK y que también nos extrañen. Como saben, los sitios escolares del SFUSD permanecerán cerrados durante el resto del año escolar, lo que supone una carga adicional para apoyar el desarrollo educativo de su hijo/hija. Para continuar apoyando el desarrollo de su hijo/hija, MLK ha creado un plan de aprendizaje a distancia para su hijo/hija. Todas las escuelas del SFUSD comenzarán el aprendizaje a distancia el 13 de abril y continuarán hasta el 2 de junio. Esta comunicación es para compartir con usted la versión de MLK del aprendizaje a distancia y las expectativas para sus hijos/hijas.
Su hijo/hija necesitará acceso a una computadora portátil y Wi-Fi en casa. Si a su hijo/hija le falta alguno de estos accesos, comuníquese inmediatamente con la administración por correo electrónico a mlkfamily@sfusd.edu o envíe un mensaje de texto (415) 993-0655. Además de una computadora portátil y Wi-Fi, se requiere que su hijo/hija use lo siguiente para participar en el aprendizaje a distancia,
Únete a todas las aulas de Google requeridas

Capacidad para acceder y usar su cuenta de correo electrónico del estudiante de SFUSD

Posibilidad de acceder al programa en línea Freckle para matemáticas y artes del idioma inglés
Los maestros se han comunicado con su hijo/hija a través del correo electrónico del distrito del alumno. Han comunicado planes de instrucción y cómo unirse a las diferentes aulas de Google. Padres que desean entender cómo usar Google Classroom, hay videos de YouTube en 
español (https://youtu.be/bS9zhn8SS9o?t=164), 

chino (https://youtu.be/acMRcqsJGEQ?t=39),

Inglés (https://www.youtube.com/watch?v=ugSvRwEp99E).
Consulte con su hijo/hija y pídales que le muestren todas sus aulas de Google, demuestren su capacidad para acceder a cada aula, le muestren cualquier correo electrónico que le haya enviado su maestro y que demuestren la capacidad de iniciar sesión en Freckle. Si su hijo/hija tiene dificultades con cualquiera de estas tareas, envíe un correo electrónico a su maestro de aula describiendo la dificultad de inmediato.
Ha habido un fuerte enfoque en las conversaciones relacionadas con la instrucción durante el aprendizaje a distancia. Los servicios proporcionados por el Apoyo al estudiante también forman parte del plan de aprendizaje a distancia de MLK. Su hijo/hija podrá acceder y solicitar servicios de nuestro Departamento de Apoyo Estudiantil, que consiste en una trabajadora social, un asesor estudiantil, 2 consejeros principales, personal de apoyo de Beacon y administradores del sitio. Su hijo/hija puede tener una relación establecida con un miembro del personal de Apoyo Estudiantil. Su hijo/hija puede acceder a cualquier miembro de Apoyo al estudiante a través del Aula de Google de apoyo al estudiante. Los servicios de apoyo estudiantil se proporcionarán de lunes a viernes durante los horarios indicados en el horario.
Revise los documentos de aprendizaje a distancia de MLK. Se adjuntan a esta comunicación y también se pueden encontrar en la página web de aprendizaje a distancia de MLK. Tómese un tiempo para sentarse con su hijo/hija, revisar los documentos, las expectativas y anotar cualquier pregunta que pueda tener. Si tiene alguna pregunta, envíelas por correo electrónico a la maestra de su hijo/hija. Si hay preguntas específicas para los administradores del sitio, compártelas por correo electrónico o mensaje de texto y espere una respuesta dentro de las 24 horas.
Esperamos volver a comprometernos con su hijo/hija.
Sinceramente,
Michael Essien, Director
Tyson Fechter, subdirector
---
Documento de comunicación 1

El Boletín Semanal de MLK está en el sitio web. Haga clic en este enlace web para ver el Boletín de esta semana.
---
Documento de comunicación 2
Mensajes a los estudiantes / padres con respecto a la asistencia:
Participar en la educación a distancia es obligatorio. Entendemos que estos son tiempos estresantes y que puede haber obstáculos en el hogar que dificultan asistir a cada reunión de clase virtual y completar todas las tareas. Les pedimos a los estudiantes que participen en el aprendizaje a distancia en su mayor capacidad, y que pidan ayuda a los maestros y consejeros cuando sea necesario. Si los estudiantes eligen no participar en el aprendizaje a distancia (no completar las tareas en Google Classroom, no asistir a las reuniones de clase virtuales), se considerarán "ausentes" de la escuela. Comuníquese con sus maestros o con el Departamento de Apoyo al Estudiante si tiene problemas para participar en el aprendizaje a distancia; Ellos están aquí para ayudarte.
---
Documento de comunicación 3
Mensajes a los estudiantes / padres con respecto a la calificación:
Los líderes de la escuela aún discuten los detalles de cómo se calificará el trabajo de los estudiantes. Los estudiantes recibirán comentarios de sus maestros sobre el trabajo que entregan, y recibirán una calificación final para este semestre en función del trabajo que completaron y su nivel de participación en el aprendizaje a distancia. Las calificaciones de los estudiantes no sufrirán debido a circunstancias fuera de su control que les impiden completar las tareas y participar en sus clases virtuales.
---
Documento de comunicación 4
Marco de programación:
Compromiso de maestros / estudiantes de lunes a jueves

Instrucción directa dos días a la semana:

Brinda cierta capacidad de ajuste a mitad de semana según las necesidades de los estudiantes sin contenido abrumador (especialmente dado que algunos niños pueden no ser capaces de dedicar 8 horas a la escuela en el contexto actual)

Horas de oficina:

Responde preguntas aclaratorias

Talleres (1: 1 o grupos pequeños para que un maestro / s se comunique con un estudiante / estudiantes que necesita ayuda con materiales / conceptos / habilidades)

Check-ins de bienestar
MLK proporcionará computadoras portátiles para que los estudiantes las usen en casa si es necesario
Estimado miembro de la familia MLK:
Espero que este mensaje te encuentre bien y saludable.
En cuanto a mí, y a todos, estoy seguro, han pasado muchas cosas personalmente y profesionalmente. Personalmente, he pasado la última semana ajustándome a una nueva rutina y haciendo todo lo posible para mantener a mis propios hijos (alumnos de sexto grado y de kindergarten) comprometidos y activos. Profesionalmente, estoy ajustándome con la nueva realidad de que nuestro sitio escolar está cerrado y cómo continuaremos apoyando mejor a nuestros estudiantes y familias de MLK en este momento de incertidumbre.
La siguiente es información que queremos asegurarnos de que llegue a usted:
1. Actualmente, cualquier trabajo que los maestros hayan publicado en línea o entregado a los estudiantes para llevar a casa es opcional. Si bien nos encantaría que los estudiantes participen No hay expectativas de que los estudiantes completen ningún trabajo actualmente, y esto no afectará su calificación.
2. MLK proporcionará computadoras portátiles para que los estudiantes las usen en casa si es necesario. Actualmente, la escuela está programada para reanudarse después de las vacaciones de primavera el 4/3. Sin embargo, si el distrito escolar toma la decisión de extender el cierre de la escuela, haremos un cambio hacia el "aprendizaje a distancia" (aprendizaje en línea). En preparación para el plan de aprendizaje a distancia del SFUSD, necesitamos saber si su estudiante de MLK necesita una computadora y puede acceder a Internet. Si no tiene acceso a Internet, puede obtenerlo usando este enlace. Si su estudiante necesitará una computadora (y aún no ha comunicado la necesidad a el maestro de la sala de "homeroom" de su estudiante), envíe un mensaje de texto a nuestra cuenta de texto MLK al 415-993-0655 e incluya el nombre de su estudiante, nivel de grado, y si puedes acceder a internet. Luego recibirá información sobre cuándo y dónde recoger una computadora portátil.
3. ¡MLK todavía está aquí para ti! Si tiene preguntas, inquietudes, necesita hablar con un consejero, etc., no dude en comunicarse con los siguientes contactos:
MLKFamily@sfusd.edu

Texto 415.993.0655
Tanto el correo electrónico como el texto serán revisados ​​regularmente durante el cierre de la escuela.
A medida que avanzamos, por favor visite nuestro sitio web de la escuela para anuncios importantes. Por favor cuidense. El bienestar de su familia está en nuestras pensamientos.
En comunidad,
Tyson Fechter
This page was last updated on August 10, 2020