What is ParentVUE?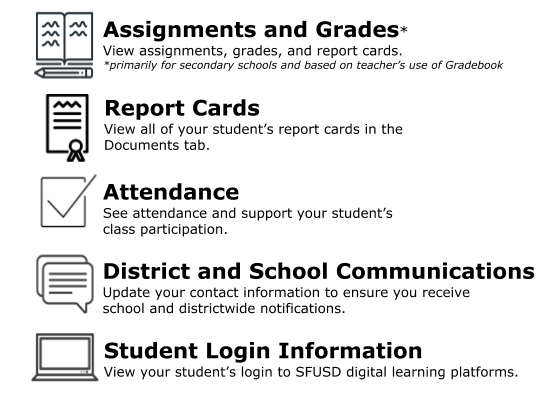 Each parent/guardian who has Educational Rights to their students can have an account. Once you activate your account, you can use that log in throughout your student's SFUSD schooling. No need to activate each year.
ParentVUE is also the best way to 
update your contact information
to ensure you receive district and school notifications. 
Synergy ParentVUE / Family Portal
Synergy ParentVUE is the system SFUSD uses for parents to keep in contact with the school information. You can login to see grades, classes, and attendance. If you need access to Synergy ParentVUE, or need assistance with your account, please contact the school at 415-330-1500 (due to COVID-19, please text 415-993-0655) or email us at MLKFamily@sfusd.edu. 
Click here to login to see your child's grades!
ParentVUE Password Tip
If you are unable to login to your account after 4 tries, please reset your password. On the 5th try, your account will be disabled.
ParentVUE Activation Code | ParentVUE 激活碼 | Código de activación de ParentVUE
Please fill out the form below to obtain your ParentVUE Activation Code. You should recieve a response within 48 hours. Thank you. 
請填寫下面的表格以獲得您的ParentVUE激活碼。 您應該在48小時內收到回复。 謝謝。
Complete el formulario a continuación para obtener su código de activación de ParentVUE. Debería recibir una respuesta en un plazo de 48 horas. Gracias.
---