LGBTQ Student Services aims to provide school sites the resources and district support to meet the needs of gay, lesbian, bisexual, transgender, queer and questioning youth and families.
Program News
The latest updates from LGBTQ Student Services.
Now Recruiting for the Queer Trans Advisory Council (10/23/20)
LGBTQ Student Services is seeking interested LGBTQ+ high school student leaders from across SFUSD to join the Queer Trans Advisory Council (QTAC) for the 2020-2021 school year.
For information about QTAC and the application, go to this page. 
The deadline to apply is Friday, November 13th!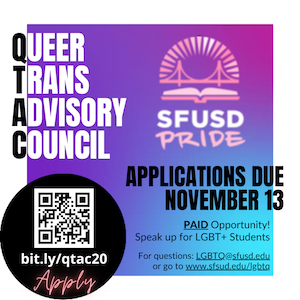 Notice: LGBTQ Student Services during Distance Learning (08/17/20)
SFUSD and LGBTQ Student Services is committed to providing virtual supports for LGBTQ+ students. We are working across district departments, programs, and in collaboration with community partners to ensure continued safety, relevance, and coordination of care for LGBTQ+ students during distance learning. 
Updated information about our programs can be found in the "What We Do" section. 
Questions on how to connect to supports, please contact your school social worker, Wellness Center, or reach out to us directly.