Grade Level
Early Education
Elementary School
K-8 School
Middle School
High School
Central Offices
County School
Rent relief is available for those who need support due to COVID-19
Do you owe back rent? 
Trouble paying next month's rent?
Landlord pressuring you to leave? 
You don't have to move. Help is available! 
Apply now for rent relief! 
The City of San Francisco is partnering with the California COVID-19 Rent Relief Program (housingiskey.com) to accelerate rental assistance to San Francisco tenants and landlords.
The last day to apply for the CA COVID-19 Rent Relief Program is March 31, 2022. The application will close on April 1, 2022. Apply now!
To apply for rental assistance, call 833-430-2122 or visit housingiskey.com 
Notify your landlord that you applied and save a copy of the letter for your records
All eligible households will receive assistance. The order that applications are processed will be determined by prioritization. Due to the high volume of applications and depending on your eviction risk, processing times may range from several weeks to more than four months. Tenants and landlords are encouraged to apply as soon as possible and to ensure that they have uploaded all required documents, as to not delay processing.
Tenants can apply for up to 18 months of rental assistance including prospective rental assistance and utility assistance. 
Eligibility criteria
Applicants must have had financial hardship during the pandemic
Either:
have qualified for unemployment benefits

experienced a reduction in household income, incurred significant costs, or experienced other financial hardship
Applicants must be able to demonstrate a risk of experiencing homelessness or housing instability.
This can include:
past-due rent or utilities

unsafe or unhealthy living conditions

any other evidence of such risk
Applicants can apply if they are a subtenant. The master tenant does not need to be involved in the first part of the application process. 
Your landlord can also apply directly. 
The maximum income depends on household size:
For 1 person, $102,450

For 2 people, $117,100

For 3 people, $131,750

For 4 people, $146,350

For 5 people, $158,100

For 6 people, $169,800

For 7 people, $181,500

For 8 people, $193,200
These income limits are at or below 80% of HUD's Area Median Income (AMI) for San Francisco.
Current eviction protections
Know your Rights
Tenants:  Do not move out!  You have rights even after the moratorium expires and rental assistance coverage is through at least March 31, 2022. If you have unpaid rent, please apply to housingiskey.com as soon as possible. Do not delay!
You can also get information about your tenant rights and access assistance in San Francisco through the following: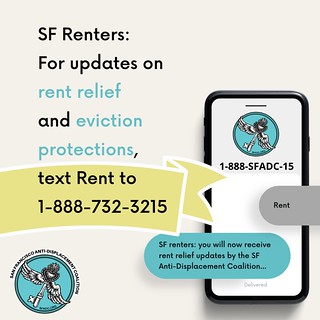 T

ext "Rent" to ​​1888-732-3215 or sign up at bit.ly/rent-SFADC for rent relief and eviction protection updates, and/or

Visit the

San Francisco Anti-Displacement Coalition (ADC) website

, where you can find information about your tenant rights and access assistance in San Francisco
Families are encouraged to apply for relief programs as soon as possible. 
The ADC website is available in multiple languages (links below).
Disclaimer: SFUSD sometimes shares information from non-profit third-party organizations that provide services for families. You do not have to share any personal information. SFUSD neither endorses nor sponsors the organization or the services provided, and cannot guarantee that information shared with 3rd-party organizations will be protected from alternative uses. This distribution is provided as a community service.