Timothy Romei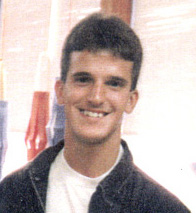 Timothy William Romei was a member of the class of 1986 at Abraham Lincoln High School in San Francisco.
        Timothy was born to William Thomas and Tina (Baker) Romei in Poughkeepsie, New York, on March 11, 1968. His sister, Kate, was born on November 11, 1976, while his brother Gordon, was born on October 13, 1969. His parents divorced when Tim was twelve years old. They remarried. His father married Janet (Kline), while his mother married Rudy Reber. Tim lived with his mother, Tina, and stepfather, Rudy, until he was 16. He then went to live with his father, Bill, and stepmother, Janet. Tim also had 2 very close step sisters who never thought of each other as anything other than family, Susan Reber and Jenna Allen. Susan and Jenna loved Timothy "more than life itself".
        He attended Monroe Elementary School and spent one year at Chalk Middle School in Monroe, Connecticut. He completed middle school in Oakland. His first two years of high school were at Encinal High School in Alameda, California, while his last two years were at Abraham Lincoln High School in San Francisco.
        Tim enrolled in the Junior Reserve Officers Training Corps and was selected for the special Male Drill Team. In his senior year, he achieved the rank of second lieutenant. He graduated with the 79th Commencement Class of Abraham Lincoln High School in June 1986.
        He joined the U. S. Marine Corps after graduation. Following basic and advanced training as well as appropriate assignments, his unit was ordered to the Southwest Asia Theater of Operations to participate in the buildup of forces that led to the Gulf War.
        The helicopter, in which he was the crew chief, and another helicopter were operating from the amphibious attack ship USS Okinawa. The two Marine helicopters disappeared from the radar screens about 8 miles from their ship during a routine training flight in the North Arabian Sea, near the Gulf of Oman. Eight marines died in this incident and Tim's body was never recovered. His death was listed as a non-hostile battle casualty. At the time of his death on October 8, 1990, He held the rank of Corporal and was 22 years old.
        Colonel Don Beaver wrote his parents, "I find this letter very hard to write but wanted to take pen in hand to share a few thoughts about Tim. Your son was clearly one of my finest. I found him to be a breath of fresh air in that he wasn't afraid of a challenge no matter how difficult. His positive attitude reflected a pride and enthusiasm that had obviously nurtured for years. Tim's reputation was that of a consumate crew chief. I was there when he won his aircrew wings and enjoyed very much watching him mature in our Corps. One of the finest remarks made about Tim these last few days was, "He was always there to lend a hand , but more importantly listen if a fellow marine had a problem."
        In a letter to the Monroe Courier, members of the Dwyer family of Monroe, Connecticut, remembered "a wonderful little boy that moved away to California." They wrote, "We'll miss our friend...we watched him grow up on Moose Hill Road with us. We had our own private day camp, our little Rock Puppet Band, our tree house...our Super Heroes...so many memories.         "He came back to visit us last year as a wonderful young man. He talked of his being a pilot, his travels, his plans. He wrote of his trips, his practice runs and his ships.
        "He was so excited in what he was doing. For those of us who knew him we came to respect and admire him, he went ahead and fulfilled his dreams...Timmy always shared with everyone his warmth and kindness and as a child you could see that he had an inner compassion that would be with him always."
        His name is listed on a Memorial Marker in the National Cemetery at the Presidio of San Francisco, California.