CTE Academy Sign-ups for 2020-21
Lincoln's 4 CTE Career Academies (Teacher, Green, Business, & Digital Media Design) are still accepting applications for next school year!
Spaces are limited, so secure your spot!
Complete an Academy Application ONLINE
NOTE: Academy Applications will remain open until all spots are filled.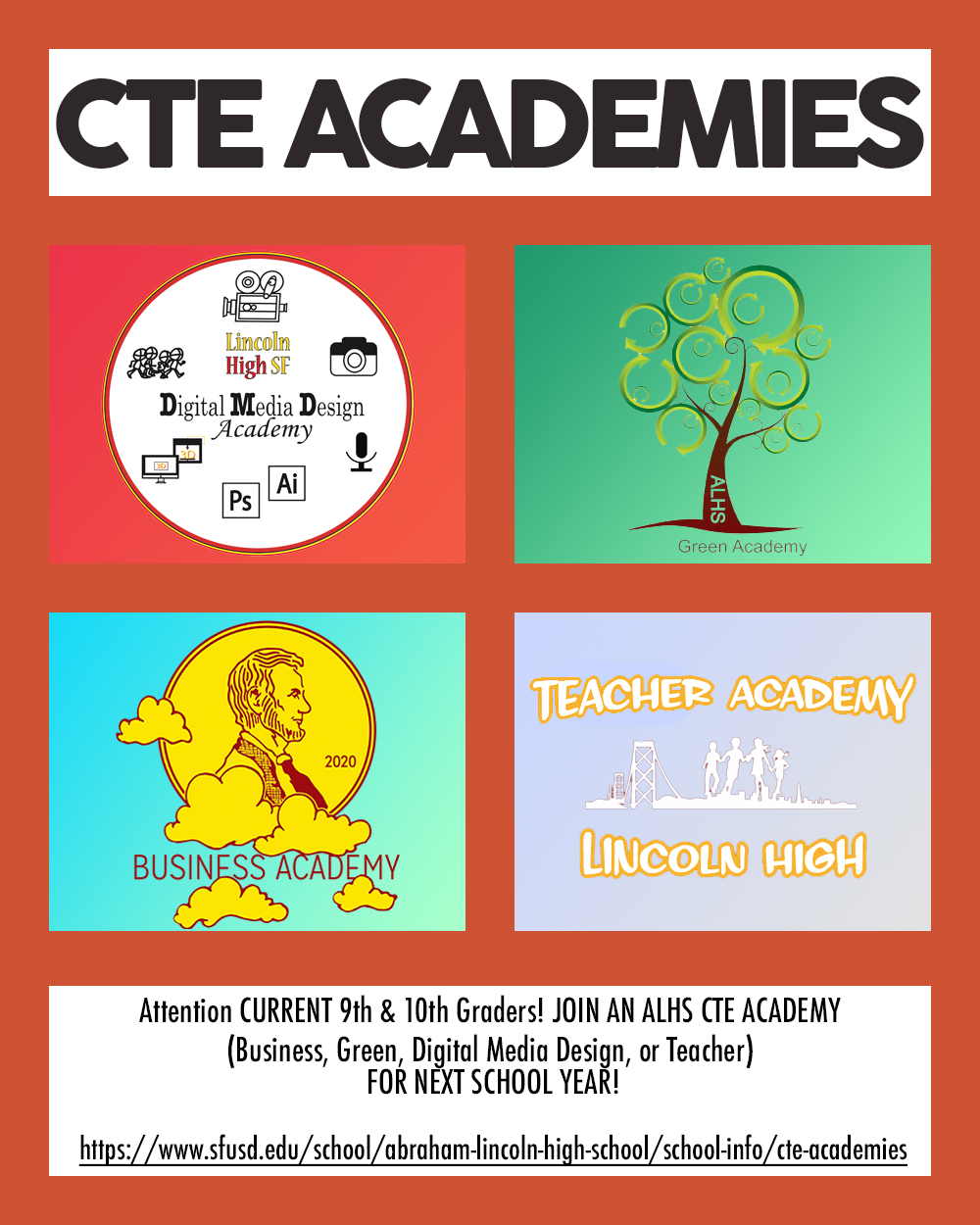 What is a CTE Academy?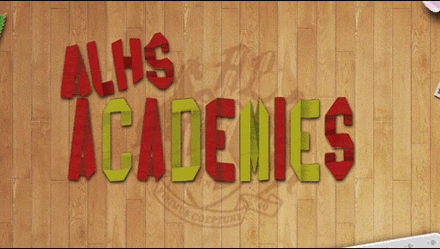 About
Abraham Lincoln High School is fortunate to offer its students some career-related academic choices with its 4 CTE (Career Technical Education) funded multi-year Academy Programs:
CTE Business Academy
CTE Digital Media Design Academy
CTE Green Academy
CTE Teacher Academy
The 4 CTE Academies (Green, Business, Teacher, & Digital Media Design) are funded through special state & federal CTE funds geared towards academic coursework with an emphasis on preparing youth for today's careers. The Business & Teacher Academies are also CA Partnership Academy (CPA) Grant funded programs which have access to extra monies for field trips, technology, and other educational resources. The Green Academy is a innovative program which teaches students cutting edge Green Technology concepts and skills and which emphasizes hands-on community learning projects and field work.
JOIN AN ALHS CTE ACADEMY FOR NEXT SCHOOL YEAR CURRENT 9th & 10th Graders!
Learn specific info about each Academy by clicking the links on the left side of this page!
Who to contact:
CTE Business Academy (BA):
CTE Digital Media Design Academy (DMD):
CTE Green Academy (GA):
CTE Teacher Academy (TA):
Frequently Asked Questions (FAQ's) About CTE Academies:
Can I join a CTE Academy in my 11th grade year?
YES-but there are much fewer open spots for you to join since most students have already joined at the start of their 10th grade year, so if you really want to be part a particular academy, you should try to join starting in your 10th grade year.
Can I drop an academy program if I do not like it?
After being in an academy during your 10th grade year, YES, you can drop the program and join another academy (if there is space), or just take regular elective classes at Lincoln. At the end of your 11th grade year after being in an academy though, it may not be possible for you to drop an academy if you took an internship spot over the summer before starting your 12th grade year since you took the spot from someone who committed to a multi-year academy program. Each Academy Lead Teacher will have more info for you about wanting to drop at the end of your 11th grade year, so ask them.  
Can I take other electives (AP, Honors, AVID, art classes, etc.) or pathways at Lincoln at the same time as being in a CTE Academy?
YES-many students who are in an academy are also in other Lincoln electives, programs, or pathways such as Advanced Placement (AP)/Honors courses, Drama, AVID, BioTech, ASB (student government), etc. The other elective course just needs to not be happening during the same exact period as the Academy elective class that year.
Are CTE Academy courses on the  UC/CSU A-G Course list?
YES-each CTE academy's courses for each grade level are on the UC/CSU A-G Course list. The A-G / College Entrance Requirements are a sequence of high school courses that students must complete (with a grade of C or better) to be minimally eligible for admission to the University of California (UC) and California State University (CSU) systems.
Will being in an academy help me figure out if I want to go to college and how to apply?
YES-students in an academy program will receive assistance in college major selection, college search and the college application process, as well as financial aid help too.