Wellness Update 2020-2021
Fall 2020 - Distance Learning 
The Lincoln Wellness Team misses you! We miss having you drop in to say hi, checking in at the pit stop while you hydrate with some tea and grab a snack, and seeing you shine in the classroom.
We are experiencing a global pandemic that has changed all of our worlds dramatically and caused tremendous loss and stress in our communities. People and communities are rising up and using their voices to bring to light the injustices that the Black community, Indigenous communities, and other communities of color have been experiencing for generations. 
You may be feeling overwhelmed and hurt, or maybe motivated and hungry for change. Whatever you are experiencing, we are here to empower and support you in caring for yourself, finding and using your voice, and feeling safe to grow both as individuals and community members in our changing world. 
For the most up to date information regarding SFUSD distance learning and available district resources visit the San Francisco Unified School District Recent Updates for Students and Families page.
For the most up to date information regarding COVID-19, ways to protect yourself, testing, and health directives, visit the San Francisco Department of Public Health COVID-19 Resources page.
Students need to be healthy in body, mind, and spirit in order to learn successfully. Just a reminder The Wellness Center is all about support for students to help them make the most of their education. The Wellness Program provides care that includes health, mental health, and substance abuse counseling; parent support and linkages; student success team support; and community referrals. 
To visit the Wellness Center, virtually please sign in to our google classrooms where you can reach out to any of the wellness staff to ask questions.  Drop-ins are welcome Monday after school and Thursday during lunch! 
Need someone to talk to? Email us at lincoln@sfwellness.org
Wellness Center referrals should use this online Wellness Referral Form.
Wellness Center Staff & Services
Wellness Center

[room 126]

Wellness Coordinator:

Kristen Edmonston

Youth Outreach Coordinator:

Ian Michael Enriquez

(Tagalog)

Community Health Outreach Worker:

Alberto Saavedra (Spanish)

School Health Programs 

School Nurse:

Sara Chalk (French)

General Health Consultation 

Reproductive Health Education and counseling

Tobacco Use Prevention Education (TUPE) Program

: developing programs, events, and presentations to prevent youth from using tobacco or assisting them to quit.

RAMS

[room 126 & 162]




Counseling Services

(Daily)

:

integrated behavioral health services for mental health and substance abuse

Erika Medina

Behavioral Health Specialist (Spanish)

Fransiska Sharp ,

Behavioral Health Specialist ( )

Student Intervention Team




Counseling Services:

individual and group counseling services

Matthew Druyen

,

Counselor 

Community Youth Center




Counseling Services:

Medi-Cal

individual counseling

Andrea De Leon,

Counselor (Tagalog/Spanish)

Jet Hermes

,

Counselor (Cantonese)

Oakes Children Center




Counseling Services:

EHRMS & Medi-Cal individual counseling

Gina Delligatti,

Counselor 

Case Management

: individual and group support

Steven Lopez,

Manager (Wed, Spanish/ASL)

Dorothea Tolliver

, Specialist (Wed, ASL/MSL)

Family Youth Services (FYS

)




Counseling Services:

individual counseling and case management

Emily

Sheehy-Wilkins

,

Counselor 
In Case of Workplace Injury:
It is always a good idea to let the District know if you're hurt on the job, regardless of the nature of the injury or the treatment you choose. 
AFTER CHECKING IN WITH MS. CARVAJAL (Ext. 3116)
Call the Nurse Help Line: 415-241-6392
Wellness Center Seeks Donations
Dear Parents/Guardians,
We try our best in the Wellness Center to give the students something tangible to help them get through the day.  If you would like to donate to help our students, the Wellness Center is accepting donations of the following:
water bottles

nuts (all kinds), 

granola bars/ breakfast bars

herbal teas
to help meet the health needs of our students. We offer these items to students when they don't feel well, have headaches and/or stomach aches and need that extra boost of energy.  If you have items you'd like to donate, please drop them off in Room 126 or leave them in the main office, clearly marked "Donation for Wellness."
Thank you!
THE WELLNESS CENTER TEAM OF ALHS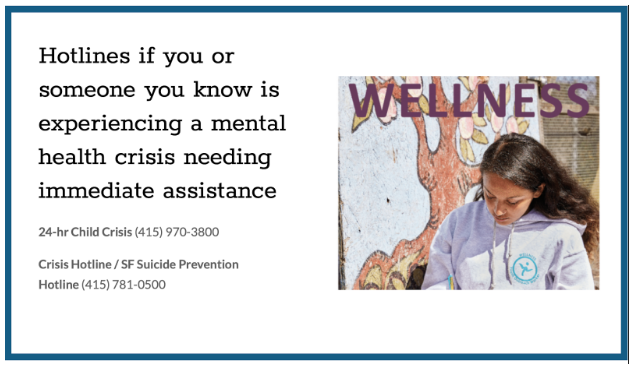 Referral Forms 
If you are a student you can reach out to the Wellness Center Google Classroom SELF REFERRAL FORM.
If you are a staff, family, or community member and would like to refer a student complete the REFERRAL FORM.
This page was last updated on October 22, 2020