Beacon Morning Spanish Program Information 21/22
Online Registration open now at https://bacr.force.com/afterschool/s/login/
Tuition - $1725
Financial Aid Request Deadline - Friday, August 27, 2021
Financial Aid Decisions Shared - Wednesday, September 1st, 2021
Registration Deadline - Friday, August 27, 2021
First Day of Instruction - Monday, September 13, 2021
Last Day of Instruction - Friday, May 27, 2022
Thank you for your interest in joining the Beacon Morning Spanish Program. This
program is offered to A.P. Giannini students by the Beacon in a contract partnership
with IDESLI. The Beacon manages permits, payment, and registration and IDESLI
manages curriculum, materials, and instruction. We look forward to working with your
family and bringing your student quality language instruction.
Morning Spanish classes are offered in three levels of proficiency and meet 5 days a
week from 8:15am - 9:15am. The first day of instruction is Monday, September 13,
2021 and the last day of instruction is Friday, May 27, 2022. Classes meet on all school
days. Online office hours are open every Friday from 5pm - 6pm to all students for
practice and extra support. Tuition can be paid in one lump sum or monthly installments
throughout the school year. At least one partial payment must be made before the
first day of class to secure your enrollment.
Schedule and Levels 
Level I, II, and III Placement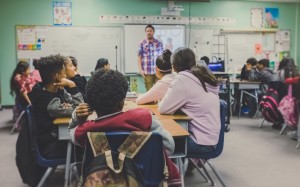 All new students with no knowledge or very basic knowledge of Spanish will be placed
in Level I. Students who have completed Level I the previous year or have received a
moderate level of Spanish instruction elsewhere will be placed in Level II. Students who
have completed Level II the previous year or received extensive Spanish instruction
elsewhere will be placed in Level III. You will be asked to recommend which level your
student will be best suited for. If they have previous knowledge of Spanish, your student
will be asked to complete an online assessment to determine their exact level. In all
cases, the first week of class will be used to confirm student's levels and your student's
level could be changed as seen fit by instructors.
Level IV

If there is a strong enough interest, we may also add a Level IV. This will be decided
based on enrollment in September.
Financial Aid
Understanding that the full tuition may be a hardship for some families, Beacon is able
to offer financial aid to those that qualify. Please COMPLETELY fill out the financial aid
portion of registration and submit proof of Free and Reduced Lunch to qualify. Only
partial tuition support is available. If your family does not qualify for financial aid we
encourage you to utilize the installment payment plan to spread out your tuition
payments. At least one partial payment must be made before the first day of class
to secure your enrollment.
With questions regarding enrollment, registration, payments, and financial aid please
contact
Mandy McGowen, Beacon Director
amcgowen@snbc.org
949-439-6990
With questions regarding curriculum, proficiency level placement, instructors, or class
absences please contact
Carla Suhr, Idesli Director of Language Courses
carla@idesli.com
415-828-8102
This page was last updated on August 8, 2021