MLK Beacon's Summer Legacy Program
Everyone is invited to MLK Beacon's Summer Legacy program! The program will be held Monday through Friday at the MLK Middle School from June 13 to July 22 from 9:30am to 4:00pm, breakfast will be provided at 9am. Youth will participate in Power Scholar Academy, a summer learning loss prevention program, and in enrichment activities such as cooking, biking, art, 3d printing, soccer, flag football, and more. Register at https://bit.ly/MLKSummer22. For more information email MLKFamily@sfusd.edu or call 415-416-2255.
---
每個人都被邀請參加 MLK Beacon 的暑期計劃! 該計劃將於星期一至星期五由 6 月 13 日至 7 月 22 日上午 9:30 至下午 4:00 在 MLK 中學舉行。早餐將在上午 9 點提供。 青少年將參加 Power Scholar Academy,這是一個暑期學習損失預防計劃,以及烹飪、騎自行車、藝術、3D 打印、足球、旗美式足球等豐富活動。 請在 https://bit.ly/MLKSummer22註冊。 欲了解更多信息,請發送電子郵件至 MLKFamily@sfusd.edu或致電 415-416-2255。
---
¡Todos están invitados al programa Summer Legacy de MLK Beacon! El programa se llevará a cabo de lunes a viernes en la Escuela Intermedia MLK del 13 de junio al 22 de julio de 9:30 am a 4:00 pm, el desayuno se brindará a las 9 am. Los jóvenes participarán en Power Scholar Academy, un programa de prevención de pérdida de aprendizaje durante el verano, y en actividades de enriquecimiento como cocinar, andar en bicicleta, arte, impresión 3D, fútbol, fútbol de bandera y más. Regístrate en https://bit.ly/MLKSummer22. Para obtener más información, envíe un correo electrónico a MLKFamily@sfusd.edu o llame al 415-416-2255.
Beacon Before and After School Program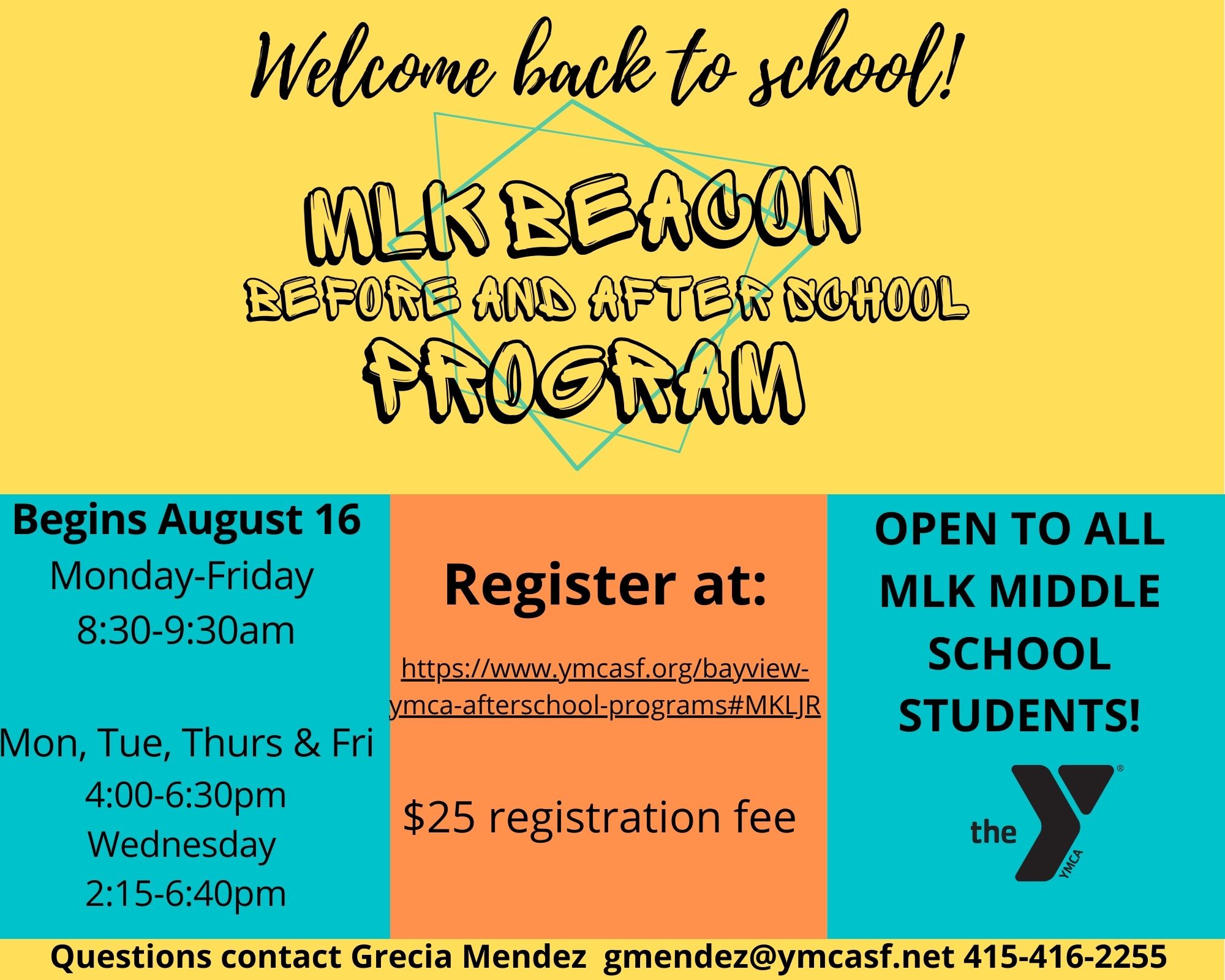 MLK Beacon Extended Learning Program Schedule After School
Available during Distance Learning
New Spring 2021 Schedule!