History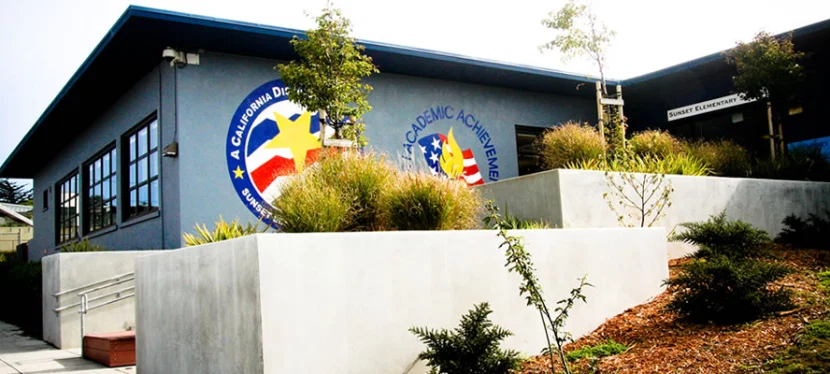 This excerpt is from Stories of Our Schools, published in 2018, with updates from 2023:
Sunset Elementary School was created to accommodate demand for class-size reduction and was originally located on Santiago Street. In 1996 with eight classrooms, the Kindergarten through second grades opened the doors to some long-standing traditions such as Water Day and Environmental Fair, annual Ocean Beach Clean-up, and the formation of both the Sunset Parent Teacher Association (PTA) and School Site Council.
In 1998, the school voted on the yellow and blue Stars mascot to represent the school. While the school continued to grow, one grade was added each year until 1999 and Special Education services were included. That year saw honors in the Youth Arts Festival, a grant for Poetry and Environmental Science, and a Sunset School Mosaic created by the classes. Finally, in 2000, Sunset Elementary was relocated to 1920 41st Avenue where it remains today as a Kindergarten through fifth grade elementary school.
The school celebrates visual arts with numerous murals around the school, including the newest 2016 mural depicting a sunset. In addition, Sunset offers art, dance, chorus, and instrumental music supporting academics. Sunset leads in environmental education with its award-winning Composting and Recycling programs; a greening of the schoolyard blooming with native plants, trees, a dry creek bed; and a Learning Garden where students learn about the life sciences and gardening.
Sunset received the 2006 California Distinguished School Award, the 2007 National Blue Ribbon nomination, and the State Title I Academic Achievement Award in 2006, 2007, and 2008. Sunset students are on an educational path enriched by technology and an advanced lab enhancing class-room learning, which culminated in Sunset Elementary being the recipient of the Gold Ribbon Award in 2016. This award in both Technology and the Exemplary Arts epitomizes how Sunset is committed to providing and embracing the concept of Science, Technology, Engineering, Arts, and Mathematics (STEAM) for all students.
Sunset continued to receive recognition for their enhanced programming and instruction with a 2017 National Blue Ribbon Award in the category for Exemplary High Performing Schools. Despite the difficult social distancing measures during the pandemic, the teachers and staff were still able to continue to engage the students in learning and build community during distance learning. Their hard work was recognized in 2022 with a California Pivotal Practice Award, including their innovative daily live-video whole school morning gatherings. In 2023, Sunset was again recognized with a California Distinguished School Award given to academically exceptional elementary schools that illustrated the hard work, dedication, and resilience shown by educators and schools across the state following unprecedented post-pandemic challenges.
With an incredible team of teachers and staff as their guides, the diverse students at Sunset Elementary learn and play in a rich and nurturing environment reflected by the school's namesake neighborhood. The best part of Sunset Elementary is the dynamic community which affords all students the opportunity to succeed in the 21st century classroom and enjoy lifelong learning.
California Distinguished School
2006, 2022 Pivotal Practice Award, 2023
Title I Academic Achievement Award
2006, 2007, 2008
National Blue Ribbon School
2017
This page was last updated on January 31, 2023