About Sunset's Teachers, Classes and Facilities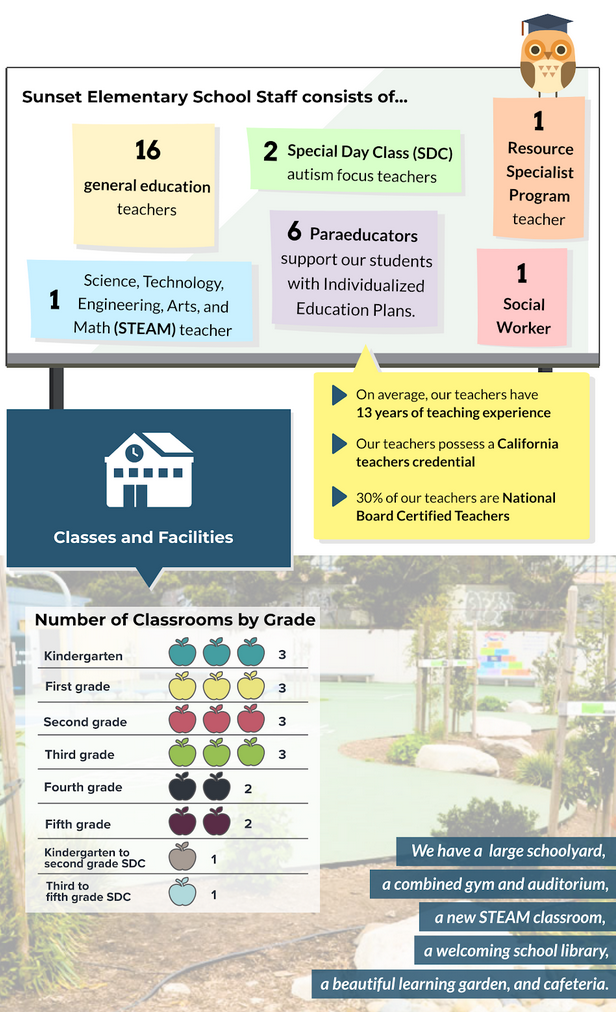 ---
Sunset Elementary School staff consists of 16 general education teachers, two Special Day Class (SDC) autism focus teachers, one Resource Specialist Program teacher, one Science, Technology, Engineering, Arts, and Math (STEAM) teacher, one social worker, and six paraeducators who support our students with Individualized Education Plans. 
On average, our teachers have 13 years of teaching experience. Our teachers possess a California teachers credential and 30% of our them are National Board Certified Teachers.
Classes and facilities:
Kindergarten to third grades—3 classrooms at each grade level

Fourth and fifth grades—2 classrooms at each grade level

Kindergarten-second grade SDC—one classroom

Third to fifth grades SDC—one classroom
We have a large schoolyard, a combined gym and auditorium, a new STEAM classroom, a welcoming school library, a beautiful learning garden, and a cafeteria. 
This page was last updated on June 7, 2020