Youth Outreach Workers
The Youth Outreach Worker Internship is a site based program for students to work in collaboration with their Wellness Center.  Work includes health & wellness outreach and promotion, youth advocacy and ambassadorship, and peer support activities.
Who are the YOWs?
Youth Outreach Workers (YOWs) are high school interns that are members of their site Wellness teams. There are over 100 high school YOWs in SFUSD. YOWs work with an adult youth outreach coordinator to develop their own program which could include working on site teams (such as the Wellness Team, Coordinate Care Team, School Site Council, Parent Teacher Student Association, affinity clubs), health & wellness promotion and intervention projects, and peer support.
Adolescents are known to be more sensitive to peer influence than at any other age. The YOWs play a vital role in empowering and educating their peers to make healthy choices, reaching thousands of students annually. YOWs are ambassadors for health and wellness.  
Youth Outreach Worker Voices
"This group has given me the power to do the change Id like to see." (Asawa School of the Arts)

"This group has made me grow as a leader, a student and a presenter." (Balboa)

"It has helped me be able to communicate and share my idea's without being scared." (Burton)

"I feel happier when I attend the meetings." (Galileo)

"It's made me want to get a lot more involved with my community." (Independence)

"It's definitely made me think a lot more and has opened my eyes to other problems then my own community's." (Lincoln)

"It has made me a far better leader and educator." (Lowell)

"It gave me confidence when I have to speak and I learned many things in every meeting." (Mission)

"It's made me realize how many people from different backgrounds experience the same thing at school and there's many students that need support but they don't show it." (O'Connell)

"It was fun and made me feel involved." (Wallenberg)

"I was able to feel to be part of a community and feel that I helped." (Washington)

Why YOWs?
Over the past ten years thanks to the education by the YOWs, smoking among SFUSD students has decreased from to 36.5% in 2007 to 16.7% in 2017. More Data.
Community Partners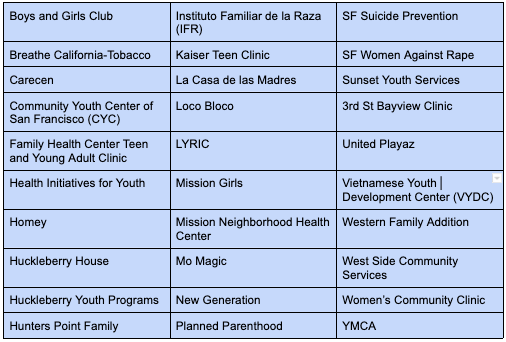 This page was last updated on June 29, 2022