Joining virtual meetings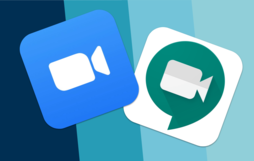 Teacher(s) may ask students to participate in an interactive online meeting (video conference) using Zoom or Google Hangouts Meet.
Student Norms for Learning Online
Be respectful, responsible, and safe

- The rules from your school apply to your online environments as well. Keep your language respectful, compliment others for positive contributions, and be safe with your information.

Consider your Digital Footprint

- Anything recorded or posted online is out there for anyone to find and use, positively or negatively. Make sure what you put out there shows you in a positive light.

Don't share your personal or private information

- Keep personal information off the internet that others can use like your full name, birthdate, address and phone number. Never share your username or password.

Write and read postings carefully to avoid unnecessary confusion

- Remember that your peers cannot see your body language or hear your tone of voice, so you need to keep your language direct and respectful.

Ask for help if you get lost

- If you are having a hard time following what's being talked about or don't understand a part of the conversation, please let others know so they can help you get back on track.
The Notice of Virtual Meetings provides guidelines for student communications during school closures. The District will address any inappropriate behavior that may arise in the virtual learning context, including online/cyber harassment. Visit the Cyberbully page to learn more.
This page was last updated on August 5, 2021