WHAT IS THE ROSA PARKS PTA?

Welcome to Rosa Parks! The Rosa Parks Parent Teacher Association (PTA) works closely with the principal, teachers, and staff to make our school community a warm, fun, and welcoming hub of learning. The PTA is a volunteer nonprofit organization supporting the three programs (STEAM, JBBP, and Special Education) at Rosa Parks Elementary School.
DID YOU KNOW? LAST YEAR, ROSA PARKS PTA...
Funded the Garden Coordinator for science and nutrition education 

Donated classroom funds to teachers in collaboration with PTCC

With PTCC, funded STEAM + JBBP field trips including 5th grade weeklong trip

Hosted the annual Read-a-thon to get kids excited about reading 

Organized the annual Community BBQ and Garden FUNdraiser, Globetrotting Night, Movie Night & more!
Have an idea or suggestion? We'd love to hear it, you can email us at Rosa.Parks.SF.PTA@gmail.com. Or reach out to current PTA board members directly! 
WHEN DO YOU MEET?

Everyone is welcome to attend the monthly PTA meetings. 
PTA General Meetings: 2nd Wednesdays at 6:00 pm Via Zoom. 2020-2021 dates are Feb 10 • Mar 10• Apr 14 • May 12

Green Team Meetings:  3rd Thursday of the month
HOW DO I FIND OUT ABOUT SCHOOL EVENTS?
There are many ways to stay connected and keep up to date with what's happening! 
I DON'T HAVE A LOT OF TIME, HOW CAN I PITCH IN? 
Show your school spirit! Order a school t-shirt and hoodie here. 

Participate! Most events will be held online this year.Look out for upcoming digital events.

Become a PTA member and have a voice in your child's school experience. Sign up here: http://bit.ly/RPPTA_Totem. Dues are only $5 per member and must be renewed each year. Grandparents and other family members are welcome to join too! (Plus, you get awesome perks: Urban Sitter, LEGOLAND California, Aquarium of the Pacific, California Academy of Sciences, and more)
HOW CAN I VOLUNTEER AND GET MORE INVOLVED? 
So much of what happens at our school happens because of our wonderful volunteers! Sign up to volunteer at http://bit.ly/RPvolunteers

Sign up to be a Classroom Parent! Teachers can always use a helping hand to coordinate classroom events and chaperone or volunteer opportunities.  

Attend monthly PTA meetings.  PTA meetings are held the second Wednesday of the month from 6:00-7:00pm via Zoom.

Serve on a PTA committee or help organize a school event. At the first PTA meeting and during the first weeks of school, there will be signup sheets for all kinds of volunteer opportunities.  
CAN I DONATE TO THE PTA? 
Yes! Please donate via PayPal Giving Fund (zero fees) or write a check addressed to Rosa Parks PTA.
The PTA annual budget provides a well-rounded enrichment education that goes far beyond the basics! The Garden program, Community BBQ, Movie Night, Talent Show, and other programs celebrating our school's diversity are offered only because of your generous support. 
Your donation* is tax deductible and may be matched by your employer. Many companies now provide 100% matches to your giving. Here's the info to make your request:
Rosa Parks Elementary School PTA 501(c)(3)
1501 O'Farrell Street
San Francisco, CA 94115
415-749-3519
EIN 90-0350703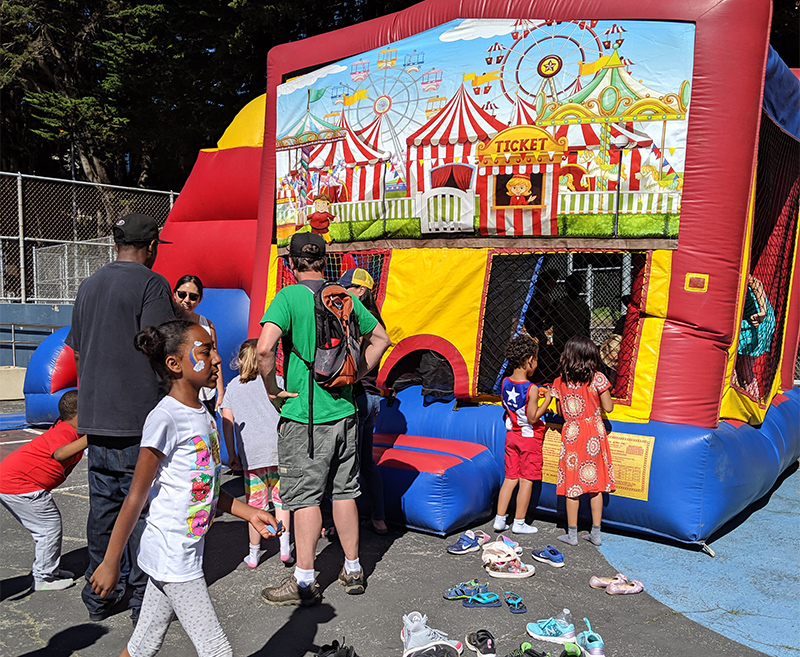 This page was last updated on September 28, 2021