The Rosa Parks Garden Program
The garden program is a unique part of the Rosa Parks community, and students feel a great sense of pride and ownership over our beautiful gardens. In the garden, students learn about natural and environmental science through hands-on lessons, develop social-emotional skills through mindfulness activities and care for the natural world, and practice healthy eating by tasting fresh fruits and vegetables grown in our gardens. CommunityGrows and the Rosa Parks Green Team support our gardens and garden educators at Rosa Parks. This program would not be possible without their generous support. You can learn more about CommunityGrows at www.communitygrows.org. 
 During the school year, each class at Rosa Parks receives seven hour-long garden classes in the upper garden, which usually occur during a seven week block, divided by grade level. Grade levels rotate which time of year they get to come to the upper garden, so that students can see the garden in different seasons and stages of growth each year. Some activities students may engage in are: 
Planting in the garden and comparing plant life cycles 
Observing biodiversity in the garden and in our neighborhood 
Investigating decomposition and decomposers
Watering our garden and learning about rainwater collection/water conservation 
Holding and feeding chickens and discussing animal needs and adaptations
Harvesting and preparing our own salad with garden ingredients
It is amazing to watch students learn and grow in the garden. Students have told me that "humans are as important as worms", have knocked on my office door countless times asking to pick peas and tomatoes, learned to hold chickens, told me that they're "not scared of bugs any more", expressed that they feel more grounded and relaxed when they are in the garden, and experienced true delight at finding slug eggs, rolly-pollies, snails, and butterflies. 
Meet The Chickens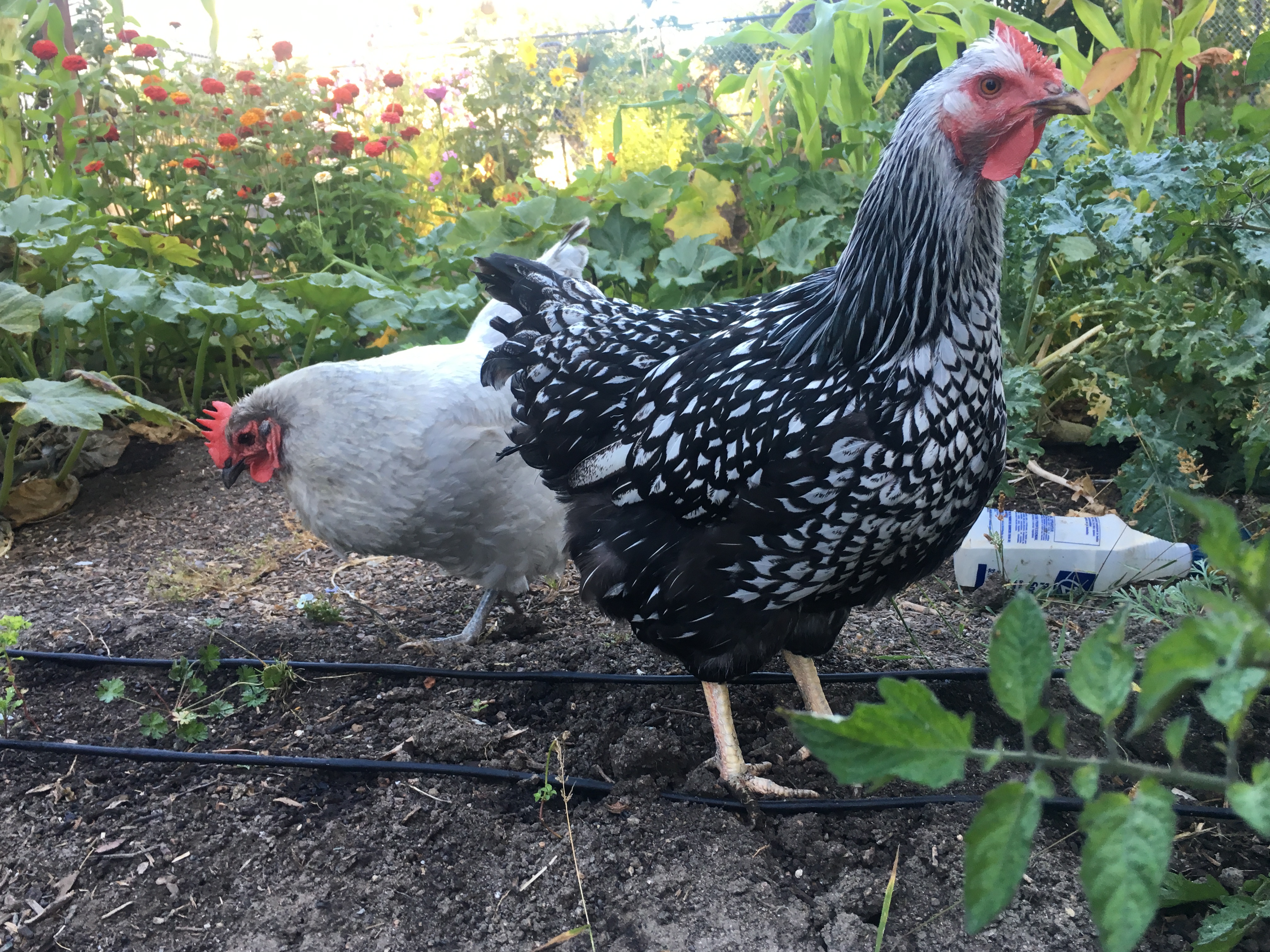 Name : Blossom
Breed : Silver Laced Wyandotte
Egg Color : Light Cocoa
Blossom's striking appearance is typical of a Silver Laced Wyandotte - silvery white feathers edged in black with flecks of deep iridescent green and a bright red comb and wattle. She may run away or be standoffish at first, but is content to be held once she knows you.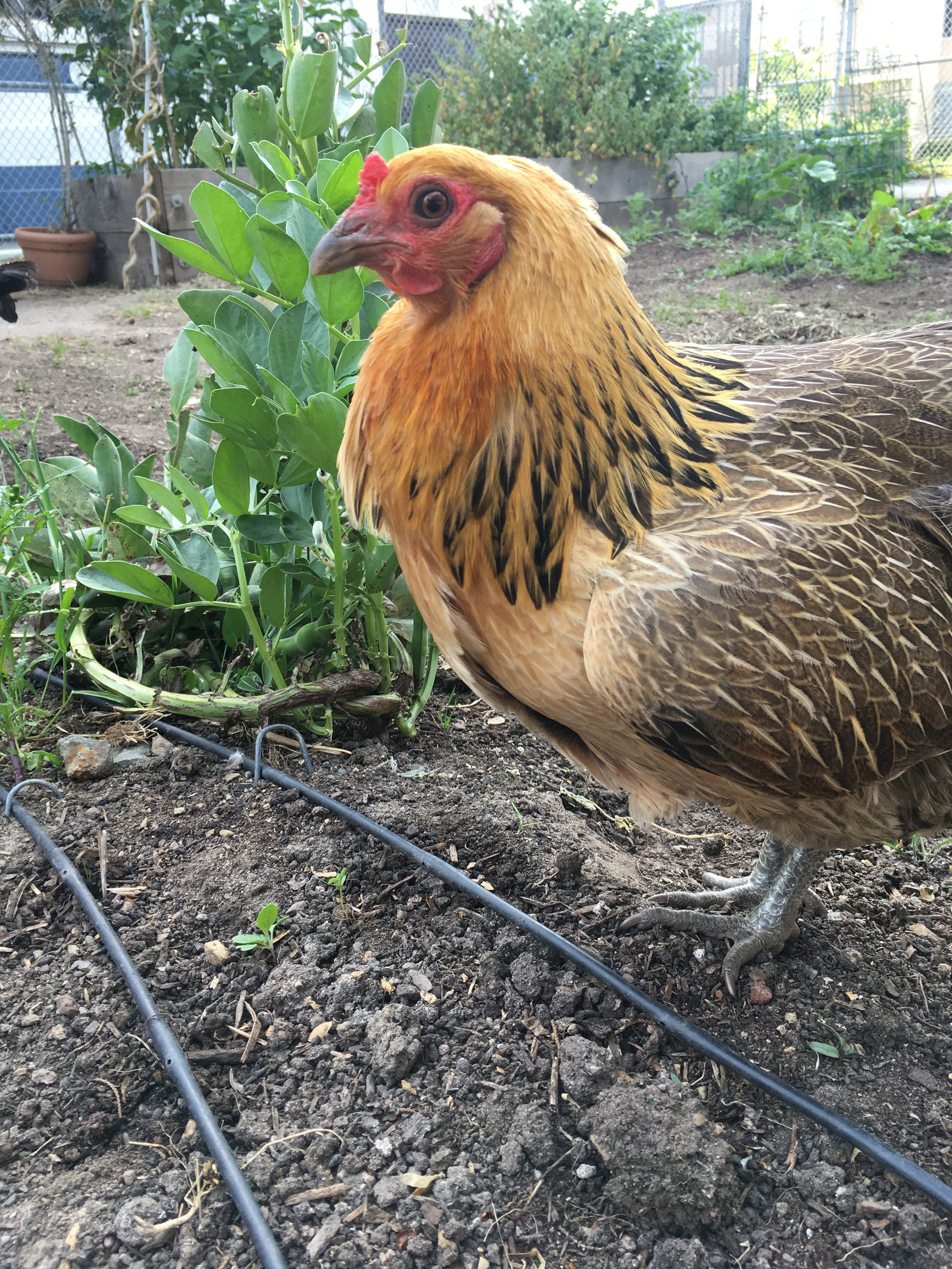 Name : Sunshine
Breed : Easter Egger
Egg Color : Pale blue-green-brown
Sunshine is one of two Easter Eggers (aka Americauna) in our flock. They're known for their eggs which range in color from pale blue to green to brown eggs. She is a little smaller than Pikachu, but shares the same golden brown coloring. She is a bit shy compared to our other chickens, but gentle and sweet and content to be held.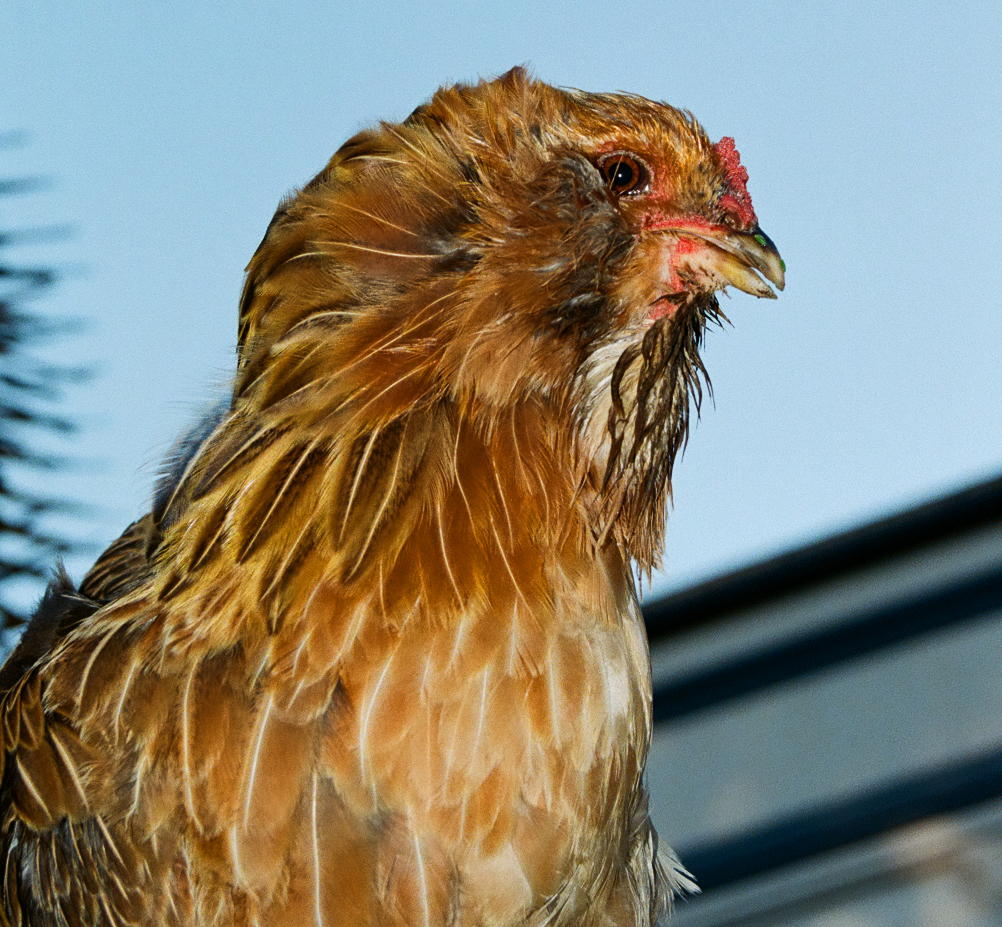 Name : Pikachu
Breed : Easter Egger
Egg Color : Pale blue-green-brown
Pikachu is the other Easter Egger (aka Americauna) in our flock. She is the more outgoing of the two and slightly larger in size than Pikachu. She has soft, fluffy feathers that are reddish golden brown and cute fluffs around her face. If a treat is within reach, she can jump higher than you think!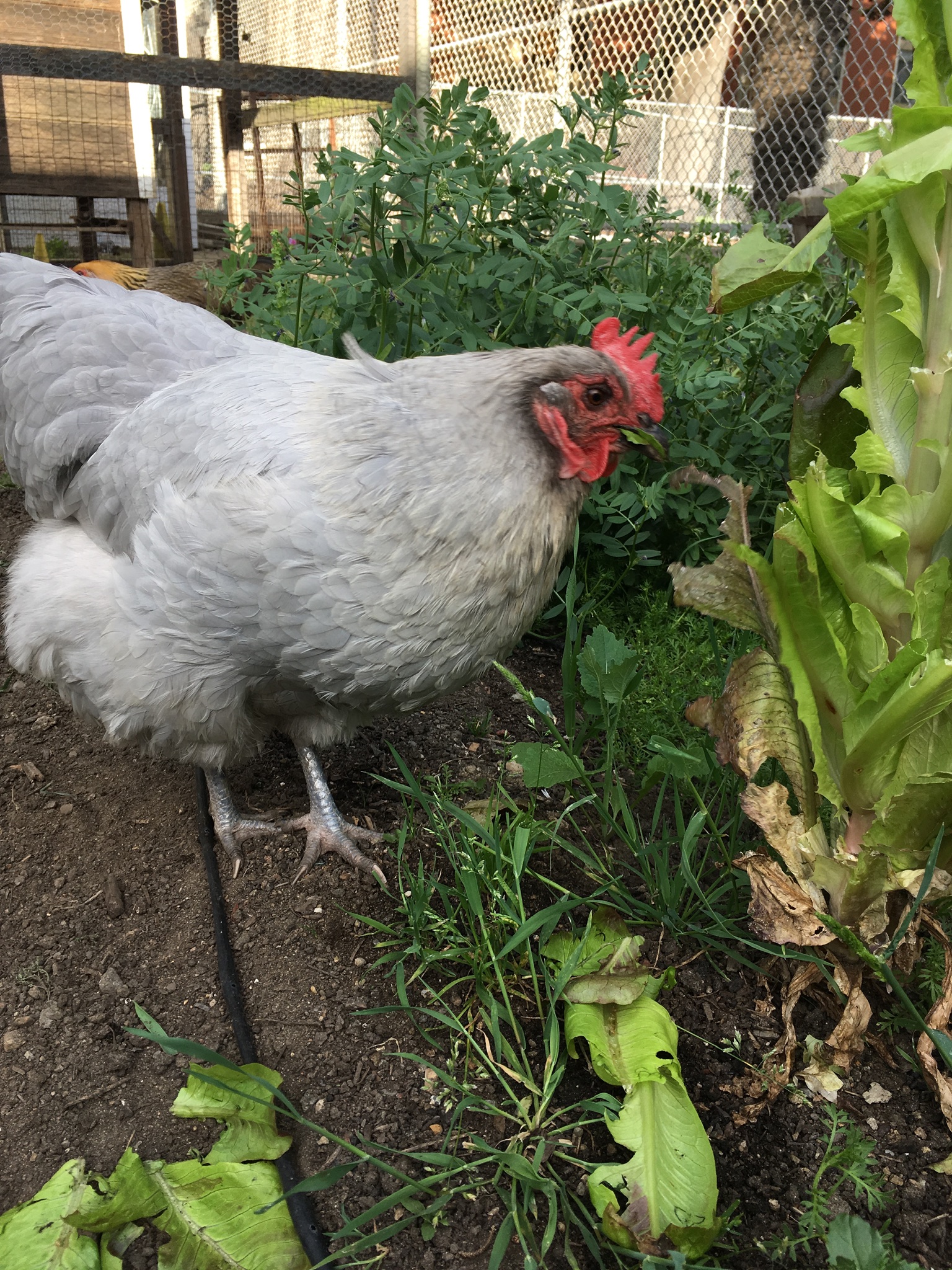 Name : Tampopo
Breed : Lavender Orpington
Egg Color : Medium Brown
Tampopo is one of our most outgoing chickens and definitely the most interested in food! She has fluffy white feathers that molt with comical unevenness in the winter. Tampopo is always the first in line for the chicken's favorite treat, dried mealworms.
How It All Started
The idea of having a garden at Rosa Parks began in 2008 when we found that our school was eligible for $240,000 in bond money to develop a school garden. Over the next two years, we began weekly meetings to include students, staff, parents and the surrounding community to formulate a plan. We visited other gardens in the Bay Area, read about other gardens in the US and then, with a landscape architect, we began developing the plans for the lower garden.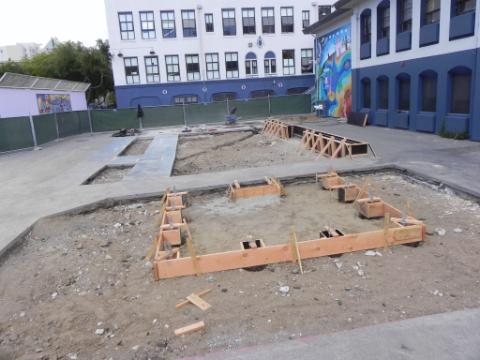 In the summer of 2010, the building of the lower garden began and in the fall, garden classes began! Our garden coordinator, Nora Brereton, immediately advocated for the upper garden to be developed. In the spring of 2011, through grants, extra bond money and a lot of hard work from our families, staff and community, we began the removal of concrete in the upper garden. The Green Team also helped to plan the Upper Courtyard during this time.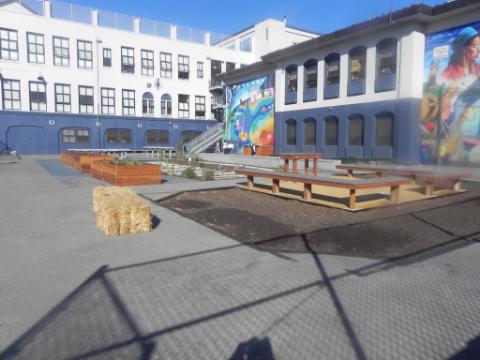 These projects required enormous dedication from so many people. Special thanks to Mr. Jacobsen, principal at the time, who was always available and helpful; Nanayo who always helped us navigate the needs of the district and Mr. T who was helpful, in a million ways! And of course Barb Fujimoto who led the original Green Team and who still volunteers to this day!
 
About CommunityGrows
CommunityGrows cultivates healthy youth through growing gardens in low-income, diverse communities. Through our integrated programs, which combine garden education, nutritious cooking and eating, and work-based learning, youth acquire the necessary skills to live a healthy life for themselves, their families and the environment. CommunityGrows currently works with four SFUSD schools throughout the city, several after-school programs in the Western Addition and the Bayview, and also runs the BEETS program, a paid food justice internship for San Francisco youth.
This page was last updated on October 20, 2019